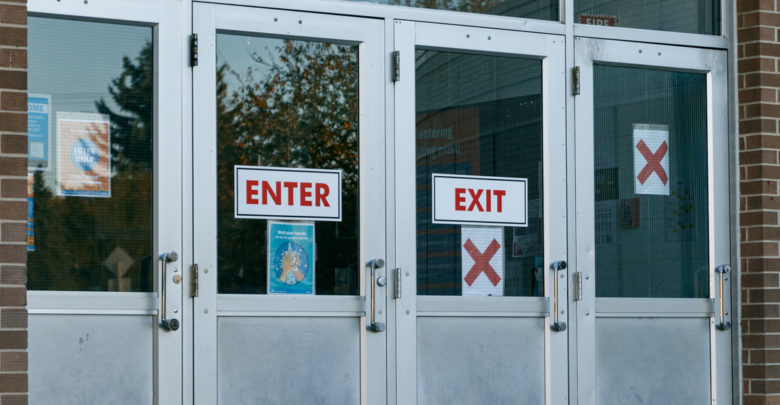 An easy solution for the chaos we call schooling for K-12 students: do not rush students to return to in-person studies. Being online for the start of the new year has its benefits both in the short and long run for everyone.
With COVID-19 spreading rapidly across the country, especially in good old Alberta, many people wondered if the decision from the provincial government for K-12 schools to return back to in-person studies was such a good idea after all. Personally, I believe the government should have mandated all schools, regardless of the level of education, be switched online until the surge of cases goes down.
Let us take a couple of steps back and look at the circumstances leading up to when students returned to school. The Omicron variant is currently going rampant throughout the country. In Alberta, there were almost 13,000 cases reported between New Year's Eve and January 4 and numbers steadily increased until only this past week. The number of recording cases is starting to drop down again and while this may not include positive cases recorded on at home rapid tests, numbers recorded from waste water are now showing a decline in some municipalities as well. Considering this situation, we have to ask ourselves if students in grades K-12 should be in school given thee current number of cases.
When the first day back began, students came to school but there were not enough staff in attendance. Specifically, looking at the Edmonton Public School district on the first day back, 1,500 students were absent due to COVID-19. On the second day, 494 teachers and 262 teaching assistants were absent. Seven teaching positions were not covered.
These many absences are due to the restrictions and isolation requirements. While isolation times for vaccinated Albertans got shortened to five days, more cases of COVID-19 are being confirmed. People are only allowed to come out of isolation after five days when they no longer have symptoms. What most of us don't realize is that this requirement only applies to vaccinated people. Many of the students in K-12 are under 12 years of age and are still not fully vaccinated.
The key to stopping the spread is that everyone must follow the public guidelines, try to limit their exposure around others, or get vaccinated. Switching to online school is a benefit for students in K-12 because this gives them more time to go and get their missing vaccines. Doing these things will help students be able to come back to in-person learning while also stopping the spread of the Omicron variant.
It doesn't seem very cautious of Alberta Education to send students in K-12 back to school so soon. They definitely did not think of another plan to help slow the spread while also allowing for students to have some sense of normality. The infection rate keeps increasing and masks cannot be our only line of defence against stopping the spread. By failing to account for growing case numbers, there is a possibility of suddenly switching online after only a couple of weeks of in-person learning. That is not a carefully thought out plan by any means; that is disorganized chaos.
Sure, we can say that we need to have better masks available to students as well as enough rapid tests available so students can test themselves before coming back to classes. But it was imperative that students stay home in the midst of rising cases so that they could slow down and allow the numbers to drop — the rapid tests and good quality masks can then be used effectively.
What Albertans got instead, was kids returning to schools, while rapid test distribution to schools was delayed.
The University of Alberta and many post-secondary institutions have started the semester online and extended their online instruction in response to the rise in cases. Students were able to prepare themselves for online learning and also be ready for returning to in-person studies with clear guidelines to follow. The public and Catholic school boards in all districts in Alberta should have followed suit since it would have been easier for students to stop the spread, be mentally prepared for their studies, and know the expectations of being at school.
Dr. Deena Hinshaw, Alberta's chief medical officer, announced on January 5 that allowing K-12 students to return to in-person classes would do less harm to students than closing schools temporarily. Even in university, there are some students, such as myself, that do benefit from learning in-person as opposed to being online.
But with the current state of the province, it is necessary for all students to start their school year online, then slowly transition back to in-person studies. A couple of weeks online is not going to impact their entire year of education. Making the decision trying to force a couple of weeks of in-person studies during a high transmission period already adds more stress, not only to students, parents, or guardians but also to the health-care system that is already stretching its resources to no end.
All schools, no matter if they are post-secondary or K-12, should have started their studies online. Considering that the cases were already high to start the new year, there should have been higher caution when returning to in-person routines, especially if that was going to school. Masks alone are not going to stop the spread, but limiting contact would.
Instead, Albertans are ringing in the new year by thrusting themselves into the fifth wave, taking one step forward, but two steps back in the battle against COVID-19.