Campus Life
News
Research
U of A associate professor recognized for work on a new hotline to help opioid users
Dr. Ghosh described the hotline as a "potential solution to a very complex problem."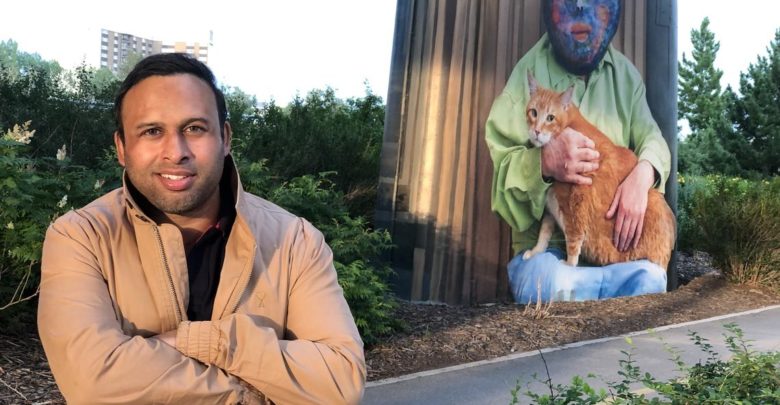 Dr. Monty Ghosh, an associate professor in the faculty of medicine and dentistry, was on a call with a patient when he first got the idea to create a hotline to help opioid users avoid overdoses.
"I was doing a virtual opioid care with a person in Grande Prairie who worked on the rigs," Dr. Ghosh described. "I was asking some basic harm reduction questions, like if he had a naloxone kit or if he was using alone, and he said 'well I do and I don't.'"
According to Dr. Ghosh, this individual would video call his friend in Edmonton while using, and since they had each other's addresses, they could call 911 if either of them overdosed.
This conversation got the idea forming in his head, and three years later Dr. Ghosh was able to work with Health Canada to get the National Overdose Response Service (NORS) hotline active. After having first launched the NORS hotline in 2020, Dr. Ghosh was awarded the 2021 Alumni Horizon Award for his work.
In response to the award, Dr. Ghosh saw it less as a personal achievement and more as an acknowledgement of the seriousness of the opioid crisis.
"I was very honoured and humbled by it," he said. "For myself it was more about highlighting the work and the importance of addressing the opioid crisis."
"We often don't look at that population; we mind our own business and we live our lives but we don't know that there's thousands upon thousands of lives impacted by the opioid crisis on a daily basis. It's really important to highlight the needs of that community."
Dr. Ghosh described NORS as a "potential solution to a very complex problem."
"Seventy per cent of overdoses happen in people's own homes while they're using alone," he said. "With this stat in mind, we tried to create a program to prevent them from using alone."
All an individual would have to do if they are using alone would be to call 1-888-688- NORS(6677). They would then be connected to a virtual supervisor with lived experience, someone who "walked the walk so they could talk the talk."
The supervisor would then chat with the client, collect some key pieces of info that would lead to a unique identifier, and give the supervisor their address in case they needed to call Emergency Medical Services (EMS). If at any point they overdose, the virtual supervisor will call Northern911, a centralized dispatch service that will connect them to EMS services throughout the country.
"If you're using your substance in Halifax, I could be your operator in Edmonton, I [can] just call Northern911 [and] they will automatically dispatch me to the EMS services in Halifax," Dr. Ghosh described.
It's a solution that has already saved lives. According to Dr. Ghosh, NORS has received over 2,700 phone calls and prevented 33 overdoses. However, he mentioned how word of the program has been slow to get around.
"One of the big goals we have is that we're hoping to have information on NORS in every naloxone kit in the country," he said. "A lot of the people who are using are afraid of the stigma associated with using, so they don't go and seek help at physical supervised consumption sites or treatment programs, but they will grab a naloxone kit because it's fairly anonymous, so we really want to target that population by having our information in those kits."
NORS was awarded $2 million for operational use and to evaluate the responses to the program.
"We want to make sure we have good scientific rigour and we're actually making a dent in overdoses," Ghosh added. "[As well as] how to deal with specific barriers in specific populations, [such as getting] our services to Indigenous communities, some that have no phone lines or cell phone towers – how do you reach these populations, how do you get EMS out there?"
"It's tricky, but that's what the research will hopefully help us determine. It's all about improving service ability to those who need it."
Dr. Ghosh made his passion for helping underprivileged communities very apparent.
"This population is known for their resiliency, because they're able to get through so much, there are so many barriers for them," Dr. Ghosh said. "It always amazes me when I see it, because there's so much struggle they have to go through, [like] their mental health and their substance abuse concerns and justice concerns, and lack of housing, and their alienation from their families."
"Watching them drives inspiration for me, and I hope that it can be inspiring to others in the school as well, and that we can support them as a community."
For students looking to get involved in Ghosh's work, they can volunteer with NORS by emailing them at [email protected] or reaching out through their website.