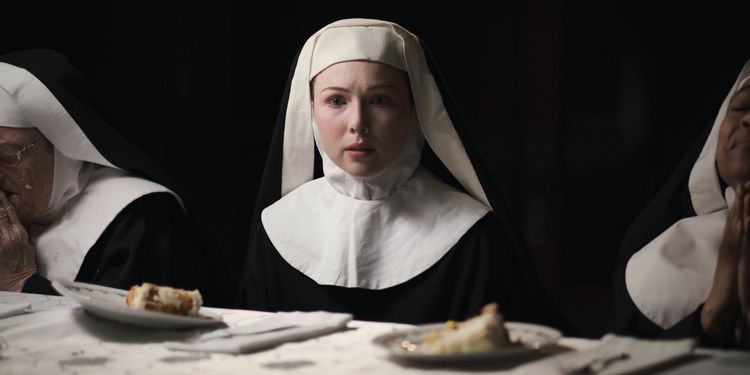 Agnes follows the events at a convent after Sister Agnes, one of the nuns, begins to show signs of demonic possession. Mother Superior (Mary Buss), calls on Father Donaghue (Ben Hall) to complete an exorcism. However, what follows is anything but what was expected, leaving Agnes's close friend and fellow nun, Sister Mary (Molly C. Quinn), to have to deal with the fallout.
This film was directed by Mickey Reece, who has been known to self-describe his style of film making as "people talking in rooms," and, boy, does he deliver. Although this film is a relatively interesting take on the classic horror trope of possessions with religious figures, the delivery ends up a bit anticlimactic.
Long story short: if you are looking for a scary film that will play with your imagination when it comes to spooks and thrills, this is not the film for you.
However, if you are in search of a film that will make you think and question what you're watching, then this film is definitely for you.
Agnes is better described as a kind-of-thriller that tugs at the psychological threads of the viewer. It plays with the question of "what would you do if you lost faith in the only thing you have been passionate about and worked for your entire life?"
Oh, and then ties in "what would you do if that was also lost due to the possession?"
The concept of possession always fascinates me in creative works. There are so many interesting ways to play with this supernatural idea, and Reece delivers — I'll give him that.
"Treat someone like an animal, they'll act like an animal."

Father Donaghue
Reece designed the possession as a physical representation of people losing faith in their religion. The intense set of emotion that is diagnosed as possession in this film is the only way in which Agnes is able to express these feelings. This is further explored through Mary's perspective as the film continues and she slowly spirals in a way that similarly matches the actions of Agnes.
But, that being said, the second half of the movie fell flat to me.
Although I enjoyed the exploration of Mary's character more in depth in the last two-thirds of the film, I felt that there were many other characters throughout the film having the same questions of faith that get ultimately abandoned.
Father Donaghue was blatantly disillusioned when it came to his faith. Although still devoting his life, his character was tired of the strict traditions of his religion. He even tried to convince Benjamin (Jake Horowitz) to think again before taking his vows in the coming months to make sure that Benjamin knew what he was signing up for: a life with marriage or money. I would have loved to see how his story arc turned out, but he isn't seen again after the exorcism.
Benjamin is seen again by the end of the movie, as a priest no less. However, he too, seems to have slight reservations regarding religion.
And what about the other nuns? I know that many (if not all) moved to another convent, and Mary meets with a couple of them after leaving, but the film never explores how these other women are all dealing with what they witnessed. And, more specifically, how did Sister Honey (Zandy Hartig) react after the events? After all, Sister Honey was the one nun who expressed any physical attraction towards both priests that were welcomed into the convent.
Agnes was a great thought piece. It did leave me with some dissatisfaction with the abandoned characters, but it was a fresh concept on the horror trope of possessions. And for viewers who are more interested in a psychological movie, rather than a horror-esque movie, the small details hidden throughout the background of the film, like the upside down cross on Agnes's wall, are really a treat.
See Agnes on VOD now.