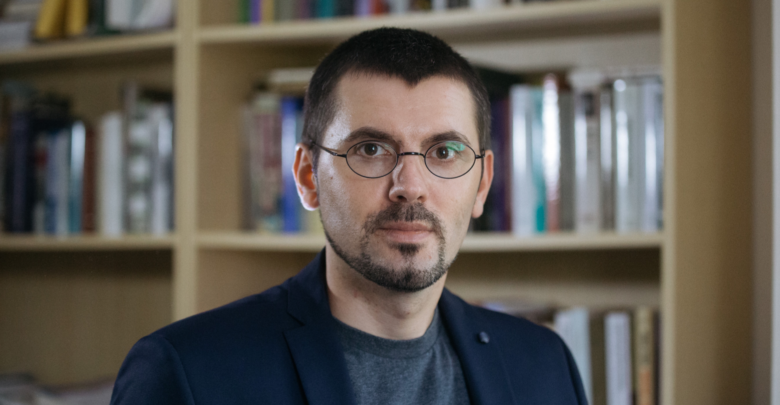 Published in August, U of A researcher's book Meandering in Transition: Thirty Years of Reforms and Identity Building in Post-Communist Europe explores the dynamics of national identity building in Central and Eastern Europe.
Oleksandr Pankieiev, research coordinator for the Canadian Institute for Ukrainian Studies, co-edited the book with Ostap Kushnir, assistant professor at Lazarski University in Poland. The individual chapters of the book are written by 23 contributors from all over the world.
The book explores what it means to be European from several perspectives, including the view of individual Central European countries. It relates what it means to be European to the process of national identity building.
"The image of the European Union is an integral component of this book, because every country has its image of what it is to be a European country and what is to be a member of the European Union," Pankieiev explained.
The book then explores the view of identity building in Central and Eastern Europe from neighbouring European countries and from far abroad, introducing the perspectives of Japan, China, the Middle East, and North African countries.
When considering the book's title, Pankieiev described Meandering as referencing the "uncertainty" facing the countries that appeared from the collapse of the Soviet Union. According to Pankieiev, many European countries have attempted to transition towards an open market system, but "not all countries have succeeded in becoming openly democratic and implementing the reforms that help promote economic growth."
Pankieiev mentioned some countries — such Poland and Hungary — which have joined the European Union and "were on a really good path to become fully democratic powers." However, according to Pankieiev, these countries are seeing a decline in open democracy with attacks on open media, LBGTQ2S+ communities, and the emergence of far-right groups.
In his book, he also covers how some countries attempted to become more democratic and join the European Union, while others continue to be very undemocratic — such as Belarus.
Growing up in the eastern part of Ukraine, understanding the fall of communism was a professional and personal challenge for Pankieviev. He described the shock in his community as his "first childhood memories." When the Soviet Union collapsed, Pankieiev was about to start the first grade. When he met Kushnir, who is the same age as Pankieiev and grew up in the western part of Ukraine, sharing their memories of the event led to the idea for their book.
Despite his colleague living in Poland, Pankieviev said it was easy to work with Kushnir, comparing their online relationship to living in "the same room." The scholars are considering producing a second volume — largely because they could not include everything they wanted to in their book, such as dynamics in the Americas.
The book is available to purchase through its publisher Lexington books and through the University of Alberta Library.