The SNAP Gallery is a local non-profit artist-run centre dedicated to printmaking and providing space and resources for production, exhibition, and education. 
SNAP presents Andrew Thorne's Carving Room, Patrick Cruz's Kitchen Codex, and Sylvan Hamburger's Exit Strategies. Thorne, Cruz, and Hamburger interact with the idea of space in their exhibits. Each artist shows us unique ways space can expand or collapse by bridging gaps or reconstruction.
The exhibits ran at the SNAP Gallery from August 28 to October 2.
Urban Planning Killed the Radio Star: Carving Room by Andrew Thorne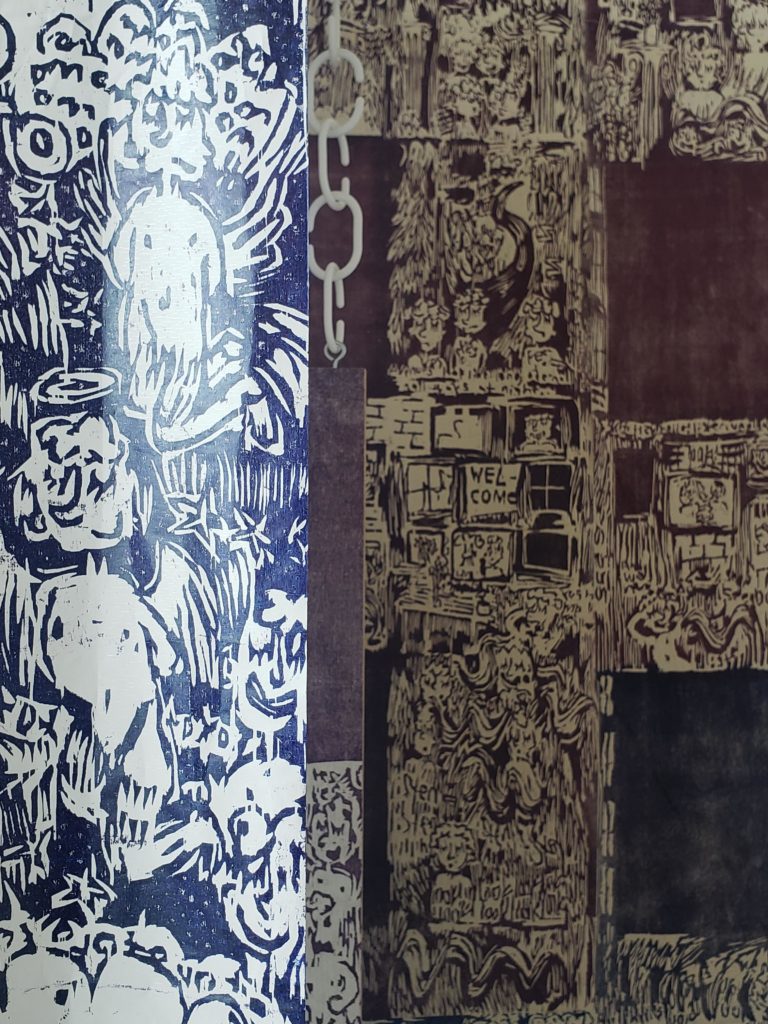 Carving Room features intricately printed impressions on plywood, silkscreens, and canvas that explores Canada's relationship with media and space. From a distance the installation's finer details blend or crowd together — tight and static. You must walk up a little closer to count and see all the differences there are that make the whole. The exhibit delves into the complex relationship between media and the ever-changing urban landscape and its impact on development and our resources.
"I have been carving and printing large scale woodcuts, in hopes of mimicking or mocking the omnipresent voice of our media here in Canada. What symbols and images are conjured and for what intention?" Thorne said about the themes behind his exhibit.
The representation of the Canadian landscape is often perpetuated by the media's understanding of these spaces. Carving Room enables a conversation on the concept of imagined communities and its intersection with land and media. It confronts something within you that thinks too little or too much about the space around. Carving Room confronts the development rhetoric intertwined with Canada's tenuous relationship with land, and in turn allows us to confront our positions in the landscape.
This project was produced at the SNAP Gallery as part of the Emerging Artist in Residence program, and supported by Arts Nova Scotia.
Recipes That Bind: Kitchen Codex by Patrick Cruz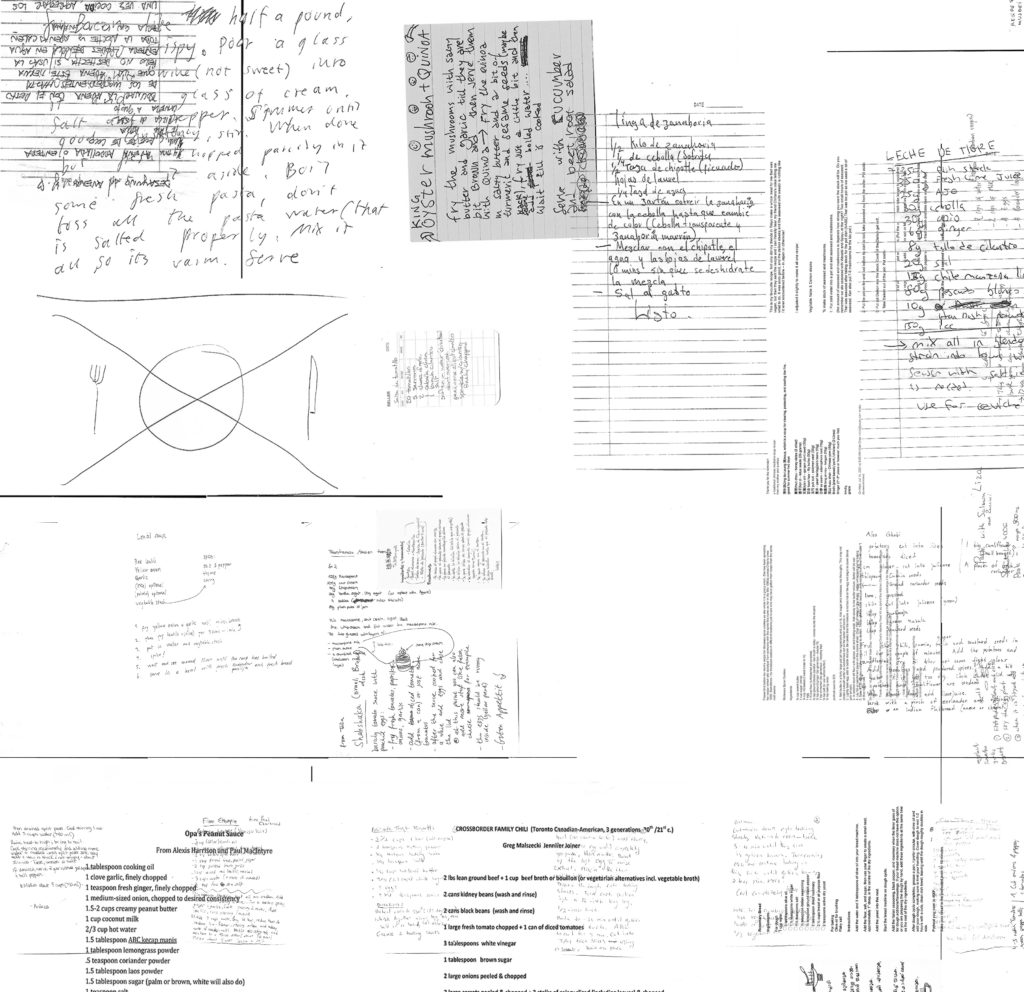 Kitchen Codex is a collaborative project about shared experiences surrounding food spanning across various locations ranging from Vancouver to Berlin.
The sculpture features a large printed piece that resembles a collage, containing personal recipes collected from participants from around the world, bringing this expansive project to life. It's like figuring out a blueprint, and in some ways you are. By bringing together a diverse group of people and their recipes, Kitchen Codex facilitates the exploration of shared experiences where food is at the heart of one's local community. What looks like lines connecting to words, are printed recipes connecting folks from diverse backgrounds.
"Kitchen Codex aims to bridge the ritual of communal eating and sharing cultural awareness through the digestion of history and the joint solidarity of cultural appreciation during times of socio-political divisiveness," the SNAP exhibition mentioned.
Kitchen Codex collapses space and brings people closer together. The project allows us to consider the good folk in our lives who keep old recipes written on faded paper, and how those recipes create special ties with those around us. A simple recipe can connect so many of us together. Good food tends to do that.
Nowhere to Go, Nowhere to Hide: Exit Strategies by Sylvan Hamburger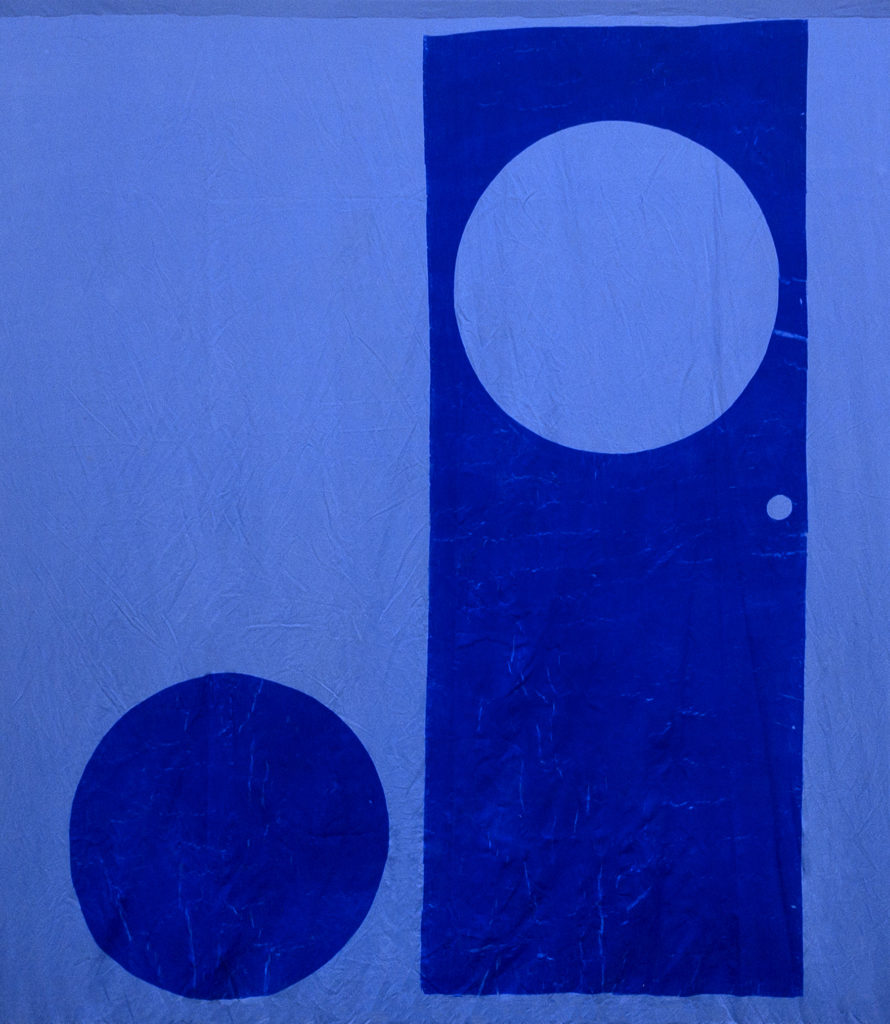 Exit Strategies showcases ten large cut out impressions of scrapped doors reclaimed from the sites of demolished homes in 2021.
The exhibit highlights doors that are hand printed on large bed sheets, and hung up high for all to see. The exhibit is a bright commentary on the consequences of East Vancouver's gentrification and its hand in the displacement of a culture and community in that area.
"[M]y intention began to shift: the impulse to flee became a renewed desire to attend. As the room filled with theatrical departures, Exit Strategies became an exploration of colourful transformation — revealing new thresholds within architecture slated for destruction," Hamburger said about his motivation and process for this installation.
Exit Strategies exposes the contradicting and weird feelings of wanting to be somewhere else and in the same place simultaneously — the desire to disappear from uncomfortable or unwanted situations despite the supposed colourfulness. Hamburger brings focus to the bright remnants of something sturdy and now broken down as he captures the question: how does one escape, or even enter a space victim to urban architectural upheaval?
Final Thoughts
I noticed that Thorne and Hamburger's pieces were extremely vivid depictions of change in a landscape. Cruz's work, however, isn't colourful yet still breaks down the idea of space (something large or vast) through little things like a scribbled recipe.
It's interesting to see how each artist chose to present space and the different ways we interact with it. It says a lot about how we can both find each other and comfort, yet also feel disconnected.
Interested in learning more about the artists? Find more information about Andrew Thorne, Patrick Cruz, and Sylvan Hamburger here.