News
Mayoral Election 2021 Meet the Candidates: Cheryll Watson
When considering what sets her apart from other candidates, Watson mentioned her policies being written "in a way that they can immediately be implemented."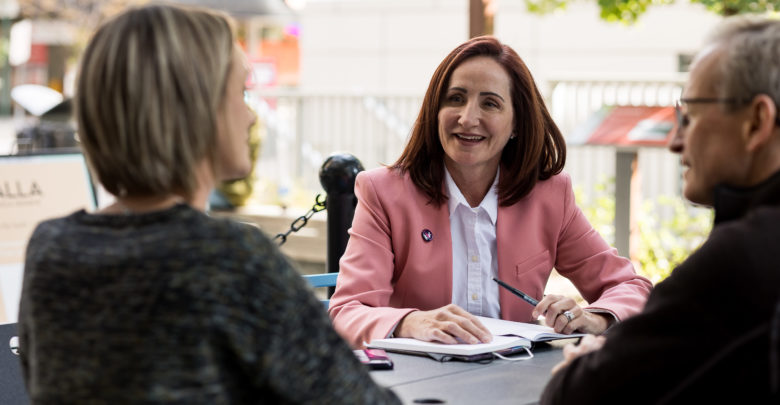 Mayoral Election 2021 Meet the Candidates is The Gateway's series of interviews with candidates running in Edmonton's mayoral race. This is the fourth of eight articles.
With the October 18 municipal election just around the corner, The Gateway sat down and interviewed candidates running in Edmonton's mayoral race. Cheryll Watson was interviewed for the fourth instalment of this series.
Born and raised in the Edmonton area, Watson began her professional career managing IBM's real estate assets in the late 1990s. After working for Silicon Valley-based INTUIT for 15 years, Watson founded Innovate Edmonton and co-founded Alberta Innovation Corridor. Currently, she is a committee member of the Downtown Recovery Task Force and is on the Startup Genome Global Senior Policy Maker Forum.
The Gateway spoke with Watson to find out more on how, if elected, she plans to represent the residents and students of Edmonton as the city's new mayor.
Responses have been edited for clarity and length.
The Gateway: Why did you decide to run in this election?
Watson: I've lived here in this city all my life. I feel like our city is being left behind. As we look at other cities around the world, they are moving quicker than we are and they are implementing some really exciting and interesting new solutions to problems. I want to bring my love for the city, combined with my business experience in both private industry and the public service, to really help move our city forward.
What is the biggest issue you see facing the city and how would you address it?
I announced my intent to run for mayor a year ago, and the question that I open every conversation with is 'what is most important to you?' My platform and the policies I put forth on my website really reflect Edmontonians' view of what is needed and necessary for our city. The vision for Edmonton is to build a city that works for all Edmontonians no matter where you live in this city.
There are three main core platforms that I have. The first is place — to create a really safe and welcoming city [that is] well-built [and] well-maintained. The second is around partnerships. The City of Edmonton right now is in 74 different lines of business. We're doing the work of a lot of other organizations, private industry, non-profits, and other orders of government. It is really important for our city to recognize what its role is, what Edmontonians expect, and to be able to deliver on that commitment. The third is around potential. What is the future economy of our city? How do we make sure that we're creating an environment here where the businesses that choose this city to set up in can grow and scale and be successful? Even more important is for the large population in the city that is enrolled in post-secondary institutions like the U of A, the Northern Alberta Institute of Technology (NAIT), NorQuest, and MacEwan, that they actually see potential and opportunity in this city for themselves in the future.
Are there any prominent past city leadership decisions you disagreed with?
I think that the new lens we need to be putting on everything is that COVID-19 has dramatically changed the world. You think about how we live our lives today versus how we lived our lives two years ago. I really think that is the lens we need to bring to all of our investment decisions, how we're building a city that works not only for today, but for tomorrow.
Our newly elected city council has a really important job ahead of them in November, and that is to put together the city's four year budget. It is really important that when we do that work, that we are doing it from a standpoint of what is the mandate of the city of Edmonton, what do Edmontonians expect, and how do we really chart a path forward in this very uncertain environment that we're in.
What previous experiences do you have that make you a good candidate for Mayor of Edmonton?
I have spent the majority of my career in private industry in very large, complex global organizations. I have the ability and understanding and skills to be able to get things done in those complex environments. I really built a career on delivering results. I spent the last four years of my career working directly with our current mayor, with City Council, with administration, and really have a deep level of understanding and knowledge about how municipal government works. I'm going to bring a fresh perspective. I don't have any political baggage. I don't owe [anyone] anything except the citizens of this city. I'm going to be able to bring that 'challenging the status quo' viewpoint, while representing the people that live in this city.
If elected, how would you support post-secondary students within Edmonton?
There's two really important factors in people choosing the city that they live in. The [first is the] education system and the second is the health system. We are leaders in both areas. It is really important that we as a municipality are effectively advocating for continued investment in these areas. I think about our post-secondary institutions, and we are world leaders. When you look at the breadth of post-secondaries that we have in this city, we cannot lose our competitive advantage. That is building talent for the future. So it is very important that those are the two areas that we advocate for constructively and strongly with provincial government.
As a lot of students use transit within the city, in what ways are you looking to support Edmonton's Transit System?
This is such an important question. I grew up here in this city relying on transit and so did my mom. My mom was a single mom, and [transit] was our only mode of transportation. That is how we got groceries and that is how I got to school.
Making sure that we have effective, accessible, affordable transportation that actually is able to get the majority of people from where they live to where they want to learn is important. I think that we have reduced investments in bus service in this city in a way that is dramatically reducing student's ability to get to schools. We have the near-term investments that we need to make in busing that allows us to be agile and expand as necessary. We need to be really thoughtful about what are the major investments that we need to make in transportation for the future.
If elected, how will you concretely work to address climate change?
The core component of [my climate adaptability plan] is that the biggest opportunity we have in making a difference in climate change is through all of us that live here. It is the nearly one million people that live in Edmonton. I believe we need to invest in the infrastructure of our energy, so that we can all make different personal choices. If solar panels is something that we'd like to be able to use, or if people have talked about the importance of charging stations, [it is important] that the infrastructure is actually able to support those decisions.
If elected, how will you concretely work to support Indigenous communities and students in Edmonton?
This is about [being a] collective and bringing everyone together to work proactively and positively. I have been spending this whole year really becoming more informed, educated, and connected into those communities. It is community that is going to be able to make a difference as we go forward. One of the best parts of our city is that this place was originally a gathering point for commerce. This is where trade happened. I would like to see more action in our Truth and Reconciliation Commitments around how we bring in more Indigenous economic activity. How do we bring back more of a focus on Indigenous trade and Indigenous business so we can actually make meaningful action?
According to a recent UASU poll, many Albertan students are heavily considering leaving the province after finishing their degrees. What initiatives are you considering to keep young professionals in the province, and specifically within Edmonton?
When I was leading Innovate Edmonton, one of the programs within my portfolio was Startup Edmonton. What we realized was that students, when they're studying and they're on campus, they are very focused on what is right in front of them. Oftentimes [they] don't realize the potential and opportunity within this city. One of the tactics that we employed that really worked well was how do we bring the startup companies and the really exciting companies onto campus so that we can get right in front of students. So that we can really show them the opportunities that are here.
I remember being in Waterloo and talking to some recent U of A grads who left Edmonton and went to the Toronto, Waterloo, and Kitchener area because they didn't feel that there were opportunities in Edmonton for them to work in the technology and innovation space, for example. So how do we present those opportunities on campus where students are spending the majority of their time? We intended to expand Startup Edmonton's present on all campuses so that our students could really see opportunity here.
If you were to choose one initiative or area of policy, what makes you stand out from the other candidates?
I would say that it's the common thread within my policies that are written in a way that they can immediately be implemented. Through my work during the last four years with Council, it is about how you make motions within council to actually move initiatives forward. If you go and look at all of my policies, you will see that they are written in the manner that they can come forward immediately, and that we can move them forward and have them executed.
Fun Question: What is your favourite piece of public art in Edmonton?
Goodness, there are so many examples of great public art! I think that it's fun when we see people that are posting on their own social media platforms. So I don't think it's fair for me to choose one.
The art community is one of our areas in our city that really represents the DNA and the cultural component of this city. It's an interwoven fabric of so many different pieces. I love to see so many new murals going up all around the city. I think that is really exciting and new for our city. So [there is] lots to be excited about and proud of here.