Campus Life
News
U of A student declared national champion at Student Entrepreneur Awards
Ghalia Aamer began her company TalkMaze after learning about the lack of public speaking and debate programs offered by middle schools.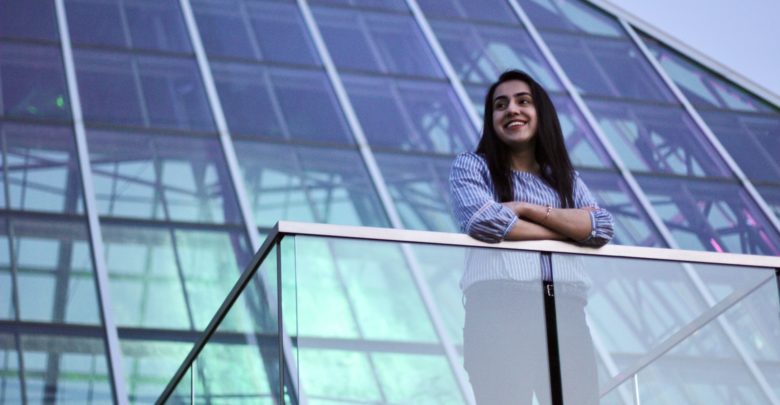 Following her win at a national student entrepreneurship competition, a U of A student will be representing Canada at the global level.
At 19 years old, University of Alberta business student Ghalia Aamer took home first place and a $10,000 prize at the Canadian National Global Student Entrepreneur Awards for her company TalkMaze. In 2022, she will represent Canada at the Global Student Entrepreneur Awards (GSEA). Aamer's company was launched in June 2020, aiming to provide public speaking and debate training for students around the world.
She described this recognition as an "incredible honour," and an exciting opportunity for the TalkMaze team.
"Being recognized as the top student company in the country and being able to take our mission — which is [about] impacting the lives of as many people as we can… at a global scale — means the world," Aamer described. 
When considering representing Canada at the international competition, Aamer described being "nervous" and "excited" for the opportunity to network and meet a diverse group of like-minded individuals.
"I'm super thrilled about having the opportunity to network with those people and hopefully come up with some partnerships that can help our organizations and our businesses succeed," she said.
Aamer began TalkMaze after learning less than 15 per cent of middle schools actually offer public speaking and debate programs, despite the fact that over 73 per cent of people are afraid of public speaking. 
"Joining the debate team in seventh grade changed my life… I was lucky to have the opportunity to get out of my comfort zone to overcome my extreme shyness," she explained. "I want every student to have that opportunity and the reality is that most schools aren't teaching effective communication skills early on."
She has considered herself an entrepreneur since the age of 13, when she started her first business venture of a tutoring company, introducing her to the business world.
"My tutoring business was the first business I started, making me fall in love with the business world," Aamer said. "I fell in love with this idea of creating something bigger, and to create something that can have a lasting positive impact at a scalable level."
As a young entrepreneur, Aamer noted building credibility and external judgment as challenges. However, she expressed gratitude to supporters of TalkMaze, both within and outside of the university community.
When looking to the future, Aamer described plans to take TalkMaze to a global level.
"We're hoping to expand across Canada, then continue to the United States and beyond," Aamer said. "This is very much just the beginning."