Arts & Culture
Cultural Affairs
Q&A: Berend McKenzie on the WarnerMedia Access Program and Confluence Fellowship
Berend McKenzie answers questions about joining the WarnerMedia Access Program cohort and their journey as a Black queer creative.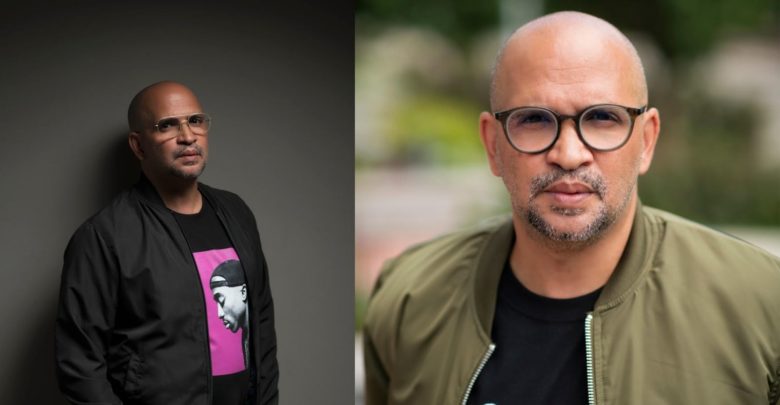 The WarnerMedia Access X Canadian Academy Writers Program is a program presented by WarnerMedia to amplify underrepresented communities. Berend McKenzie is a finalist of the cohort, as well as this year's Confluence fellow; the Confluence Fellowship is offered by Catalyst Theatre for underrepresented voices. McKenzie shines a light on the AIDS epidemic, experiences as a Black person, and a queer person.
Berend McKenzie (he/she/they interchangeably) is from the Edmonton area, and has experience as a writer, actor, producer, and screenwriter. McKenzie played in Catwoman with Halle Berry, as well as Angelina Jolie in Life or Something Like It. Closer to home, McKenzie has also acted in Brad Fraser's Poor Super Man at the Arts Club Theatre in Vancouver, amongst other shows.
McKenzie is also writing her autofiction, which is a genre in which true events are retold, but exaggerated and somewhat fictionalized. This autofiction book is currently titled Adopted, and explores McKenzie's experiences as a mixed-race Black child adopted into a white family, and her experiences thereafter.
Responses have been edited for brevity and clarity.
Q: How has your mixed-race and queer identity influenced your work?
McKenzie: I did shows and you would think with all of that I would be invited into spaces that I haven't been invited into before. I was never invited in. They only invited me in when they needed a gay person, they needed someone flamboyant, or they needed a Black gay guy. One play I did, they needed someone to open the doors; the play called for two Black people to open the doors. I took the gig because I felt like it was at least a way in, but I was never invited back after that.
As a Black artist, I have felt that if I don't do it myself, nobody else will. I've had to learn how to produce, how to promote myself, and how to put my name out there.
That's why this WarnerMedia thing and programs like it are so important, because now I am being invited into an area I have not had access to before. It's giving me opportunities that are hopefully going to open doors for me in the future. It means a lot.
I want to take this as far as I can take it. Now, I'm in an academy that allows me access to executives, decision-makers, and creatives that are making work that I find exciting.
Q: How has your experience in the Edmonton area, or Alberta in general, shaped your journey?
McKenzie: I moved away from Edmonton in 1991 when I graduated from the [Grant MacEwan Musical Theatre Program]; I was 21, and I was diagnosed HIV positive for the last year of college, and this was a time before HIV meds. People were dying around us. All my friends were dying and because of the abuse I suffered and because of my low self esteem, I just felt like I didn't belong here. All the friends that I had lost — I just wanted to be with them. 
I moved to Vancouver to die and I spent the age of 21 to the age of 30 addicted. I was a mess. I got sober in 1999, and I've been sober ever since. I stayed there and I met my partner who has recently passed away, and when I started writing, I came back to Edmonton to open my shows.
All of my shows opened here in Edmonton because I had the base of friendships and relationships I'd built in the theatre community in college. If a play does well or moderately well at the Fringe here, it goes to other places; the Edmonton Fringe is one of the best in the world.
Q: Can you tell me about your autofiction work, Adopted, which is currently in progress?
McKenzie: I was adopted into a white family in Calgary. We moved all over Alberta, from as far down as Canmore to Calgary, St. Albert, Valleyview, High Level, and then back down to Hinton.
When I lived in Valleyview, I was the only one with an afro. There were First Nations people there, but nobody was Black — nobody my colour. I dealt with racism; I dealt with microaggressions within my home; I dealt with physical abuse in my home at the hands of my father and my mother.
The book is really special to me. It's not about pointing blame at my parents, it's just talking about my experience. My parents were lovely; they were complex; they were funny; they have a great sense of humour. They really did try to do their best but there's no manuals for how to raise a Black queer kid. I had six brothers and sisters — most of us adopted mixed-race, one Cree, and one Métis.
It just got too much for them and the only way they knew how to discipline, especially the ones who were problematic like me, was in a forceful way; that creates damage.
Q: Can you tell me a bit about the sample script you applied to WarnerMedia Access Canada Writers Program with?
McKenzie: The movie feature that I wrote and submitted is called Hockey Night in Canada and it is autofiction. It was about the night of the very first riots in Vancouver after the Vancouver Canucks lost the hockey game to the Rangers, and it was also the night that my friend in the movie died of AIDS.
It combines hockey and AIDS in a crazy kind of way and it's a story I've wanted to tell for a very, very long time, and COVID gave me that opportunity.
Many families abandoned us when they found out [we were HIV positive] so we had to be there for each other. That has affected my whole life — the trauma from losing my people that I had found my family with, and I'm not the only one.

Now the survivors start to live a life — a life I didn't expect to live, because I expected to be dead by now. Now I have a voice, and I'm going to write about it, and the writing is healing. That's what Hockey Night in Canada was — it was a way for me to acknowledge my past, acknowledge my part in the past, and get it down so other people could learn from it.
I think it's really important for people of colour, queer people, and less visible people to tell our stories. We [need to] tell our stories because nobody else is going to.
Q: How is The Catalyst Theatre Confluence Fellowship as a local opportunity allowing you to ground yourself in Edmonton?
McKenzie: Again, it's visibility. It's about being visible and it's about creating relationships within the community [so] when I walk out of the Fellowship, I have a solid ground from which to work on.
A big part of this Confluence Fellowship will be about creating a mentorship space. So, [I'd like to go] into theatre groups, community organizations like the HIV Network of Edmonton, and into classes to talk about what it's like to be a person of colour creating my own work.
[I want to] offer myself up as somebody that can come in and we can sit down and meet with the students that are BIPOC, disadvantaged, [and] don't know who they are, and really be an ear for them to find the way they can make space in the world for themselves as a creator.
Q: Connecting the two opportunities together, how will these two entertainment industry opportunities improve your accessibility?
McKenzie: What both of these things do is it gives [underrepresented creators] legitimacy; it gives us visibility; it gives us access. It gives us encouragement to keep writing, creating, and this is how it begins. I can't access the opportunities that are out there for everyone else if I'm not even let in the door. The Catalyst Theatre is inviting me in and saying, "Here. This is what we can offer you."
Q: With this WarnerMedia cohort selection process being done, what's next for you and your work?
McKenzie: This is really amazing. The Global Access Academy is about connecting us, getting out of isolation, and reaching out to other people of colour in the cohort. It also allows us access to WarnerMedia executives and creatives who are actually creating the work I love.
This academy is literally saying, "We want to know about you." It's about fostering relationships in an arena as a Black queer person that I haven't had the opportunity to go into. I'm going to say it out loud: my goal is to get a show on HBO. That's my goal. If you're going to invite me into this space, you'd better be ready to let me in all the way.
That's what they're doing. They're encouraging us to write and to tell our stories. Even if it's not HBO, give me a product that I walk out with and go to other places, or to them and say, "Listen, this is for you. Please help me get this done." That's what the Global Access Academy is; it's about not being isolated anymore. It's about being involved and getting into spaces.
If there's an opportunity for me to pitch this and get it done in a movie or on TV — that's my goal, and that's what I hope my cohorts' goals are. I want us to get our foot in the door and blast it open with amazingly creative, fabulous stories that the world hasn't seen yet.
Correction: On September 21, at 10:00 a.m., the article was updated to correctly identify Berend McKenzie as a graduate from the Grant MacEwan Musical Theatre Program, rather than the University of Alberta. The Gateway regrets this error.