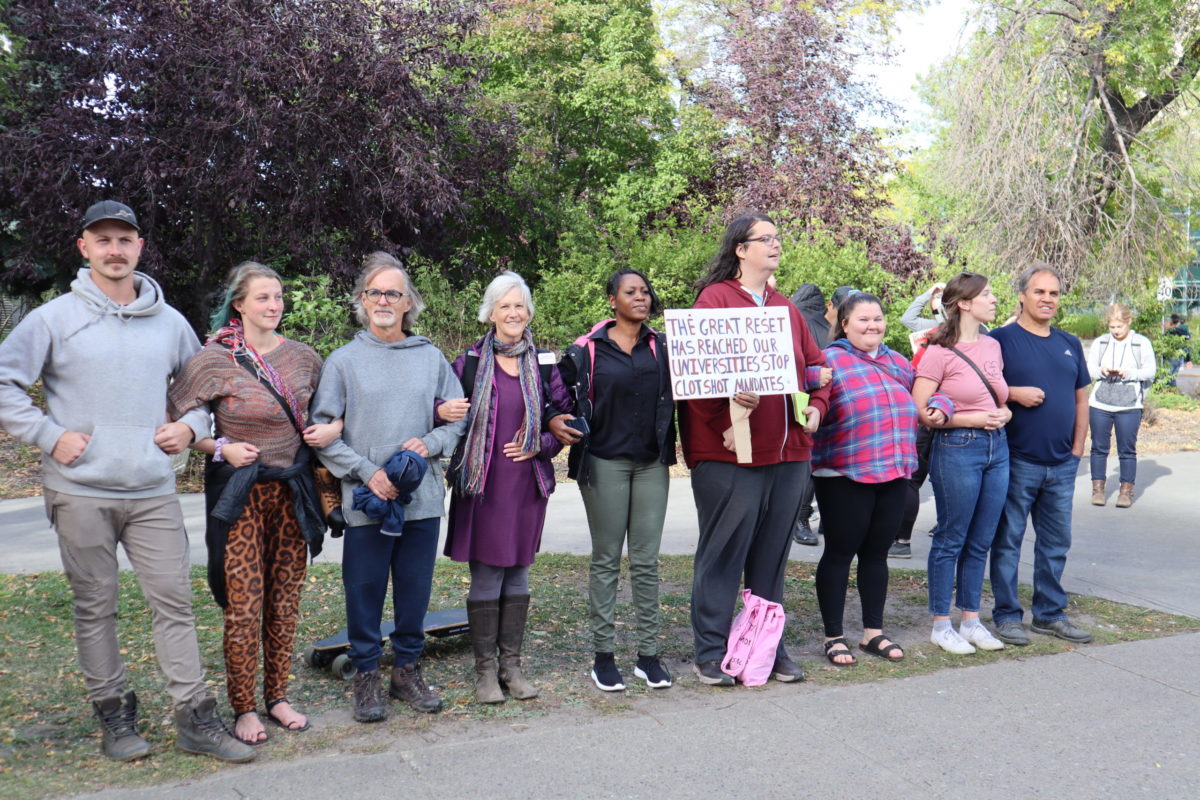 A protest was held on North Campus opposing the University of Alberta's vaccination mandate.
On Friday September 17, approximately 25 students and community members gathered at 87 Ave. and 112 St. to voice their concerns regarding the university's vaccination mandate. The U of A is requiring those on campus to have their first dose for at least two weeks as of October 4, or they will not be permitted on U of A campuses.
In a comment provided by Bill Flanagan, president and vice-chancellor of the U of A, the university stood by its decision to implement a vaccine mandate on campus.
"We're putting in place the safety measures we need so that students have as many opportunities to engage in person as possible throughout the coming year," Flanagan said. "Requiring vaccination is the best and most effective means of both stopping the spread of COVID-19 and ensuring safe learning and working environments in our campus communities."
Jordan Onyschuk, a student in the faculty of education, was in attendance at the protest. He described the vaccine mandate as an "infringement of rights" and suggested the university reconsider the policy.
"Do not mandate vaccinations," Onyschuk asked of the university. "Don't make it so I have to get vaccinated to go to school. [If vaccines are mandated], accommodate people who don't want a vaccine with online classes."
The university is offering 20 per cent of classes online for the fall semester. The institution also extended the deadline for students to add or drop courses to Monday September 20, after the new mandate was announced.
Onyschuk further expressed concern over the future of his education.
"I just want to finish my [education] practicum," he said. "I don't know if I'm going to be able to without getting the vaccination and it's very stressful."
Kareen Grant attended the protest as a parent of a former U of A student. According to Grant, her daughter withdrew from the U of A after the mandate was put in place.
"She had to withdraw this week because of the dictatorship rules that they just put in, which I think are wrong," Grant explained. "It should be a person's choice and medical freedom; we shouldn't abandon that. If we do, we [have a] serious problem."
When asked why she decided to attend the protest, Grant described being motivated to stand with students who oppose the vaccination mandate.
"I wanted to come out here and stand in solidarity with these kids and these students, and we want to push back, I want to help them push back," Grant said. "I'll make sure I'm standing with these kids, not only for my daughter alone but for all the kids that are affected by [the mandate]."
Micheal Speirs, a student in the faculty of education, described the vaccine mandate as a "problem to [his] education."
"I feel I should have access to [my education] without having to jump through medical hoops," Speirs said. "If people want to get vaccinated that's fine. That's their choice. COVID-19 is real… and I'd rather not get it, but I'll take my chances with that."
When considering the Students' Union's support for the vaccine mandate, Speirs questioned who was advocating for unvaccinated students.
"Who is advocating for us students who can't and won't get vaccinated — we have a right to an education," Speirs said. "We shouldn't be discriminated against on those grounds… I didn't see any mass emails asking what the students feel about [the vaccine mandate]. I don't feel there has been any dialogue with us as students. For them to represent us, and say 'this is what the students want,' well I was never asked."
In response to the protest, the Students' Union president Rowan Ley reiterated the Students' Union's supports for vaccination requirements on campus, while also affirming the right to peaceful protest.
"The UASU supports vaccination requirements on campus, which we believe are essential to maintaining a safe working and learning environment," Ley said. "We support robust accommodations for those who are unable to be vaccinated for medical reasons, but we believe all other students owe it to their community to be vaccinated."
"The UASU does fully support students' right to peaceful protest, and we are glad that the organizers chose to express themselves in a safe way by gathering outdoors and in a small group."