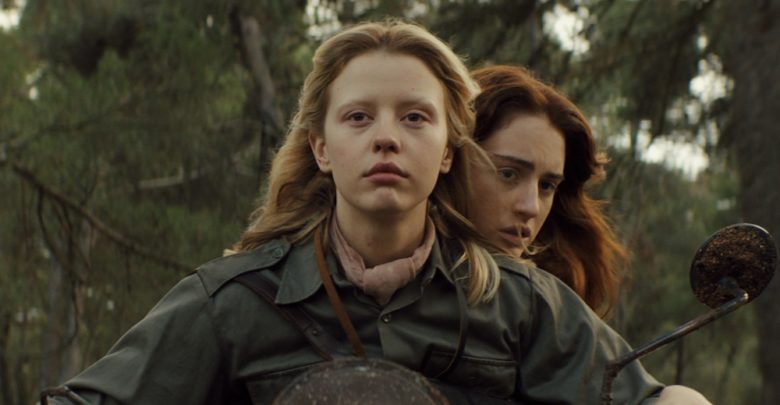 Do you ever get the feeling that too many films are far too dependent on heroic, adventurous male leads, and the female damsel in distress? I know I love a good action packed movie with strong independent women who play the role of heroes for themselves. If you do too, Mayday (2021) is a captivating and empowering film that portrays daring, unapologetic women doing exactly that.
In Mayday, the women are finding out who they are, what they want, and how they want it, with nothing to hold them back.
In the film, Ana (Grace Van Patten) lives an unhappy life, too controlled by a wicked man. Then, she accidentally comes across the perfect getaway — accidentally being transported to an alternate dimension. This is where she meets Marsha (Mia Goth) — the leader of her newfound girl gang, Gert (Soko), and Bea (Havana Rose Liu). They are three girls with extremely different personalities and backgrounds stuck in a never-ending war, who come together to do bigger things.
Thinking this was officially her path in life, Ana gets deemed a natural sharpshooter by the team and experiences life freely, living according to her own standards for the first time. When she realizes she's teetering on a line between heroic and unhinged, she realizes that this isn't who she is, and she must find her way back home — fast. And with the help of her new friends — along with June (Juliette Lewis), the cool recluse — she may have a chance.
Writer-director Karen Cinorre focuses on portraying women as individuals who have their own story, their own choices to make, wars to fight, and no time for waiting around on anyone to save them. She takes regular, authentic women with no special superpowers and turns them into capable warriors, pushing the stereotypes of what we may be used to seeing.
Cinorre discussed how stereotypes limit young women from reaching their full potential, always feeling limited through the way female characters are portrayed.
"Films have been telling women and girls forever who we are, where to go, even what to dream," Cinorre said. "It is time for a new story, a new myth."
Full of beautiful scenery and artistic, enchanting shots, Mayday makes for an aesthetically pleasing, artistic film that is attractive to watch. From thoughtful framing to shots capturing the still beauty of nature, it makes for a very stunningly contrasting film. The film uses settings that mix war and nature, but also pushes for a new, different genre combining both military action and fantasy.
More importantly, the film has powerful female leads that prove you don't need to fit society's norms to be considered useful and important. One of the main takeaways from this movie is the power friendship can have and the lengths you will go for the people you love. The film shows women to be tough, rebellious, and liberated, but still loyal to each other. You don't have to be one or the other — women can be both strong and supportive.
Check Mayday out on VOD on October 1!