Arts & Culture
Cultural Affairs
Film Review: The Sparks Brothers
"The Sparks Brothers" is a documentary centred on the lives and careers of Ron and Russel Mael, the two brothers who form the Sparks band.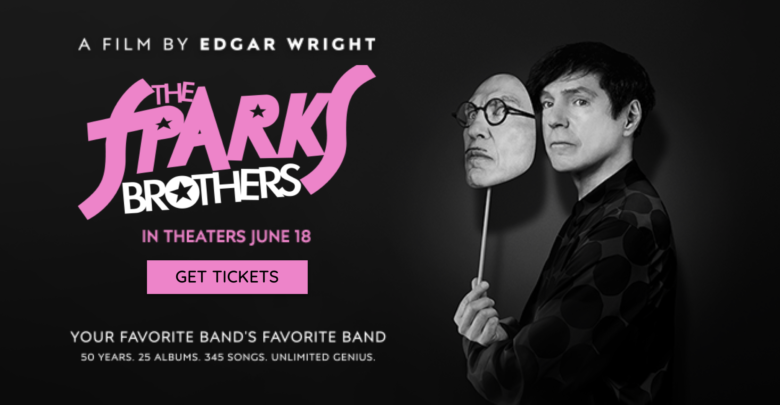 A couple years ago, I noticed two strange-looking men appear on the Instagram posts of Edgar Wright, the maestro of movement and kinetic comedy behind such films as Hot Fuzz, Scott Pilgrim vs. The World, and Baby Driver. One man was a scarecrow-thin doppelgänger of Vincent Pryce. Meanwhile, the other was just slightly less thin, but sporting an uncharacteristic combo of emo hair dyed black and fancy silk scarves. Captions led me to understand that these two were brothers, and that they were the leading and founding members of a band I had never heard of: Sparks. 
Months passed, more Instagram posts came and went, but Sparks stayed in the back of my head. Who were these two men? What were their life stories? And why was one of my favourite contemporary directors making a film about them — his first documentary no less? Wikipedia and Spotify searches only brought on more questions.
Ron and Russel Mael were American-born musicians who have been prolific in the music scene since the 1960s. Having worked both in the States and the United Kingdom, their music sounded at first glance both foreign and familiar. I could detect the origins of some of my favourite British alternative bands (New Order, Duran Duran, Depeche Mode, all of whom make homage-laden appearances in The Sparks Brothers), and this increased my curiosity about Sparks even further. By the times trailers dropped for The Sparks Brothers, I knew that this was the film that would bring me back to cinemas after the most recent lockdown.
Fast-forward to a 10 p.m. Tuesday screening in an almost completely empty theatre. After two and a half hours of being bombarded by a history lesson in the discography and artistic career of the titular brothers, my dad and I got out of our seats feeling elated.
The Mael brothers radiate love of creation in every aspect of their portrayed lives. Not only have they been making music since the late '60s, but they have been challenging and reinventing themselves throughout that time.
I would say that their overall sound lies somewhere between arrangement-heavy pop and idea-driven alternative, but such explaining grossly oversimplifies the zaniness of Sparks' 25-album discography. From the wild vocal melodies of Kimono my House to the geometric-like instrumental arrangements of Lil' Beethoven, the works of Sparks surprise, amaze and excite those avid listeners who are up for the demands of such wide-ranging work.
Even though critical and commercial successes have been small and sparse, Sparks has kept on doing what they love. On top of that, they've accomplished this while never losing the drive and passion that led to them being musicians in the first place. Sparks's wit and love permeate this film as much as their own songs; from the animated segments to the verbal jabs to the playful way song titles presented with dictionary definitions of some of the words they contain, the film keeps finding ways to transpose the Mael brothers' musical originality onto the big screen.
Wright is clearly enamoured with his subjects, but a couple years' worth of Instagram posts shows that this affection stems from getting to know them as people after being a fan of their music since his own childhood. Furthermore, while the film puts a spotlight on Sparks' musical career, it doesn't reveal that much about the Mael brothers' own personal lives, other than delving into their childhood. In a way, this is the film saying that Sparks' own personal selves are best expressed and understood through their music. Given the fact that they've spent most of their lives being musicians, I find this a rather convincing idea.
Although at times The Spark Brothers feels like an intensive crash-course on the creative output of two non-mainstream pop musicians, the film still succeeds in being an entertaining and enlightening primer on two truly inspiring artists. If Wright's documentary filmmaking techniques leave something to be desired in terms of engagement and good structure, his curation of Sparks tracks played throughout the film at least provides a terrific entryway into their discography. Between this documentary bestowing them much deserved critical legitimacy, and the upcoming Cannes film festival opening film Annette penned and scored by them, 2021 may very well be the year that Sparks light the art world on fire.