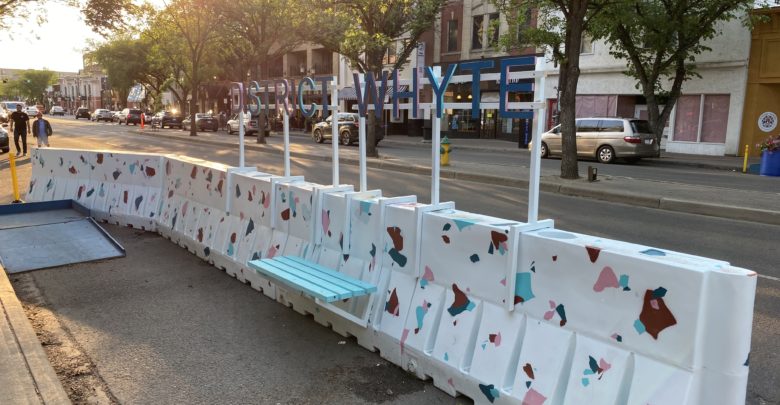 To help accommodate social distancing this summer, Whyte Avenue is expanding its sidewalks once again.
Instead of last year's orange pylons, there are colourful speckled barriers that have custom-made benches attached. There will also be standing tables and artwork, all from Third Space Design Group.
The sidewalk expansion encourages more customers to come to Whyte and improve the overall experience by prioritizing pedestrians over cars — as such, they should be made a permanent summer staple.
To accommodate higher traffic on Whyte, because Saskatchewan Drive is under construction, the space will be smaller this year, only taking up the parking lane but on both sides of the street this time. Additionally, wheelchair accessible ramps are coming, with temporary ones in place right now.
Cherie Klassen, Executive Director of the Old Strathcona Business Association (OSBA) told CTV News that if these lanes prove successful, they could come back every year or be made permanent.
Edmonton has toyed with similar ideas before.
In 2014, the city of Edmonton conducted a survey proposing a Car-Free Whyte Avenue pilot project, with 77 per cent of respondents supporting or highly supporting the idea. It proposed closing the road on busy weekend nights to help combat overcrowding but the project never seemed to materialize.
The COVID-19 pandemic has opened up new possibilities for a car-free Whyte, however, as overcrowding has become a much more serious concern. Additionally, businesses have been struggling during this time and pedestrians, not cars, are Whyte's main source of business.
The trend of closing streets to pedestrian-only zones is everywhere. Calgary last spring closed off Steven Avenue to any cars after 11 a.m. and New York closed up to 100 miles of streets for pedestrians to enjoy as well.
Prioritizing customers in "pedestrian zones" or "pedestrian malls" is a great way to add to a city's culture and cities should consider making use of them in more long-term ways. In many places, there are car-free shopping districts all year round.
In Edmonton, this might make less sense as not many people want to sit at a picnic table outside during our infamously cold winters. However, during summer nights Whyte Avenue is extremely busy and extra walking room would be great assets.
This year's sidewalk expansion is an improvement from last year and I'm glad the city brought the idea back. I want to see this project continued for years to come so Whyte can have less cars, and more people, seating, and walking space for all to enjoy.