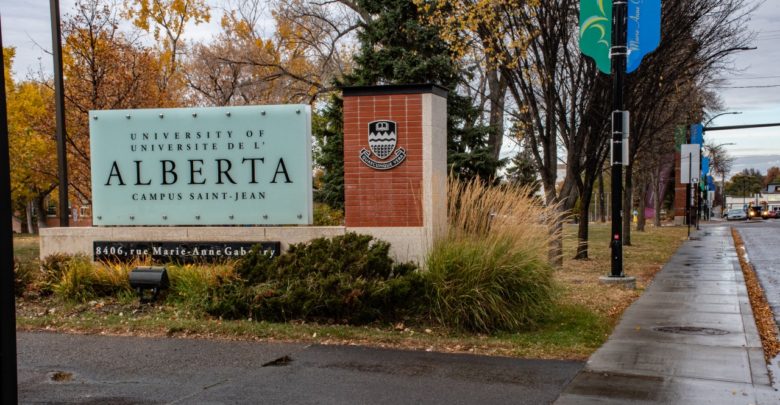 For most of us, it's been a hot minute since we've walked around our beloved campus. There's so much we don't miss about in-person learning: rushing to catch the bus on time, getting stuck behind notoriously slow walkers during class change, or trying to take notes on notoriously small lecture desks are examples that come immediately to mind.
Even so, most of us are itching to return to the buildings that make up our university, especially these five places on campus we miss most.
1. Rutherford Library
The first time climbing up the staircase of Rutherford will have you feeling inexplicably underdressed for the occasion of… studying for midterms. The entire building screams aesthetic academia with its golden hue, archaic chandeliers, brick and wood complements, and of course, the Harry Potter Room. Though the hours spent here were filled with stress-reading textbooks and stress-eating snacks, the charm of Rutherford makes up for it.
2. CCIS and CAB seating area
Whether it was the place you went to debrief your day with friends and grab a snack from Remedy, or vehemently work through a lab assignment due, the science seating areas were a melting pot of students we all are eager to return to again.
This is where we met new friends of a friend, got to chill and take in the beautiful view CCIS windows offer, and where we were reminded just how big the community we joined is. There's something special being part of a bustling group of individuals who know absolutely nothing about each other, and yet are going through a shared experience that connects us all. Or, maybe the pandemic has romanticized our perception of overcrowded hotspots, who knows.
Regardless, this is what CCIS and CAB seating areas offered, a glimpse into what exactly it was we accepted when we clicked "yes" on our offer letters.
3. Campus bars
Ah, yes. The designated places on campus to get drunk with your friends, a part of many students' journey to graduation.
More than that, RATT and Dewey's are stepping stones into real adult life. Not fully qualified as "real" bars but more of an in-between, they gave students a taste of what their future social lives may look like without overwhelming anyone. Nights of off-pitch karaoke, trivia, and mediocre food have been deeply missed and will be cherished dearly, come reopening.
4. Athabasca, Assiniboia, and Pembina halls
What can be said about these halls other than drop dead gorgeous? Actually, much more!
Although most of us know the three places for their beautiful architecture complemented by all four seasons of the year, they hold a lot of history integral to the U of A. From being the first three buildings of the university, to now housing the Faculty of Native Studies and departments such as Women's Studies, we can all feel the gravity that Athabasca, Assiniboia, and Pembina hold in the community. Not to mention, any photo with them in the background is bound to be Instagram worthy. Marvelling at their structures while walking to and from classes is a great privilege lost.
5. Van Vliet
Van Vliet is where we gathered to demonstrate just how competitive we could get playing non-competitive sports.
Playing on an intramural team is like nothing else. It makes no difference whether our teammates are strangers or besties, roommates or classmates. Everyone is somehow 100% physically and emotionally invested as if the Olympics were on the line. We miss the varsity events, too. Cheering at the track and the courts for our student athletes gave us all a sense of community.
We mourn the hundreds of games not played in Van Vliet in the past year, and quietly wait for that day when it becomes safe to throw high speed balls at each other again.