Arts & Culture
Campus & City
How The QUILTBAG champions LGBTQ2S+ inclusion during the pandemic
The local store provides a space for LGBTQ2S+ artists to share their work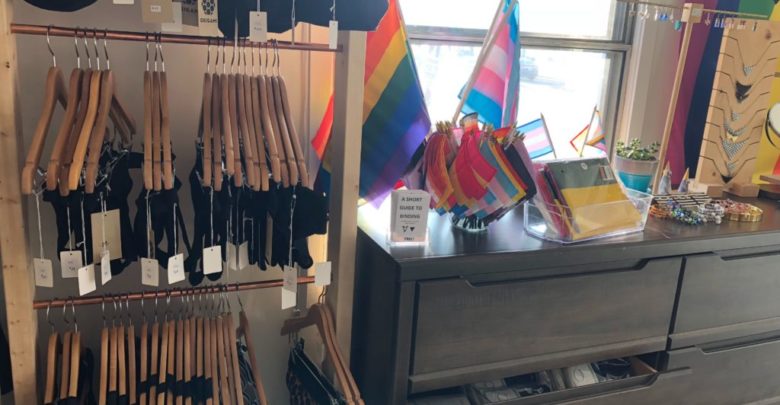 In the times of COVID-19, the importance of local businesses and inclusion is evident amid troubling economic times.
The QUILTBAG, Edmonton queer arts and supply shop, celebrated its two-and-a-half-year anniversary in early 2021. During this time, Rebecca Blakey and Parker Lieb, co-founders of the shop, reaffirmed their mission of supporting local LGBTQ2S+ communities while expressing deeper concerns about accessibility for their clientele.
"We have set out to create a space that provides LGBTQ+ artists with an opportunity to have their work seen by more people, and be connected to a community of people who are interested in buying their work," Leib said.
According to him, the increasing trend of online sales and e-commerce has pushed the shop and its owners to new models they are not entirely comfortable with.
"Right now… the internet functions primarily for the benefit of large corporations," Lieb said. "It relies on having a large advertising budget, on having access to a large number of tools, [and on having access] to a large staff to keep up with all the changes because it rewards constant interaction. These concerns impact not only the future of small businesses but of the communities that support them."
COVID-19 has not only pushed smaller and medium-sized businesses to modernize for a largely online marketplace. Smaller collectives and cooperatives are at a greater disadvantage if they cannot afford to hire talent to build websites, or if customers prefer trying on clothes in-store. An in-store experience for trying on clothes is a priority for many transware stores, to ensure transgender customers are able to purchase properly fitting products.
"In terms of how COVID-19 has impacted our ability to fulfill our vision [of supporting the LGBTQ2S+ community], it has provided us with the opportunity to be more intentional with how we ensure the safety and accessibility overall of our space," said Blakey.
The QUILTBAG still allows in-store purchasing and the trying-on of gender-affirming clothing such as binders, with an accompanying peer for support. However, they also made adaptations to the COVID-19 landscape. This includes new limitations and challenges that come with running a digital marketplace.  
According to Blakey, the social stigma that is still prevalent on the internet limits accommodations necessary for many stigmatized groups. This includes sex workers, who largely purchase in cash rather than having access to credit.
"There are a lot of businesses that have gone completely digital and that is quite anti-poor," Blakey said. "[It is] anti-poverty."
Blakey mentioned the issue of online censorship, with a common culprit being Instagram, of censoring sexual material or simply that concerning sexuality. 
"That is not what we believe in, censoring of sexual content or sexuality," Blakey said. "The philosophy that we use to run the store is the same [as before COVID-19], but the tools we use are now slightly different, to make it continue to exist, and maintain awareness of us as an option [online]." 
This uneasy alliance has allowed for the store, and the communities it supports, to survive during this pandemic. However, much to be done in accommodating sexual diversity, especially in the new normal of the online marketplace, in addition to brick and mortar stores.
Not all is doom and gloom according to Lieb, as The QUILTBAG has not only survived the pandemic but has had small indicators of growth.
"It's hard to say if there wasn't a pandemic if the increase in sales wouldn't be greater," Parker said. "We think it probably would have, but we are fortunate to be experiencing a path to sustainability."
When considering the future of a living wage employee, the possibility is still open, but not currently viable. Moving forward, the business is striving towards its goal of sustainability as part of the shopping experience. 
When asked what they will continue to strive for while serving sexual diversity, The QUILTBAG prioritized community.
"Being able to engage with people, we see it as the main difference between capitalist transactions … and commerce," Parker said. "Figuring out what people's needs are, what brings them joy, or filling a need and being able to meet that in a very one on one way [will be The QUILTBAG's priority]."