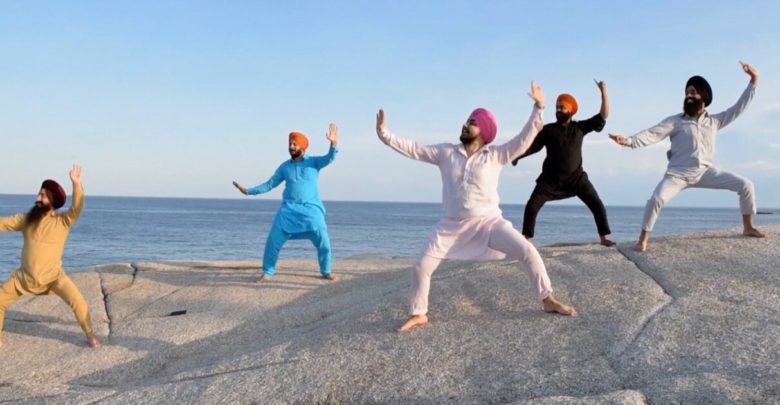 The documentary Behind The Bhangra Boys, streaming for free on CBC Gem, brings attention to the viral Maritime Bhangra Group. The group uses Punjab's traditional dance, the Bhangra, as a means to spread positivity and connect individuals from all walks of life.
Nance Ackerman's documentary introduces us to the Maritime Bhangra Group, which consists of Hasmeet Singh Chandok, Kunwardeep Singh, Davinder Singh, Simran Singh Chadha, and Bikramjit Singh. As newcomers to Canada, the quintet formed this group to connect with their local community in Nova Scotia and conduct joyful activism.
"We all came to Canada to go to school a few years ago, and chose Nova Scotia as our new home," the Maritime Bhangra Group said. "I think people involved in this group live a simple life. It has to be simple. Just find someone who needs help, and help them."
The film allows us to see all the lives touched from this dance group. From performing for an amyotrophic lateral sclerosis (ALS) patient nearing the end of her life to celebrations of Earth Day, this heartwarming film illustrates dance as a means of connection.
"It's not about our dance, it's not about our speech, it's not the money, that's for sure," the Maritime Bhangra Group said. "It's about saying 'you are human, I am human, we have something fun to do, let's do it together.'"
The Bhangra group recognized climate change as one of the main issues being faced by Canadians, inspiring them to meet with Indigenous communities in the Nova Scotia area.
"We are not experts on climate change, in fact we knew very little about it," the Maritime Bhangra Group said. "One thing we know a little about is connecting with people. Even if we can understand 0.1 per cent of this whole problem, we can put it in front of all these thousands of people who are connected with us."
This meeting resulted in a recently viral clip on Twitter and Facebook, where the Maritime Bhangra Group and the Indigenous community connect with dance. Sharing similar dance moves, the two communities find out they have more in common than they previously thought.
The documentary also drew attention to prejudice and discrimination faced by immigrants within Canada. The dance group described online comments they received, in which individuals online claimed the Bhangra group was destroying Maritime culture. In response to such comments, the dance group emphasized fighting hate with love.
"If they are looking for hate from us, that's not going to happen," the Maritime Bhangra Group said. "If they send a hateful message, we are going to send more love."
Nance Ackerman's documentary beautifully highlights the Maritime Bhangra Group and the Sikh community, illustrating the power of connecting over dance and helping others.