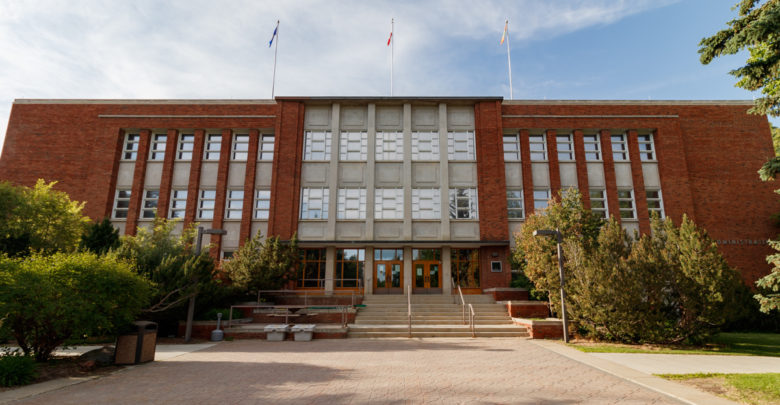 Following the announcement of tougher public health restrictions by the provincial government, the University of Alberta will pause all in-person classes, labs, and activities on May 5.
The Public Health Response Team announced the decision on Tuesday at 9:30 p.m. through an email and a statement released on the U of A's website. The statement said the pause on in-person activities comes into effect at midnight and asks all community members to refrain from coming to campus for the next 24 hours, with the exception of those work involves critical services. The U of A intends to provide further details on May 5 about in-person activities following the pause.
The decision comes after Premier Jason Kenney introduced a new package of health restrictions in a live televised address on the evening of May 4, in an attempt to stop Alberta's surge in COVID-19 cases. Amongst the new measures is a mandate to move all post-secondary institutions online for at least three weeks.
Beyond post-secondary education, the new restrictions will also impact students in kindergarten through grade 12. Starting on Friday, these students will transition to online learning until after May 25, in what Kenney described as the government's "most difficult decision."
Other measures announced the provincial government include limiting outdoor gatherings to five people, limiting places of worship to 15 people, and mandating that workplaces with COVID-19 outbreaks close for at least 10 days.
During his remarks, Kenney acknowledged the difficulties that these restrictions can place on Albertans. However, he asserted the measures are necessary to prevent Alberta's healthcare system from becoming overwhelmed in the coming weeks.
"Governments must not impair peoples rights or their livelihoods unless it is absolutely necessary to save lives and, in this case, to prevent disaster from occurring in our hospitals," Kenney said. "Unfortunately, that is the situation we are in today."
Earlier this week, Alberta reported the highest number of COVID-19 cases per capita in North America. The province currently has 23,623 active cases with 671 Albertans hospitalized and 150 in intensive care. In his address, Kenney noted that if exponential growth of COVID-19 continues, Albertans risk pushing the limits of their healthcare system within weeks.
"We will not permit our healthcare system to be overwhelmed," Kenney said. "We must not and we will not force our doctors and nurses to decide who gets care and who doesn't. That is why we must act now to stop the spike."
Beginning on May 9, at 11:59 p.m, the government will also mandate that numerous services close for at least three weeks. These services include personal and wellness services, such as hair salons, barbers, or tattoo parlours. In-door dining at restaurants and bars will also be prohibited, including those with patios. However, establishments can remain open for takeout, delivery, or curbside pickup.
Alongside the new COVID-19 restrictions, the government will increase the basic fine for violating health guidelines from $1,000 to $2,000 and introduce tougher enforcement protocols for Albertans who repeatedly break the rules.
"There is one simple message," Kenney said. "If you can stay home, please stay home, at least over the next three weeks."