Campus Life
News
Research
Things are Getting "Loud" at the University of Alberta: new sound lab created on campus
The sound lab can be used in various projects, from creating dynamic music for video games to creating sounds to help relax critically ill patients.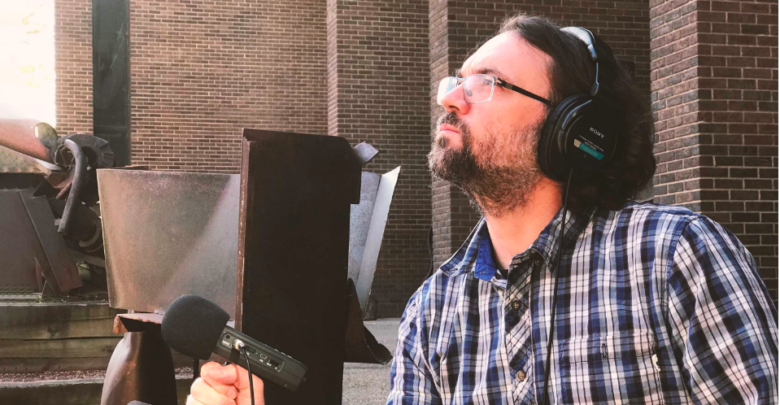 University of Alberta researchers are on the way to developing an all-new Sound Lab to assist in developing various research projects in the realm of audio.
Designated as Sound3 Lab, it is projected to cover various projects related to the fields of art, health, and the community, including music therapy, video gaming, and even digitizing moments from history.
Scott Smallwood, director of the U of A's Sound Studies Institute (SSI) and one of the three researchers heading the sound lab project explained how the University lacks space for audio recording.
"The University doesn't have any kind of recording studio on campus and so part of this is to fill a gap in the research resources on campus and to support these specific research projects we're working on… for the next few years," he said.
With the project amounting to $500,00 Smallwood and his team, ethnomusicologists and music professors Julia Byl and Micheal Frishkopf, were able to pick up 20 per cent of the funding from the university, a 40 per cent from a Canadian Foundation for Innovation grant, and are still waiting on another 40 per cent grant from the provincial government.
"Now we just have to wait and hear whether this will go forward and if [the government] doesn't approve of it it doesn't mean the project will die, it just means we'll have to scale it way back but we're hoping the province will do that," Smallwood said.
Despite the vast U of A campus, finding a quiet empty, space to develop this project was one of the challenges Smallwood and his team faced during their sound lab journey.
"One of the biggest challenges really was finding a space that we could commandeer," Smallwood said."We did find a space in the Old Arts Building in the basement and it is pretty small. We actually got the provincial acoustician to come help us…and she's the one who convinced me it could be done."
Although an acceptable space has been found, Smallwood hopes that they are able to establish SoundLab3 in that space with the right equipment.
Smallwood plans on using the lab for innovating his research in the area of video gaming, more specifically composing sound puzzles and multi-channel sound installation in video games and creating interactive compositions that could be manipulated in the game world.
The Sound3 Lab is also planned to be used for developing music therapy, a project led by Frishkopf. He hopes to use relaxing sounds to help critically ill patients.
"[Frishkopf] is interested in seeing whether certain kinds soundscape  recordings like nature recordings, ambient music or various other kinds of textural soundscape can be helpful for people to induce relaxation, particularly for people who have critical care issues," Smallwood explained.
Byl hopes to preserve history through Sound3 Lab, and use the facility to digitize recordings of occurrences that happened in the past. Part of Byle's research includes recordings from the Edmonton South Asian community.
"She also wants to interview people who are still here and have memories of a lot of  things that happened in the past," Smallwood explained. "They can come in and add their voices to the archive by actually coming in and talking about it with her and making recordings so that there could be more commentary involved" 
While the lab is aimed at researchers, Smallwood says students involved in research are always welcome. He actually hopes the new Sound Lab would help students launch their careers in the future. For example, he mentioned that students taking the Computer Game Development Certificate can work with him in the lab to learn about sound design recording.
"Just like any research that happens at the university, we always involve students in research," Smallwood said.
"Students who are taking the game certificate and learning how to do this, are able to get involved in some research projects at a facility like this where they can get their hands dirty that would increase their ability in getting jobs."
While the U of A is enriched with many advanced science labs, Smallwood suggests that owning a one-of-a-kind sound lab will advantage the U of A's profile even further.
"I think also having a facility like this at the university will increase the profile of the university… because there is a lot of people doing things in sound. I know this because I direct the Sound Studies Institute and one of my roles is to try to bring researchers together from all across campus who are working with sound in various ways to communicate and collaborate with each other. Having a facility like this where really excellent sound recordings can be made as well as critical listening experiments would be huge for us."