Guest Columns
Removing barriers to participation on campus: a Q&A with Breanna Palmer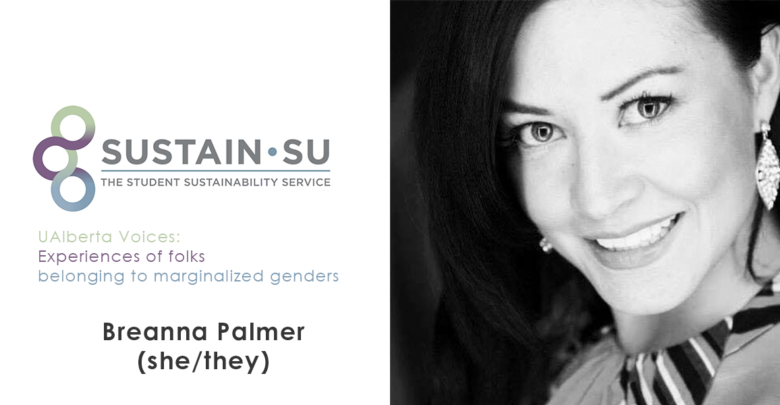 This guest column is written through a partnership with Sustain SU, a service provided by the University of Alberta Students' Union. The interviews and articles have been conducted and written by Sustain SU ambassadors, and edited by The Gateway for publication.
This article is the third of a multi-part series named "UAlberta Voices: Experiences of Folks Belonging to Marginalized Genders" that aims to highlight the experiences of students and community members belonging to marginalized genders in leadership positions within the University of Alberta campus and Edmonton community.
This is a question and answer (Q&A) session with Breanna Palmer (she/her, they/them). Breanna explained the barriers that exist when it comes to participating on campus, and gives her thoughts on how to remove those barriers.
Q: Tell us a bit about yourself and the positions do you hold in the campus community?
Breanna Palmer [she/her, they/them]: My name is Breanna Palmer. My pronouns are sheand her or sometimes they and them. I am a third-year double major in women and gender studies and political science with additional certificates in peace and post-conflict studies, community service learning, sustainability, and international learning. I am also an accessibility student and a dancer with the Orchesis Dance Performance Group on campus. I am on the sustainability council, the student board for Orchesis, and am a member at large of Orchesis Dance Society. I am also a member of other clubs on campus and a volunteer with the Adamant Eve program on CSJR.
In my first year of studies, I served on the Students' Union as an open studies councillor, and I sat on multiple committees such as policy, aboriginal relations and reconciliation committee, and council administrative committee. I decided to run this year for the arts student council as well.
I also volunteer off-campus regularly within various departments of the Canadian Red Cross. I am a member of the national taskforce for Gender, Diversity, Inclusion, and Belonging, and Internal Communications working groups. I worked over the first wave of the pandemic as a bilingual virtual mobilization coordinator, as I am fluent in French and English, and also helped build the field hospital in the Butterdome over New Year's over the second wave of COVID-19.
Q: As an individual with multiple leadership and volunteer positions, do you experience marginalization or discrimination based on your identity?
Palmer: As a women's and gender studies major, I study intersectionality and locational discrimination or positionalities based on one's gender, sex, class and race. As a political science major, I study what that means in light of historical, contemporary and global politics, but also what that means in localized and rural spaces. I am an accessibility student, which is fairly new to me, so I'm still learning what that means for me and how I can navigate various complex challenges and barriers.
More immediate, in my experience as open studies councillor, for example, I did recognize that there were instances of marginalization and discrimination. Learning how to work together, learn and unlearn together became important for achieving our common goals, like having more women in leadership. Overall, yes, I do experience some marginalization based on my identity. As for how I deal with it, I made important connections with other members of the council. I found that members generally are very encouraging in voicing opinions and advocating for views. I think it's important to voice and express concerns and informed opinions. I know that there's a lot of students, accessibility or otherwise, who cannot necessarily attend SU meetings, or who may not be able to properly articulate the things they're dealing with or their particular needs at that moment. I try to fill in where I can so that other students have a fuller picture of what students are going through and so that equity can be achieved in our campus communities. There are many ways to be engaged as an ally, like advocating strongly for those whose voices are not always heard, creating and holding space for others to participate, and standing up not only for yourself but for others as well. That is easier said than done though.
Q: As a marginalized person, what is your perception on the prevalence of gender inequality?
Palmer: Women and gender studies, political sciences and other interdisciplinary studies and discourses do not shy away from topics such as gender inequality and or marginalized identities. I think that generally, professors are aware and knowledgeable about these issues and do much to create equitable spaces in physical or virtual classrooms and have much to contribute to shaping the minds of young people. I think this is important work on, and we all have much to learn about how to recognize and intervene or make adjustments where possible to create more equitable spaces. My personal perception of the prevalence of gender inequality as a marginalized identity is that there are still some pretty significant gaps, but if we all strive to do the important work of learning, unlearning, re-learning and working together, then perhaps in our lifetimes we can make a real impact to closing those gaps for good. The pandemic has shown us that there are a disproportionate number of women exiting the workforce in order to care for children or others. I think in terms of student life, things like campus daycare, having children in classrooms, or finding other ways of balancing school, work, and life can prevent burnout, humanize, and better sustain us overall. There are many ways to do this work, to create more meaningful interactions with others, to recognize and support each other in our quests to conquer the world and to leave it better than we found it.
When I think about what 'feminism' means to others, I reflect on how they might perceive it. For some people, is it a bad word? Does it mean centring the lives and experiences of women or others in their professional or personal lives? For me, it's more about focusing the lens on the particular experiences of women and marginalized identities. In doing so, we can bring about cultural, socio-political and economic shifts. The #MeToo and Black Lives Matter movements have illustrated for us the varied experiences and struggles faced by marginalized communities. These are not just "global" or "over there somewhere," they are very present in Edmonton, on campus, and in our everyday experiences and daily interactions.
Q: Do you think attitudes and views towards marginalized identities in leadership positions should be changed? If so, how?
Palmer: There is still a lot of gender-based violence and a lack of representation for women, but I think attitudes and views are slowly changing. Complex systems are exactly that: complex. They are interconnected, entangled and underpinned by many complicating and implicating factors. To make systemic changes takes many people working together towards the same goal. I think changing attitudes and views towards marginalized identities in leadership positions, empowering others to find and use their voices, creating and holding space for others to do the same and recognizing and removing barriers caused by systems or structures are all simultaneous work that needs alignment and cohesion.
Some may disagree with me, which is fine, while others may agree, but I think the diversity of perspectives and brainstorming of ideas and sense of teamwork is important regardless of one's title or location. Those who are really passionate about it are contributing to it, and I think that people in leadership roles have a duty and responsibility to not only care but to do the work themselves and to create opportunities for diversity and inclusion in spaces in their charge. Learning how to do that as students in our own spaces is difficult but essential work. There is always more work to do to recognize that we are not only students but are holistic humans, with a whole host of uniqueness and vulnerabilities that makes us human. We have families, career aspirations, hobbies, likes, dislikes, and other challenges such as food insecurity, mental health needs, other special needs, or are dealing with the pandemic and our educational experience. You never really know what people are going through or dealing with at any particular moment, and so being mindful of that can do a lot. How we mind and support ourselves and others and how we show up to participate and serve in a world-class community really matters. That is what leadership looks like to me.
Q: Did you experience any barriers to entry into your leadership positions?
Palmer: Yes and no. In short, I graduated with a bilingual high school diploma from Ecole JH Picard, studied bilingual business at NAIT, studied and worked at SAIT, attended Royal Roads University and MacEwan before coming to the University of Alberta as both an accessibility and mature student, through open studies. The traditional path or pipeline from high school to university was not exactly linear for me, which contributed to some barriers but also opportunities and perspectives. Working in various fields and roles and living in a few places also gave me some other experience that helped me help others. Barriers to leadership positions on campus were eased by finding like-minded people and trusting that they are just as strange as you might think you are! By introducing yourself to others, doing what you like to do, learning a few things, and creating space for yourself and others can go a long way in helping to navigate any experience. For me, there were active efforts to remove barriers, recognizing the complexities and challenges that I was facing, and these are still ongoing.
It's a consistent effort to manage and balance these barriers, but I have learned that all human beings do this in one way or another and that all are deserving of dignity and respect, regardless of experience or location. Whether we need to learn, unlearn, or re-learn, just get it done! Recognizing that we have privilege in one way or another can empower us to use what we do have in the right way – not only to draw awareness but to make visible the invisible and make progress. Forward it forward. Goofy-footed or not! We are all just trying to do the best we can do, where we are, with what we have, and together we can do a lot.
Sustain SU Ambassador's Note:
Addressing the United Nations' Sustainable Development Goals #5 and #10: Gender equality and reduced inequalities
Inequalities and discrimination based on identity remain present in the campus community and in the wider world — especially for marginalized identities seeking leadership positions. It's important to speak up when we notice inequalities being perpetuated and to amplify the voices of those speaking on their experiences as a marginalized identity. In fostering healthy and sustainable communities, we all have a role to play in working to remove barriers for those who are marginalized, and achieve a world without inequalities and discrimination.

This guest column is written by Sustain SU volunteers through a partnership with Sustain SU, a service provided by the University of Alberta Students' Union. To learn more about Sustain SU or to get involved, visit their website.