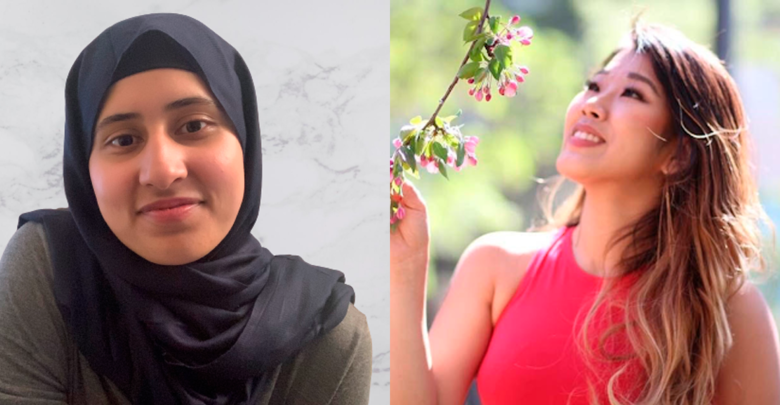 This guest column is written through a partnership with Sustain SU, a service provided by the University of Alberta Students' Union. The interviews and articles have been conducted and written by Sustain SU ambassadors, and edited by The Gateway for publication.
This article is the first of a multi-part series named "UAlberta Voices: Experiences of Folks Belonging to Marginalized Genders" that aims to highlight the experiences of students and community members belonging to marginalized genders in leadership positions within the University of Alberta campus and Edmonton community.
This is a question and answer (Q&A) session with Sustain SU Program Lead, Michelle Kim, and Sustain SU Coordinator, Samar Kauser, on the topic of sustainability within the campus community and wider Edmonton region.
Michelle and Samar have provided an opportunity to shed light on the barriers folks belonging to marginalized genders who occupy leadership positions in the community face, as well as shed light on additional intersecting forms of oppression.
Responses have been edited for clarity and brevity.

Q: Can you provide us with a description of your leadership role within Sustain SU at the University of Alberta Student Union?
Michelle Kim [she/her]: I am the Program Lead for Sustain SU. I oversee eight to 10 sustainability programs, work with Samar to improve campus sustainability, and give students opportunities to practice sustainability of learning.
Samar Kauser [she/her]: I am the Program Coordinator for Sustain SU. My main role especially during COVID-19 is to facilitate volunteers, advise the leadership team, lead sustainability ambassadors, and monitor volunteer management.
Q: Do you hold intersecting identities that have placed a barrier on your ability to be recognized and heard as a leader within the campus community?
Kim: I would say that there are moments in the past, especially when I used to serve leadership roles. I am a woman of colour so I often realize that my intersecting identity related to age, race, and gender provided some challenges when it comes to validating my experiences. A lot of the time as a person of colour, [a] woman, and [being of a] younger age group, I had to work ten times harder to make [my work] more valid. There are some instances within the campus and the wider Edmonton community where we face challenges due to intersecting identities.
Kauser: [My experience] is quite similar to Michelle. I'm a woman of colour in the business faculty. In some of my classes… I've had to prove myself to my colleagues, that I am worthy and smart before they gave me a task.
Q: Do you identify as a marginalized gender? If so, in what ways have your leadership roles as a marginalized gender within Sustain SU enhanced your ability to link theories of sustainability to practice?
Kim: I am from a marginalized community. In terms of sustainability, to do things right, we need to hear from voices that are heard often from marginalized communities – whether it is related to poverty, water safety, refugees, or other forms of socio-economic, environmental sustainability. It's often that marginalized communities are impacted the most. Since I am from those communities, and I am aware of how it impacts the community, it allowed me to look at challenges from various perspectives and look at [environmental sustainability] from the bottom-up rather than top-down; to theorize practice and try to serve people.
Kauser: My first year [of university] was not that good. When my friend told me about Sustain SU, I applied to be a sustainability ambassador. It was kind of like a safe haven [from being] continuously marginalized. When I went to my volunteer duties, I was more valued. I wasn't sustainable before, but because of being valued, I changed my major from finance to natural resources, energy, and environment. People looked past my ethnicity and gender, heard me, and valued my opinions – because we all have that cause that we want. Compassion and making people feel valued is what helped me accumulate a leadership role in sustainability.
Q: Does the University of Alberta currently have misconceptions or biases regarding sustainability? If so, how do you think students can engage in sustainable practices on campus or at home, and become more aware during this time?
Kim: Not just the University of Alberta, but many folks in sustainability think [sustainability] is [only] related to the environment, not knowing different facets or pillars and complexity of it. I think what's important is for students to understand different aspects of sustainability and find out which aspects are related to them. Some may focus on health, peace, and justice. For others, it can be about the plastic issues [related to] poverty. [Students should] identify the area that they are most passionate about and understand the intersectionality of it. If you are focused on social sustainability, how does it relate to the environment? We can start from our passion. We are living on one planet and it requires a community effort to make an impact and make changes — to practice sustainability on-campus, awareness, understanding, and passion. Do your research! [Research] even small things about understanding the histories of Indigenous people — recycle on and off-campus, or use electronics for paper studies. Make many small changes, and don't be afraid to be aware and spread awareness.
Kauser: "You are sustainable only if you do something big," is a misconception. [Some might think they're sustainable because] "my habits are fully sustainability regimented, or my academic life is, sustainability awards, or created sustainability group."
I don't think that's what [sustainability] is. If your personal life is regimented that's great – but if you're trying to figure out where the plastic cup goes into the recycle bin, that's still sustainable — everyone worries about the planet deteriorating. You don't have to do something big to be labelled sustainable. A couple tips I'd recommend are that women's and gender studies majors should attend any information session in the [Sustain SU] newsletter if they have the time, and if there is a technical event, attend it even if you don't know the basic knowledge. I went to a session about biomimicry! I don't know anything about technology or biology but I went, and I learned a lot. Just push yourself and attend events, especially about new technologies, because we already have the technology and solutions [to accomplish sustainability]. There is just a jump, or [need of] willingness to adopt them.
Q: Do you think COVID-19 has placed a barrier or enhanced conversations regarding sustainable practices in our community?
Kim: [I think that COVID-19 has placed a barrier on sustainable practices], because it gave us physical barriers. There is a higher [amount of] single-use plastic and materials being thrown away because we are living in the pandemic world. In terms of [work that requires] physical activity, there is a halt, but at the same time the pandemic allows us to be more aware and continue conversations of what is going on. There is so much that impacts our future. In terms of awareness and context, there are still ongoing conversations about our community.
Kauser: I think COVID-19 has placed a barrier. One barrier is misconceptions when it comes to news: [for example], lots of garbage is decreasing, but the amount of takeout is increasing. However, [COVID-19 has also…] enhanced conversations about social sustainability. [An example of this is] domestic violence…. and just the dichotomy between wanting to stay home because you want to be safe, but you can't stay at home because of a family member. Either way, you are not safe.

[In terms of] economic sustainability; support local restaurants! Now that another lockdown is coming, please consider picking up curbside even if it is Pizza Hut. Every time you order from Skip-the-Dishes, it charges [the restaurant] a fee. How about you just pick-up curbside? However, the people that Skip-The-Dishes employs are low income. We want to support low-income Skip-the-Dishes employees and small business owners! Either action creates a ripple effect.
Q: There are various types of sustainable practices that individuals engage with during their daily routines such as environmental sustainability, financial sustainability, social sustainability, and personal sustainability. Which pillar of sustainability do you currently practice the most? How do you incorporate this pillar into your every day or weekly routine?
Kim: Personally, I practice environmental sustainability. I try to bring my grocery bag along, reusable mugs and recycle. [I have also been] trying to play around with waste materials and be creative with do-it-yourself projects to reduce waste as much as possible. In terms of social sustainability, it [has] become a key topic, therefore, there are opportunities to improve your learning. As a person from marginalized communities, you need a safeguarding idea and need to educate yourself as much as possible. This starts with friends and family to the wider community if you have the capacity.
Kauser: I'm split between environmental, financial, social [sustainability]. I reduce waste, try to volunteer for sustainability groups, use reusable bags, and try to make at-home foods. [I try to] not buy too many things, I donat[e] things I don't need to combat consumerism, [which] sort of ties into financial sustainability. When it comes to socializing, I'm learning more and more, especially [in] my role when it comes to inclusivity. [I am] learning about language, seeing what impact it has, and how it makes people feel included.
This guest column is written by Sustain SU volunteers through a partnership with Sustain SU, a service provided by the University of Alberta Students' Union. To learn more about Sustain SU or to get involved, visit their website.