Campus Life
News
Asian Community Leaders Summit discusses anti-Asian racism on U of A campus
University of Alberta international students and Asian community members hope to work with the university to establish a more inclusive space in light of recent anti-Asian sentiments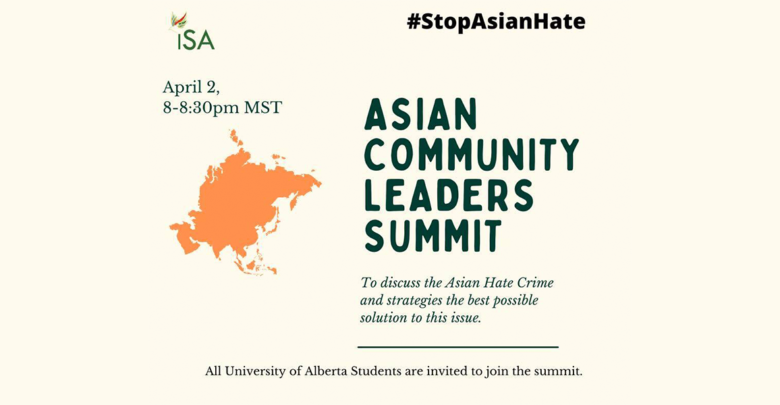 The International Students' Association (ISA) recently held an Asian Community Leaders Summit to address the rising concern of racism against the Asian community. 
The virtual conference was hosted by ISA president, Chanpreet Singh, on April 2. The event featured international students, marginalized students, and student council members. Additionally, all university community members were invited to discuss their personal experiences with discrimination as well as contribute to an action plan to combat racism at the University of Alberta.
Yintong Liu, a Students' Union senate undergraduate representative, shared his and his friends' experiences with "soft racism," or implicit displays of intolerance. Many of these encounters took place while he and his friends lived in Lister residence. 
"When I tried to communicate and talk with other kids on the floor — most people were friendly — but there were some people that just didn't want to talk with you, they didn't want to take you in, they just wanted to exclude you because you were Chinese," Liu said. "[They wanted to exclude] you from the community, from the dialogue, and from the communication, which was very disturbing and embarrassing for us."
Similarly, Nicole De Grano, co-president of the Philippine Students' Association, commented on the struggles faced by students from minority communities living in residence. 
"I've lived in residence and I know that it's hard to adjust to that situation in the first place, let alone be a marginalized body, let alone try to exist in a very white space, and this can extend to the university community," De Grano said.
Students consider resources for reporting racism 
De Grano also brought attention to the lack of resources available for students to report their encounters with racism and proposed the implementation of an anonymous reporting form, along with anti-racism education for students.
"I don't want it to feel like optics for the university and I want this to be an intentional thing that we are doing," De Grano said. "This is the time to call people in rather than call them out."
Katie Kidd, current Students' Union vice-president (student life) and Simran Dhillon, a Students' Council science councillor, commented on the resources currently available for reporting racism. Both brought attention to the Code of Student Behaviour, under which the Discrimination and Harassment Policy offers students a means of reporting offenses.
However, they also acknowledged issues with current reporting systems, including a general lack of knowledge about the process, or its complicated and tedious nature.
"I think I speak largely for students that aren't in [the] Students' Union that [reporting] can be a really hard process," Dhillon said. "If you have to navigate so many different channels it can be even more daunting and then people won't be able to get the help they need."
Singh proposed a series of action items to target these concerns including better equipping resident assistants to handle racism complaints. He suggested holding workshops during Week of Welcome (WoW) to educate the community, and implementing anti-discrimination training for student group executives.
"What I've always seen with the university is when we just tell them the issue, they listen, and then they just move on … [if] you don't provide them with a solution," Singh explained.
In addition to Singh's suggestions, Dave Konrad, the undergraduate Board of Governor's representative, also proposed advocating for more Asian representation among teaching staff and working with the ISA to develop a joint letter addressed to the university.
Singh promised to work closely with the Students' Union in implementing these action items and concluded the conference on a hopeful note about collaboration to fight against racism.
"The issue is there," he said. "We all need to acknowledge it and we all need to work together as a community to find a solution."