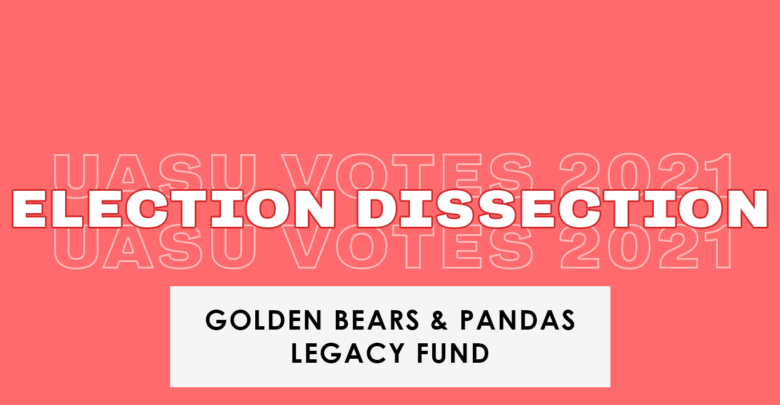 Every year The Gateway hosts a panel to determine who should and who will win in each race for the Students' Union elections to assist those undecided on who to vote for. Our election dissection panel is here with their insights on student politics and their takes on this year's candidates.
Opinions expressed by the panellists do not reflect those of The Gateway.
The panel
This years panel for election dissection included:
Ashlynn Chand: U of A alumni, former arts and culture editor at The Gateway
Stephen Raitz: U of A alumni, past candidate for Students' Union vice-president (student life)
Kelsey Fortier: second-year law student
Golden Bears and Pandas Legacy Fund referendum
Both Chand and Fortier disclosed that they really don't care for varsity sports. Fortier went on to explain that from last year's failed campaign to now, she still doesn't see how the fund is useful to students who aren't athletes.
"Nothing is going to make me care about varsity sports," Fortier said. "I want the campaign to tell me why, if I don't care for varsity sports, I should still care for it and all I'm getting out of the campaign is the student jobs, which is the one thing I care about."
She also said that in a year of remote learning, it's a "hard-sell" to renew the referendum when students can't attend games.
"I think this campaign struggles from preaching to the choir a lot and that's what I saw," Fortier said. "For full disclosure, I voted no last year and I probably will again… more has to be done to show the inherent good of this."
Chand, on the other hand, voted yes last year, but it wasn't because she found the "inherent good" in the fund Fortier is looking for.
"I don't really care about sports and I probably will never really care about sports," she said. "I'm also not really into fostering school pride… I did vote yes [last year] cause I felt bad and I like Guba and Patches — I guess that's the only redeeming part about it. "
Raitz said he saw improvement from the last year when they first tried to run the legacy fund.
"The learned the lessons of how they ran the campaign last year and it appears to be better this year," he said.
Chand also pointed out that the fee is quite minimal, and Fortier also agreed that because the fee is on the lower side, people will be sympathetic to the campaign. However, both of them still didn't see the point in it.
Should pass: two votes for yes, one vote for no
Will pass: two votes for yes, one vote for no