Arts & Culture
Campus & City
Meet Hunter, local Shiba Inu and painter extraordinaire
Having paws isn't stopping this painter from taking the art world by storm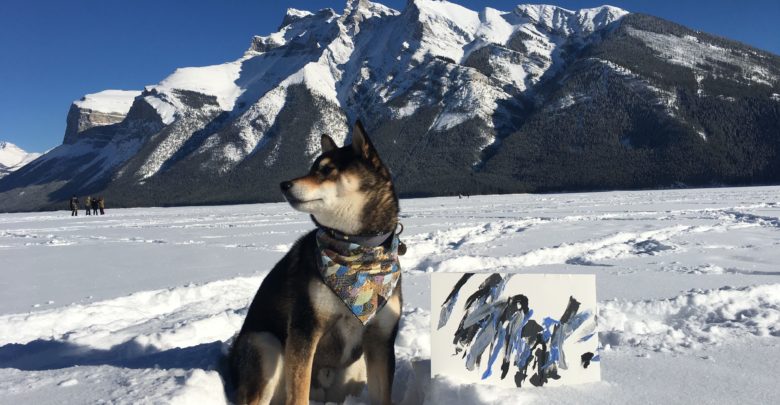 A young Edmonton artist is making his debut with vibrant abstract paintings filled with dynamic, energetic brushstrokes. He's also a dog.
The delightfully intelligent Hunter and his owner Denise Lo have been creating their unique paintings and selling them on Etsy since 2017. Hunter also poses for Instagram photos next to his paintings in places ranging from Edmonton's River Valley to the Rocky Mountains, all with the quiet dignity and gentle smile that Shiba Inus are known for.
According to Lo, Hunter has been curious and energetic ever since he was a puppy. He enjoys challenging situations, such as learning to swim despite being afraid of the water, and he even picks up on common words. Lo and her husband eventually realized that they had to come up with creative ways to stimulate his brain.
"We took him to dog parks, on runs, we even got him a treadmill at one point so he could release that energy," Lo explained. "But it just wasn't enough."
"Eventually we ran out of things to do with him. We stumbled upon painting and now here we are!"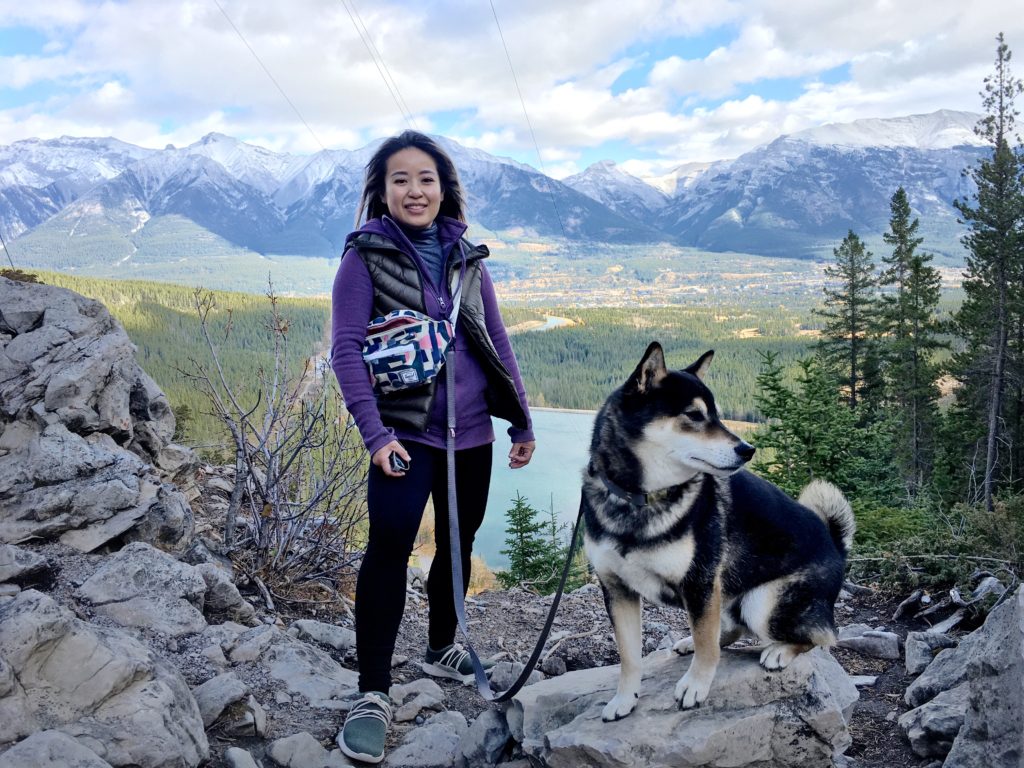 They initially posted Hunter's paintings on Reddit, not expecting much to come out of it. Things "snowballed from there," and so far they have sold about 300 paintings.
"It's been quite a ride," Lo said.
Lo selects the colours and dips the brush in the paint, allowing Hunter to pick up the brush with his mouth and touch it to the canvas. Lo mentioned that the motion came naturally to Hunter.
"I didn't tell him to do it. He just did it."
Lo, who is an English instructor at the University of Alberta's Faculty of Extension, says that really she loves "the human aspect" of it all. As with her job, Hunter's paintings have allowed her to connect with people in a meaningful way by bringing them joy and happiness.
"A lot of the people who have contacted us have said that it makes them happy, especially for ones who have lost pets before or who can't have a pet because they're allergic," Lo said.
"The ones that really touched us were the ones whose parents have owned a family dog and they're no longer with them, but [Hunter's paintings] bring joy to their heart. So that's what makes it really special for us."
For Hunter, painting is a way to continuously challenge his brain. But as Lo explains, even learning how to create art isn't enough for this curious canine.
"He's mellowed out a lot more now than before, but every night he will still come and bug us to do some kind of training . . . just something to stimulate his brain."
Hunter and Lo's paintings have also opened up doors to connect with charities and nonprofits, like a Shiba Inu rescue in Washington, D.C. that reached out about donating some of Hunter's paintings for a fundraiser.
"Usually in social media you feel isolated sometimes, but when people reach out to us . . . it just makes it a little bit more worthwhile," Lo said.
When asked what she thinks Hunter would be like as a human, Lo laughed at the thought.
"He's kind of snazzy, like he has personality. I think all Shibas are like that," Lo said. "They're a little bit spicier than your average golden retriever."