Arts & Culture
Campus & City
Dragons on the Tibetan Plateau sheds new light on Chinese textiles
The Mactaggart Art Collection's virtual exhibit uncovers the mythical designs of the Ming and Qing dynasties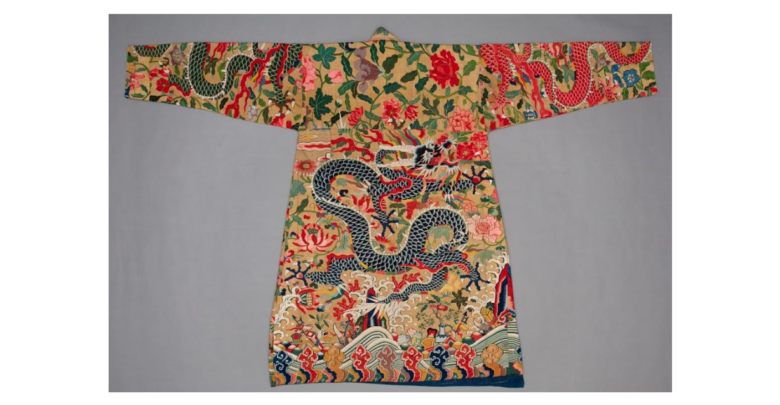 The University of Alberta Museum's Mactaggart Art Collection currently features the exhibition Dragons on the Tibetan Plateau, a virtual exhibition about the role of dragon designs in Chinese and Tibetan textiles.
Several exhibitions in the virtual reality experience feature voiceovers from Mactaggart Art Collection curator Isabel Chueh. Chueh details the history of Tibetan and Chinese relations during the Ming and Qing dynasties. Chueh also goes into depth about the significance of dragon designs, variations and regulations on the design, and the creation of textiles.
Dragons on the Tibetan Plateau opened in February 2020, just before COVID-19 restrictions forced the museum to transfer its work online. Most of the textiles now include a transcribed voiceover from Chueh, a magnified look at each textile, item descriptions, and a link to the UAlberta Museum's search site for further information and photos.
The exhibition was also paired with a lecture on Feb. 12. The lecture featured interactive activities like tapestry-weaving and embroidery, complete with free instructional videos. There was also a 12-question scavenger hunt included to make the virtual reality experience more engaging.
The lecture was followed by a question and answer session with Chueh. Attendees asked questions about dragon imagery, the development of dragon symbolism throughout Chinese history, and more.
UAlberta Museums communications and marketing manager Jill Horbay explained why the importance of exhibitions extends beyond public viewings.
"Collections on campus help our modern understanding [of history]. That's the benefit of having museum collections on campus: as knowledge changes, as research develops, and as ideas are formed, we have some primary sources to refer back to."
Many more people have the opportunity to view the textiles now that the exhibition has moved online. Horbay hopes that those viewing the exhibition will be able to learn something new.
"The textiles in the exhibition are some that have never been seen before," Horbay said. "They are an area of the collection that hasn't been researched as much as other areas."
"We're able to link it to different resources that we have — one of which being the University of Alberta search site — and through that you can learn about the different collections on campus and see how they interrelate," Horbay added. "I hope that people can see how this collection fits in with the larger network and other collections on campus."
Horbay also encouraged those interested in the exhibition to take a look at the interactive portions.
"They have a connection to the collection as well. [The scavenger hunt] might help people explore [the exhibition] in a different way, or see it differently if they've already visited it."
Dragons on the Tibetan Plateau's careful curation embodies the grandiosity of Tibetan and Chinese culture during the Ming and Qing dynasties. The exhibition is perfect for anyone interested in learning something new and celebrating the Lunar New Year from home.