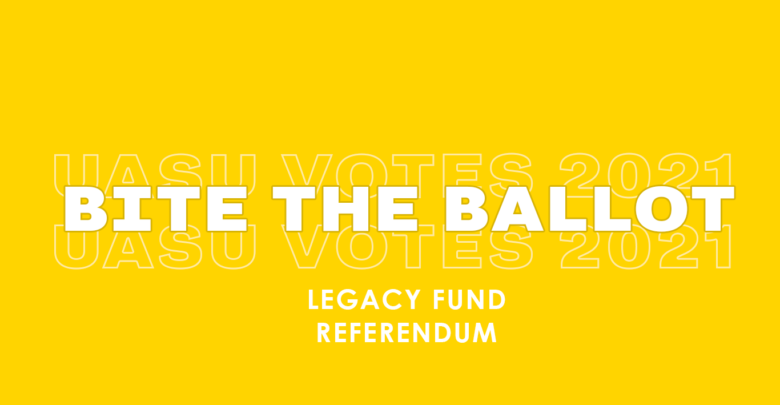 Coming back from a narrow loss last year, the Golden Bears and Pandas legacy fund campaign had their work cut out from them this year.
From campaigning in the midst of a pandemic, to overcoming their issues from last years' elections, the legacy fund campaign team had many concerns they needed to address if they wanted to pass the $4.64 dedicated fee unit (DFU).
Overall, they undoubted improved on their performance from last year. Forum representatives were well-spoken and charismatic, their social media accounts are incredibly active, and the campaign better explained how students benefited from the legacy fund.
Coming away from forums, I always felt better informed about what the legacy fund does for students on campus. Beyond paying for some pre-season travel for varsity teams, the DFU pays the salary of student kinesiologists, providing them with invaluable word experience.
The legacy fund also contributes to student events on campus. When courses are in-person, this includes subsidizing free game nights, paying for free food, and helping purchase mascot costumes.
Even with these benefits, however, the legacy fund faces serious challenges.
Amongst the biggest is the fact they are running a campaign while students are learning remotely from home. Of course, this is no one's fault — it is difficult, however, for students to see the value of the legacy fund when no sporting events have occurred for almost an entire year.
During this period of time, a significant portion of money is sitting in reserves, waiting to be used in future years. The campaign would've benefited from creating a detailed plan on how they planned to use this extra cash when students return to campus.
Nevertheless, the core issue facing the legacy fund campaign is not the COVID-19 pandemic. Instead, it is that many non-athletics students do not see the value of the fee.
This is a problem which likely contributed to their loss last year and which continues to haunt them this year. For students who don't attend sporting events, play on a varsity team, or study as kinesiology, it can be difficult to see the value of the DFU.
Because the legacy fund needs students from across all faculties to support them in order to pass, this may spell trouble for the legacy fund.
While the campaign attempted to emphasize these benefits during forum performances, these too often came up short and focused on the wrong benefits, such as paying for campus mascots. After all, let's get real — the legacy fund might fund mascot costumes but our mascots, GUBA and Patches, won't simply disappear if the legacy fund doesn't pass.
Will it pass?
Examining the history of the legacy fund, this is a tough race to call. Their campaign has done great outreach on social media and really explained how the DFU contributors to campus culture. Yet, because many non-athletes don't see the value of the fee, I worry they may repeat the same results as last year.
While the race should be close regardless, I do sadly predict the campaign will lose this year. Unfortunately, running in a pandemic really prevented students from seeing the tangible benefits that this DFU brings students.
Should it pass?
Ultimately, the legacy fund should pass. It contributes to student culture in important ways and I worry that, if the campaign fails, it will only create further division within the student population.
Now, I understand the concerns of non-athletes. Even before COVID-19, you would never find me at a Golden Bears game or working out in Van Vliet. The only 'athletic' thing I've done on campus is running up the stairs from the LRT when I'm late for class. How do I, and other students not involved in anything athletic, benefit from this fee?
In full honestly, myself and other non-athletes are unlikely to directly benefit as individuals. Unless I'm providing sports coverage for The Gateway, I don't imagine you'll run into me at a free game night, taking advantage of the free food that the legacy fund helps provide. I also know I'm not the only student in this position.
Where we do benefit, however, is as a campus community. Those who don't enjoy sports may grumble under their breath, but sporting events undeniably provide pivotal university experiences for countless people. From helping out our varsity teams, to keeping game nights affordable for students, many of these experiences wouldn't be possible without the legacy fund. Students from every faculty, whether they are in kinesiology or arts, benefit from the legacy fund. This is what helps foster a sense of community amongst many U of A students and it is this sense of togetherness I really miss during the pandemic.
Yes, student athletes benefit more from continuing this DFU. However, our entire campus is better off because of the benefits that the legacy fund provides to students. Non-athletes cannot simply pretend sporting events are unimportant — and if they do, they are short-sighted.
Between budget cuts and the pandemic, we could use more reasons to come together as a campus rather than falling apart. $4.64 a semester is an extremely low price to pay, especially when we consider the real price our community would have to pay if this referendum lost.
A vote against the Golden Bears and Pandas legacy fund, in the end, is a vote for a more divided and isolated campus. For students who believe we are truly stronger together, I encourage you to vote in favour of continuing this DFU. After listening to the legacy fund representatives, you may even catch this non-athletic nerd checking out free game nights when we are back on campus.