Campus Life
News
What's the Tsismis?: CJSR podcast on Filipinx culture plans third season
A CJSR podcast exploring the Filipinx diaspora and community in Edmonton has released its second season, with plans for a third in the works.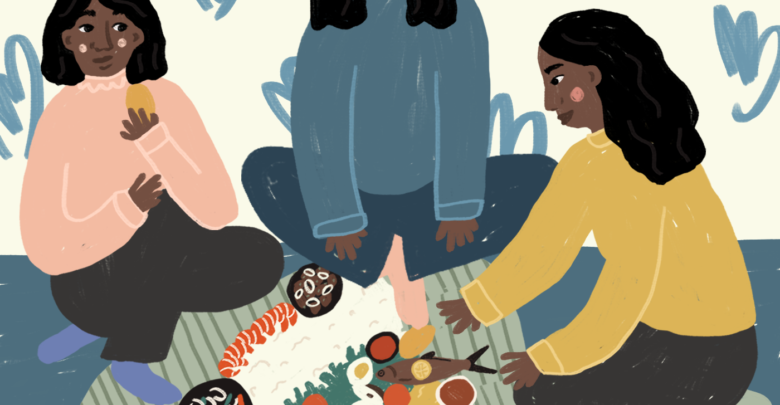 While listening to a podcast has always felt a bit like eavesdropping on a conversation between good friends, a CJSR show is leaning into the intimate format to showcase personal stories about Filipinx culture.
The podcast, What's the Tsismis?, began in February of 2020 on CJSR, the University of Alberta's community-powered radio station. Available on Apple Podcasts, Spotify, Stitcher, Google Podcasts, or its own website, What's the Tsismis? explores topics surrounding the Filipinx diaspora and community in Edmonton. The last episode of the second season dropped January 18, with a third currently in the works.
Ryan Lacanilao, one of the show's producers who holds a masters in agricultural and resource economics from the U of A, elaborated on the name.
"The word Tsismis translates to gossip in English, but I feel like the word gossip doesn't even do it justice," he said. "It's almost like gossip but juicer."
Julia Juco, another producer and U of A political science alumnus, emphasized the show's intimate nature.
"The show is an in," she said. "[It's] that friend that brings you to the barbeque and translates all the juicy Filipinx secrets … it's a way to share more about Filipinx culture, to get people's stories front and centre."
While Juco joined the What's the Tsismis? team for season two, Lacanilao has been on the podcast since the project's onset, and spoke of the lessons he has gleaned in the process.
"Initially I was looking for specific stories," he said. "I was like, 'I want to find a story about someone coming to Canada, I want to find a story about someone growing up in rural Alberta.' … I learnt a lesson this season: to just let people tell whatever story they want to tell. I don't always have to dig for the specific story that I'm looking for."
Stories flooding in due to community interest
Since its first season, What's the Tsismis? has had an influx of messages from listeners with stories they'd like to share on the show.
"I'm still in awe about [one of our interviewee's stories]," Juco said. "They were so personal … It's crazy, the amount of things people are going through that we aren't normally privy to."
In one episode Lacanilao described, a listener shared their story about money sent between family members going awry.
"It's ingrained in Flipinx culture that if you're abroad, you send money to your family in the Philippines," Lacanilao said. "It's just a way that we take care of each other, but there are good and bad [sides to this]."
The episode narrates how the listener's dad sent her cousin in the Philippines money, and the cousin ended up giving the money to her boyfriend who then left, keeping the cash.
"That's not even all of it!" Lacanilao said. "These stories are really family gossip, but we're just bringing them to the people, so here you go!"
A space to celebrate the Filipinx diaspora
For Lacanilao, What's the Tsismus? took on additional significance after the birth of his son, who was born before the launch of the second season.
"I feel like I'm leaving something for my kid," he said. "I want to be the kind of parent that makes sure that he's connected to his culture and his roots."
Growing up in a small town in Southern Alberta, Lacanilao initially had a difficult time feeling connected to his culture.
"[I was] thrown into an environment where there weren't that many Filipinx people," he said. "It's kind of difficult in Canada … I want [my son] to have an experience where he sees that Filipinx stories are valid and important. You can be the protagonist in the story."
Juco also spoke about how the podcast contributes to the Filipinx community.
"What's the Tsismis? is a nice step forward to really normalize that conversation of what culture is and how we can be more in touch with it," she said. "I feel like with the Philippines' history of colonization, we still idolize a lot of western ideals and values."
"There's a movement right now where people from the diaspora are really making a push to reconnect with Filipinx roots without the Spanish or American influence … [this is] a first hand look at how we go about that because there's no real manual."
While season two of the podcast is wrapping up, Juco is looking forward to another season on the horizon.
"I never once envisioned myself in a reporter or journalistic [role], but it's so interesting how this fell into my lap and now I'm just running with it," she said. "I'm really excited."