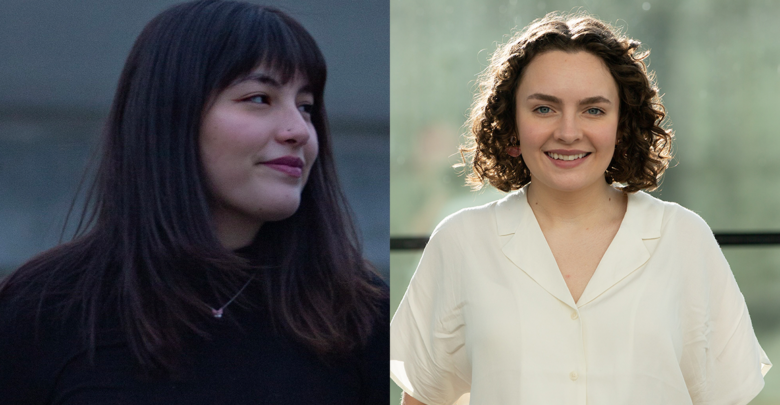 Vice president (student life) candidates Daniela Carbajal and Talia Dixon both presented strong performances at yesterday afternoon's Candidates Debate. An important topic raised was the issue of representation and inclusivity in student governance and on campus.
Both candidates rose to the task and provided a direction they would steer the student life (VPSL) position in with their vision. Their first appearances both showed promise, but I'll be eager to hear more details from them throughout the week.
"Representation is more than a word."
This highlight from Carbajal's opening statement completely summarizes her approach to revitalizing diversity and inclusion on campus. Among the marginalized communities she addressed were international students and Indigenous students. She also tackled the isolation experienced by the Augustana and Campus Saint-Jean (CSJ) campuses. Additionally, the lack of diversity in the Students' Union executive is of concern to Carbajal.
She believes Indigenous reconciliation goes beyond filling token seats on high profile committees; if Indigenous voices are still not amplified despite their presence on these committees, more measures beyond colonized practices need to be taken. The same sensitivity would also have to be given to proposed culturally inclusive mental health support, in order to confront cultural taboos held by some Indigenous and international students.
I am truly compelled by her performance at yesterday's forum, and her perspective as an Indigenous woman with Mexican heritage. However, her platform does not provide concrete steps on how she would tackle this issue if she was elected.
In order for important items like Indigenous reconciliation and recognizing Augustana and CSJ to become more than a bullet point on a platform there needs to be an outline of steps to explain to students how this will be achieved.
Conversely, Dixon's campaign platform focuses on students in residence, decolonization efforts and LGBTQIA+ representation. Some items that are particularly worth noting is the Pronoun Campaign aimed at preventing the misgendering of queer students, and pledging at the forum to confront the broad issue of decolonizing the SU.
It was those two issues that received the most attention today. While their platform definitely plays to their lived experience as a queer person, Dixon acknowledged the importance of reconciliation from the perspective of a settler. Additionally, Dixon wants to integrate meaningful Indigenous programming into all Students' Union events.
Dixon's platform feels more like a logical next step to previous years without delivering as much innovation as Carbajal. The promise to make campus inclusive does not address specifics as Carbajal did at the forum.
From Carbajal's forum performance, her ideas appear significantly more innovative and accommodating toward the needs of marginalized campus groups. Despite that, the initiatives put forward in Dixon's plan, while not entirely acute, are more fleshed out.
In future forums, both candidates will need to work on refining their message so that students can feel confident about who they will vote for.
CORRECTION: This article was rectified to correct an error about candidate Talia Dixon's platform at 4:49 p.m. on February 23, 2021. The Gateway regrets the error.