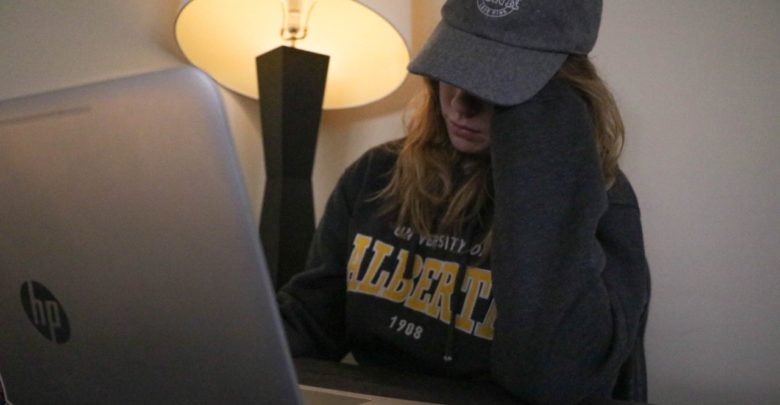 That dream you had about going to class only to realize you're in your pyjamas? It might just come true this semester.
Since the start of the pandemic, we've seen more and more people staying home and taking to Zoom to meet up with friends or go to classes, but it's not always easy getting out of bed. Sometimes throwing on a t-shirt is all you can manage to start your day, while others are dressed to the nines. There's so many styles to choose from, it's hard to pick!
So grab your morning chai latte, take a seat, and check out my recommendations on what outfit to wear to your next class.
1. The professional look
First impressions are a must for anyone just starting out in university. After all, this is the beginning of a new chapter for most students, and the first step to being an adult. What better way to prove that then with your own suit and matching tie, ready for a day at the office?
Be sure to impress your family when you subtly let them know you're on a call, too.
2. The comfy look
You can definitely tell who just picked up their Green and Gold hoodies from the University Bookstore, especially when you see that same hoodie in every class you share with them, every week. You may be thinking it's an odd choice of never-changing wardrobe, but I embrace the comfy look for its simplicity. It's nice to have a constant, casual look for any occasion.
Whether you're raring to go to class or just looking forward to the weekend, you can rock this look at the last minute without worrying about keeping up with your t-shirt laundry on the side. So don't judge me, I definitely have other clothes to wear — I'm just content in my cozy hoodie!
3. The overslept look
Set your alarm for your 10:00 a.m. synchronous Zoom lecture, and woke up 5 minutes before it started? We've all been there. In dire straits such as these, my first choice of outfit is always the oversized sleep shirt, kitten pyjama pants, and coffee cup accessory. It's no doubt going to be a classic after a few more months of this, so get ahead of the trends and relax a little.
4. The "actually dressed" look
While I can't speak from experience, I hear that waking up on time is something that is highly recommended — I'm sure I'll get the hang of it eventually, and with any luck, before final exams. But once in a blue moon, I do manage to coordinate an outfit before class starts, and it is an amazing feeling to show it off!
So for everyone who's wearing pants and doing their hair and makeup for their Zoom lectures, I give you an A+ for your outstanding effort!
5. The "top secret" look
My absolute favourite look! It's hard to describe, honestly. I'm speaking of the best outfit of all: the one we never get to see because your camera is off. We all know you're not camera-shy, only hiding away — because, if you showed us your wardrobe, I'm sure we'd never be able to focus on our classes!
So thanks for keeping us on track, and hopefully we'll see that stunning ensemble on the last day of the semester.