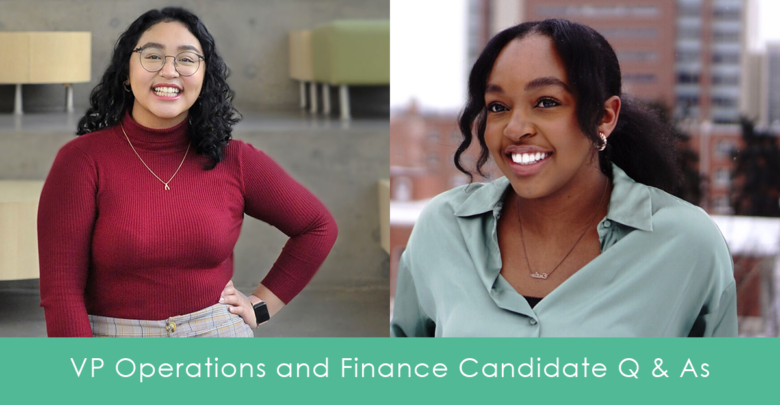 The vice-president (operations and finance) is in charge of the Students' Union's finances and its over-$10 million budget. It falls onto them to make sure the organization's finances are sound, and that the money raised through dedicated fee units, fees collected by student groups, are properly handled.
Additionally, the vice-president (operations and finance) manages the Students' Union's business operations, including SUBmart and the two campus bars: Dewey's and Room at the Top.
This year, two candidates are running for this position: Emily Kimani, a fourth-year immunology and infection student and a current science councillor for the Students' Council — and Julia Villoso, a second-year psychology student and current arts councillor for the Students' Council.
Follow these links to see their candidates pitch videos: Emily Kimani, Julia Villoso.
The following interviews have been condensed and simplified for clarity.
---
In 1 minute or less, can you tell us why you are running for the position of Students' Union vice-president (operations and finance)?
Emily Kimani: This year has been an incredibly challenging year for students, and I think it is crucial now more than ever to show students that they are supported and that their voices are listened to. I am running for this position to make sure that students are supported by our services and by our businesses and that their voices are heard.
Julia Villoso: I'm running because I've experienced difficulties firsthand of what it's like to try to access these services on campus, and I think services are one of the best things that the SU truly provides for students. It's the biggest benefit to students, but I also think it's one of the greatest parts of the SU you can really improve upon. Specifically in my platform, I focus on accessibility and inclusivity. There are many steps to grow that the SU can take in order to specifically cater towards Black, Indigenous, People of Colour (BIPOC) and Francophone students, and international students. I generally believe the vice-president (operations and finance) role can really create significant change in these services, especially in an online environment. I want to work towards a space where every student can feel welcomed and is able to access all the services the SU provides for them.
Can you briefly and concisely describe your platform?
Kimani: My platform centres around five key points, the first one being optimizing our businesses and services because if they are generating revenue and profit that means more profits are going into funding student services. I think it's crucial more than ever this year because our businesses have been hit hard by COVID-19 and I want us to recover.
My second point is working towards a sustainable Students' Union. I plan to do this by implementing a bulk foods program in SUBmart and encouraging our food vendors in SUB to use more sustainable materials such as paper packaging and the ban of plastic wrap.
Next, I want to make sure that the Students' Union is moving towards equity, diversity and inclusivity and making sure it represents its membership. I plan to do this by implementing an Aboriginal awareness week, recognizing Black History Month and getting permanent space in SUB for international students as well as making sure our SU student events are promoting diversity.
I think now it is crucial that students feel supported and that their health and wellness are prioritized. I plan to do this by renewing Empower Me which is a mental health and wellness service offered by the SU through the health and dental plan. I plan to advocate for free menstrual products on campus and push for the period poverty initiative by implementing free menstrual products on campus. I want to use Perks to promote our mental health services amongst students because we do have a lot of services at the SU, but I don't think a lot of students actually know what they are.
Lastly, I want to make sure there is community in our campus and that we are fostering relationships. That means reaching out to Campus Saint-Jean and Augustana at least once a month and making sure that our services and our website are available in multiple languages so that international students can get access and students who speak French can have access to our services as well.
Villoso: My platform focuses on three main parts. I like to call it AIM — accessibility, inclusivity, and maximization of operational capacity.
First, accessibility: I plan to modernize our current job and volunteer registries as well as introduce a scholarship registry. I also want to create a student group handbook and also create more transparency between the SU executives and students as well.
In terms of inclusivity, I really want to do more culturally diverse and relevant to BIPOC, international, and French services for students, increase gender diversity within SU elections, and push towards implementing more Aboriginal Relations and Reconciliation (ARRC) recommendations.
My third and final platform point is maximization of operational capacity, where I plan to reduce the SU's reliance on student fees in two main ways. First, through commercializing IT projects that SU currently has, such as SU TV and Perks. The second way is through really building an infrastructure to work towards an operational shift — a framework that focuses on donations and fundraisers in the future.
Currently, the SU businesses Dewey's and RATT are closed due to COVID-19. If they are to remain closed for another year, what is your plan to make up for the lost revenue these businesses provided?
Kimani: I think it crucial our businesses are optimized. I think it is important to look at different avenues of revenue generation, so I plan to expand SU TV and our student handbooks which have generated revenue in the past. If we do expand those services and we partner with other universities, I do believe it can result in a significant amount of revenue. I also plan on expanding our catering services. With the new theatre renovation, more space is going to be made and we can rent out that renovated space to external events such as weddings and dance recitals and that can result in revenue as well.
Villoso: I think both Dewey's and RATT are a very large part of the student experience, obviously with those being closed the SU has to look at different ways of getting back to the revenue that we lose from these two places. Like I highlight in my platform, I really want to focus on SU TV and Perks and also as well, sponsorships and donations and fundraisers because I think the latter of the two I think really show there is a lot of untapped monetary funds the SU can really attain, and we're missing out on a lot of that. I think it'd be a really good source of revenue for the SU to make up for Dewey's and RATT being closed.
For the SU businesses currently remaining open, how do you plan to keep them afloat if classes remain online and students remain away from campus?
Kimani: I plan to advertise and promote these services among students. As well, I did say the use of SU Perks to promote our mental health services, I could also use SU Perks to promote our businesses and services such as SUBprint and The Daily Grind to make sure that students know they are still open and that they are still available.
Villoso: With our current business right now, there are a lot of grants that the government provides to help keep all these businesses afloat. The majority of these businesses are reliant on students being on campus when it's obviously not going to be a reality for most of this year and probably the next year as well. I really want to focus on diversifying how these businesses do their sales like for example, switching to online sources that we can really cater to students online, whether it's through delivery, or just switching the whole business model so it can also be applied in a remote environment where students could still access to these businesses.
If school is online for another year, do you have any plans to make SU businesses accessible to students learning from home?
Kimani: I plan to make sure, when possible, our businesses and services are offered online as well as using Perks once again to promote these services and businesses.
Villoso: Like my last answer, I really want to try and push forward deliveries specifically, with our SU businesses and use more Skip The Dishes or DoorDash or Uber Eats so that students on campus, even if they are in their dorms, can still access and support their SU through these deliveries.
Last year the Sustainability and Capital Fund was passed and this year Students Council approved the fund for Myer Horowitz renovations. Besides the theatre, what other sustainability project would you like to use the fund for?
Kimani: I was a member of the Sustainability and Capital Fund Committee this semester, which was exciting. We did go through the Myer Horowitz renovation project. I would love to see that fund being given out to more projects which centre around making sure SUB is as sustainable as possible. Maybe a project centred around waste reduction in SUB would be really exciting.
Villoso: The whole purpose of the fund itself is to try and make student projects happen. I was on the Sustainability and Capital Fund committee this year and I've gotten a chance to look through all the numerous projects that have applied for the fund. My plan for the fund in the future is to just push forward to the projects that the students want to see. That's how the Sustainability and Capital Fund was proposed to students — that we will see student projects on campus. My plan for the fund itself is to just continue the frameworks that they're going through right now and trying to fund as many student projects as we can.
Why should students trust you to manage a budget of over $10-million?
Kimani: I think from my experience from Students' Council this year and my experience in General Faculties Council as well, and I did mention I am a part of the Sustainability and Capital Fund Committee. I do believe that I am equipped to handle this budget and to do a very good job. I do take part in undergraduate research and through this experience I've learned a lot of management skills which I think I can bring to this role.
Villoso: Through my experiences already, I've been an arts councillor, I've been on Students' Council's audit committee this year, the Sustainability Capital Fund committee, and other boards and committees. I think students should really trust me with this budget because of the experiences I've had. I've also had history with dealing with the finances of my own non-profit and although it's not as large of a scale as SU, I think with the guidance of managers and our staff, I'd be fit for the role.
Fun Question: If you could have free, unlimited access to any of the SU businesses, which one would you choose and why?
Kimani: I would definitely choose The Daily Grind. I think it is an awesome business that we run. It is moving towards being an entirely sustainable business, so their coffee cups are sustainable, their lids are sustainable, their coffee is ethically sourced. I also love the Peer Support Center and I love what they are doing especially now with online classes and reaching out to students and providing that support that students need.
Villoso: I would choose Dewey's because I love their breakfast food. Breakfast is my favourite meal of the day.