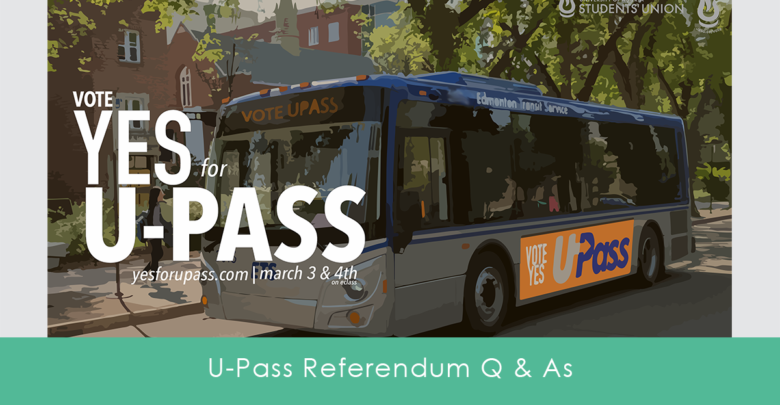 Alongside the candidates vying for executive positions, this year students will also be voting to renew the U-Pass, the transit pass granted to university students. The fee for the U-Pass is part of tuition and students cannot opt-out of it. Though the U-Pass was suspended for the year, this fee needs to be renewed every four years.
Representing the U-Pass referendum in this Q&A is Alana Krahn, current Students' Union vice-president (operations and finance).
Follow this link to see the U-Pass referendum video pitch.
The following interview has been condensed and simplified for clarity.
---
What is this referendum trying to accomplish?
Ultimately this is about the renewal of the U-Pass program here at the U of A. About every four years, the U-Pass, which is our universal transit pass giving students universal access to transit across the region, gets re-negotiated. So now, students get a chance to have their say about the future of transit on campus and about the existence of the U-Pass program going forward, which is essentially what it is about. It is all about transit.
For students who don't know, what is the U-Pass?
The U-Pass program is a specialized transit fare product that is available to students at participating institutions. We're not the only school that does this. NAIT, NorQuest, and MacEwan University are also part of it. Students get to have unlimited, universal transit access across Edmonton, St. Albert, Fort Saskatchewan, Spruce Grove, Strathcona County, Leduc, and Beaumont. Students get to go anywhere they want for as much as they want. It is a fee assessed universally to all students at the same rate regardless of need, availability to pay, age, and location. It is really about universalizing students' ability to access campus and anything else they need across the region.
Have there been any changes to the U-Pass since students' last voted to pass it?
One of the things that's pretty exciting for our friends out in Beaumont is that Beaumont is now going to be joining the U-Pass agreement. Previously, they were not one of the municipalities that contributed to the program.
The other exciting thing that we're seeing this year is that historically, the U-Pass has increased in price every year or two years, but this year, even though we didn't see a U-Pass, the cost that would've been [charged] this year is going to be the same cost for the next four years. We're actually seeing a historical price freeze. It's going to be that $180 per semester and students are going to know for the next four years, that is what they will be paying.
I think it is important to highlight as well that unfortunately the university is no longer going to be paying the $20 a semester subsidy that they've been paying up until this point. Since 2007 when the U-Pass was first implemented, there has been that subsidy. Again, it's been around $20 per semester, not massive, but it makes a difference to some students. Try as we did, the U-Pass subsidy is not going to be continuing going forward. That is usually an important piece that shows up in a referendum question, but because of the University's ancillary services budget and the fact that it is usually paid out of parking service, which has been subtly decreasing over time, the subsidy is not going to be continuing going forward.
If this referendum passes, how much will students be paying and how was that cost determined?
Students will be paying $180 per semester, no year-over-year increases for the next four years, that will be a steady cost. The cost was determined through negotiations with the four student associations and the seven transit authorities, primarily with ETS because they do the bulk of the transit for students. Through that negotiating process between the starting offer from the transit authorities to where we are now, we were able to save students $5 million across the city. Just through that negotiation process alone, there were some significant savings there.
Why should students' care about the U-Pass?
The U-Pass is about a lot of things. First off, it's about access. It's about the accessibility of our campus and everything within the region. Your doctor's appointment, grocery stores, malls, getting to see your friends, anywhere you want to go, it's about getting students there. It's about having that predictability of the ability to be transported to where you want to go.
It's also about cost savings and that is something that cannot be overstated. The U-Pass, compared to the cheapest alternative which is monthly fare products, saves students, depending on where they live, anywhere from $112 to $608 per semester. That is not including the saving that a student could pay on, say parking services on campus, which is hundreds of dollars per semester. It's about ensuring that all students, regardless of if they move in a year or their car breaks down, no longer have to walk wherever they go. It's about having that consistency of access, but that affordability of access so that we see that discounts of around 38-77 per cent off of regular transit fares. I would say mostly it's about accessibility and affordability, as well as some other things like decreasing traffic congestion around the city, sustainability measures, and all the good things that come with increased transit accessibility. 
CORRECTION: This article was updated on February 23, 2021 at 6:40 p.m. to reflect more accurate information provided to The Gateway and correct a transcription error surrounding savings the U-Pass generates per semester. The Gateway regrets the error.