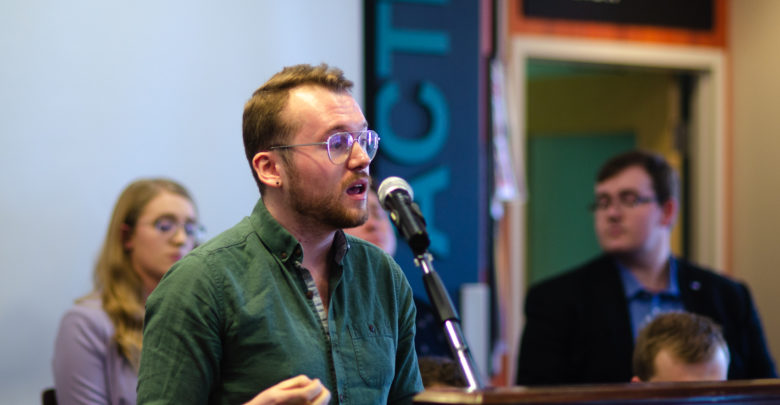 Each year, The Gateway publishes an evaluation of the Students' Union Executive and the Board of Governors representative. It's impossible to discuss every aspect of their tenures, so these reports are largely based on the major components of the platform each executive campaigned on, and the most significant responsibilities of their respective positions. The grading rubric can be found here.
And if you're short for time, check out our TLDR for a bite-sized breakdown.
---
David Draper: B
The switch to remote learning over the past year brought a barrage of unexpected challenges. Whether it was invasive online proctoring programs, attendance policies that forced international students to stay up all night, or ever-expanding course loads, there was no shortage of detriments facing students.
As vice-president (academic), David Draper consistently did a good job identifying these issues — however, when it came to delivering substantive solutions to deal with some of them, he fell short.
Much of this could be attributed to a lacklustre university administration, whose actions have made it clear that student concerns are not their top priority. However, Draper would have benefited from pushing them harder when it came to important issues, rather than focusing on short-term changes such as filling all the vacant student seats on General Faculties Council (GFC). In the end, this action is unlikely to lead to any real change in the lives of students, given that most GFC student representatives this year didn't always speak themselves or have the opportunity to do so at the meetings they attended.
Successes: Advocacy around online learning
The highlight of Draper's tenure as vice-president (academic) has, undoubtedly, been his strong and consistent performance around issues related to remote learning.
Early on, he identified the core concerns of students, focusing in on the terrible effects Smart Exam Monitor (SEM) had on students. Not only does the program add considerable and unnecessary stress to the lives of students, but, as Draper repeatedly pointed out, online proctoring software disportionately affects racialized and disabled students, to a shameful extent.
Of course, this is only one of the many issues Draper identified with remote learning and brought up to administration. These problems led Draper to speak out on these issues, pushing for the university to ban online proctoring and create a standardized workload for students in the Winter 2021 semester.
Even as the university largely ignored these requests, Draper continued his passionate advocacy. He spoke to media outlets about the challenges facing students, stressing the toll conditions at the U of A had on the mental health of students. Eventually, this resulted in a heated discussion at GFC on January 25, where student representatives exhibited their best advocacy this year, demanding solutions to the unjust situations that many students found themselves in.
Ultimately, the credit for this goes to Draper. His handling of these issues showed a clear understanding of student priorities and his commitment to this issue ensured it became a top priority for any student representative on campus.
Shortcomings: Providing long-term solutions
After months of his advocacy efforts, the only real response Draper got from administration was a Task Force on Remote Learning and Teaching. Bill Flanagan, president of the U of A, formed the task force with the objective of addressing issues related to online learning. Draper may seem enthusiastic about the work of this task force, but I see little reason to rejoice at this news.
The fact is that we don't need a task force to find solutions for these issues. We already know the solutions that our campus community needs — a full ban on online proctoring, alongside the adaption of compassionate grading policies. None of this is particularly radical or groundbreaking, as numerous other universities have already taken these actions.
Rather than simply following the example of other post-secondaries, however, the U of A's task force only serves to delay any real action. This committee is yet another bureaucratic entity in an already complicated array of committees and subcommittees, which continues to leave students in a vulnerable situation and the SU should call it out as such.
Now, to be fair, this lack of action isn't entirely the fault of Draper. However, I imagine the results of his advocacy would've been even better if he took some of his focus away from other time-consuming projects.
A specific initiative that comes to mind is Draper's commitment to fill all the student seats on GFC. This was a part of Draper's larger promise to "revitalize" the student movement on campus. To his credit, he did end the year by filling all 40 student seats on GFC for the first time in the university's history. If you listen to Draper, this isn't just a record — for him, he believes it is a standard, one which his successors should now routinely fill.
Sadly, I question if Draper really set a new norm. After all, it took him nearly his entire term to complete this goal — should this realistically be expected of every other VPA who follows him? I also disagree that the effort was worth the time. The purpose of filling these seats was to give students a more prominent voice on GFC, one of the most important governing bodies at the university.
However, this isn't what students got. Outside of the four hour GFC meeting on January 25, most student representatives rarely participated in group discussions, with the notable exception of experienced leaders who likely would've been there regardless of Draper's efforts. There are still real systemic issues and barriers at GFC that even if student representation is fully completed, they won't be able to be heard effectively. The real testament of these efforts to fill GFC seats will be if students who participated in governance for the first time this year decide to continue to do so next year — whether in new roles or the same.
TLDR: Overall, Draper's advocacy was promising and, at best, showed he understood the real concerns of students when it came to remote learning. Sadly, he failed to turn some of this into meaningful results for students. If he had focused less on the time-consuming project of filling student seats on GFC, he may have been able to deliver better outcomes for students.
---
A-range: This person has fulfilled the promises they campaigned on and more, has created tangible change during their tenure, and has shown a commitment to improving the lives of students. Their GPA is top tier.
B-range: This person has done their job consistently well, but has not made any remarkable changes, or has fallen short on important goals they set out in their platforms. They're doing fine, but it's nothing to phone home about.
C-range: This person has done their job sufficiently, but has failed to make significant progress in the areas most relevant to their portfolio, or has essentially abandoned a major part of their platform. They're still passing with a safe buffer though, and Cs get degrees!
D-range: This person has done a very lacklustre job, and has not sufficiently fulfilled their campaign promises or the responsibilities of their position.
F-range: This person has not done their job, has not represented students, and has not fulfilled their campaign promises whatsoever.