Arts & Culture
Nation & World
Catching up with Kim's Convenience's Andrew Phung
The Calgary-born actor talks season five, media representation, and making it as a creative in Alberta.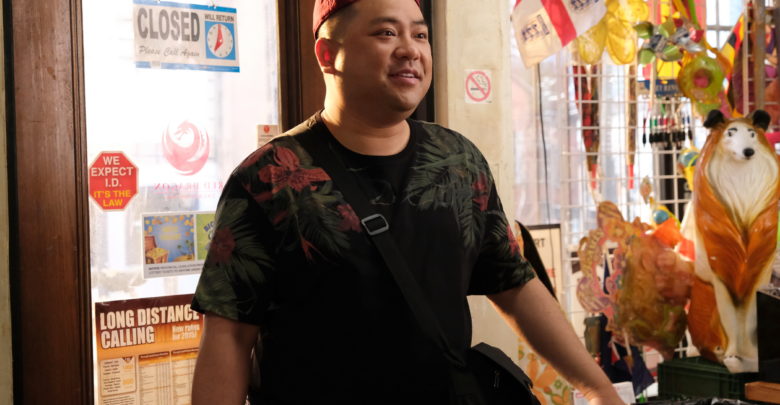 Since its pilot in 2016, Kim's Convenience has charmed Canadian and international audiences with its relatable and heartwarming characters. The show's latest season doesn't disappoint on these fronts. Now streaming for free on CBC Gem, season five slips the sitcom's messages about family and friendship into half-hour increments of lighthearted fun. 
Andrew Phung is known for his role on Kim's Convenience as the affectionately nicknamed Kimchee. Phung exemplifies how the show's themes of resilience through humour translate into real life, be it in the context of COVID-19, Asian representation in the media, or the failures and successes involved in building a career as a creative.
"I built my career in the prairies," Phung, who was born and raised in Calgary, explained.
"On the surface, it feels like a tough place to build an artistic career. But the way I always looked at it, as tough as it was, there are so many opportunities to make your own opportunity."
That's exactly what Phung did, starting in high school when he tried improv at Calgary's Loose Moose Theatre Company. Phung says the opportunity to perform, fail, and then try again every week is what allowed him to grow as a creative and eventually pursue a career in drama.
It was while performing at the Edmonton Fringe Festival that Phung first caught the attention of Ins Choi, the creator of Kim's Convenience.
"[Choi] came to my show at [a] point in my career where I had spent 15 years in Alberta learning," Phung recalled. "As much flak as the province gets, I think it's actually a really great place to build your artistic career and to grow."
Kim's Convenience also highlights the struggles of entering a creative field through the character of Janet (Andrea Bang), the 20-something daughter of the Kim family studying photography at a local arts college.
Janet makes up the Kim family along with her quirky parents and brother, while Kimchee is an honourary family member, and a comedic, heartfelt presence on the show. Each character's charming awkwardness is part of what makes them so relatable.
"All we ever wanted was the opportunity to play real people in your life, to play real characters," Phung said. "Any time we see an Asian story being told . . . We want to relate to it, we want to learn from it, we want to laugh at it, we want to cry from it."
Now more than ever, Phung recognizes how much Canadians need an escape like the Kim family's whimsical convenience store.
Even with the added precautions of filming a TV show during a pandemic, Phung is glad the cast and crew pulled through. Adjustments like having the cast touch up their own hair and makeup, and limiting the number of people on set, were all part of the COVID-19 protocols put in place when filming for season five began in September 2020. Despite these hurdles, Phung hopes audiences will feel the love that the cast and production team poured into this season.
"I hope when people watch it, they get a sense that they're watching their friends again. We've all been at home and we've had to have our guard up so much. For half an hour, you can let your guard down and just enjoy."
You can stream Kim's Convenience for free on CBC Gem or watch it Tuesdays at 8 p.m. MST on CBC.