News
Students' Union
Notes from council: U-Pass referendum, OASIS deficit, and SU action on EDI
In this January 12 notes from council, catch news about the upcoming U-Pass referendum, the Organization for Arts Students and Interdisciplinary Studies' (OASIS) financial situation, and the answer to how council executives plan to empower marginalized students.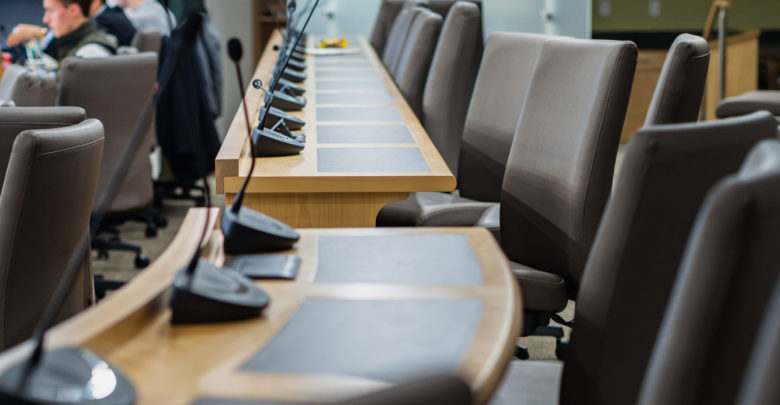 "Notes from Council" is The Gateway's ongoing series of recaps of noteworthy items from Students' Council meetings.
Upcoming U-Pass referendum
The U-Pass, which is currently unavailable, is on a 2017-2021 contract that will expire August 31. Students will have the opportunity to vote on the 2021-2025 contract at the upcoming elections.
At the January 12 Students' Council meeting, Alana Krahn, Student's Union vice-president (operations and finances), and Katie Kidd, Students' Union vice-president (student life) gave a brief presentation about the U-Pass referendum.
The proposed U-Pass would cost $180 per semester, a rate which will not increase for the contract's duration.
While in previous years the university subsidized a portion of the U-Pass — $22 per semester, leaving the pass most recently costing students $153 — the new contract no longer includes a university subsidy.
Alana Krahn, Student's Union vice-president (operations and finances), described the university's reasoning for the decision.
"Funding for the U-Pass subsidy has traditionally come from parking services, which are really suffering during a year when hardly anyone was on campus," Krahn said.
When asked what actions the Students' Union took to advocate for keeping the subsidy in place, Krahn explained they had made sure the university's reasoning was "legitimate."
"We were assured that their priorities would be on addressing deferred maintenance issues within residences," Krahn said. "While it's really not related to transit at all, [the university] has agreed that they will be prioritizing student needs with whatever funding they can."
During a quick council meeting on January 19, council members voted to include a referendum on the 2021-25 U-Pass during the next general election.
The motion passed unanimously, with 23 in favour.
OASIS runs $10,000 deficit in wake of un-renewed Faculty Association Membership Fee (FAMF)
During council, the Organization for Arts Students and Interdisciplinary Studies (OASIS) gave a proposal for council's approval of their Faculty Association Membership Fee (FAMF) — an opt-out fee paid by every arts undergraduate student to support a number of student services — to be included on the ballot during the 2021 student election.
OASIS's previous $2.50 FAMF expired in Fall 2020, and was not renewed due to a voter turnout that didn't reach the mandatory 15 per cent during the 2020 by-elections, despite a successful vote in favour.
Their proposed FAMF would begin September 2021 and end April 2024, costing arts students $3 each semester, and bringing in a yearly revenue of $36,000 for OASIS.
OASIS began the year with $17,000 in savings, and has since ran a deficit of $10,000, partly due to the lack of incoming revenue from their expired FAMF.
Chris Beasley, the president of OASIS, said that the association intentionally ran a deficit in order to keep department associations afloat during COVID-19. 
"We knew that we had very little revenue coming in," he said. "But we knew that we wanted to maintain consistent streams of services… [to] ensure that we could guarantee our department associations still had stability in their funding and that we weren't passing our struggles on to them."
In a typical year, a majority of OASIS's budget goes to grants for department associations, with some of the remaining funding used for faculty-wide events and communication and outreach.
Joel Agarwal, Students' Union President, asked OASIS about their funding going forward.
"How do you see OASIS recovering next year from this deficit, given that this pandemic is pretty unpredictable?" he asked.
Beasley said that if their FAMF is to fail, OASIS will have to look into heavily scaling back their operations.
"Conversely, if we are able to get like sustainable funding that is equal to or greater than the $10,000 that we went into deficit this year, hopefully through the FAMF … then with any luck we'll be able to bounce back just as strong," he said.
Executives answer question about action for marginalized students
Serena Yabut, an arts councillor, posed a question to the Students' Union executives regarding progress towards helping marginalized students at the U of A.
"I was just wondering what your plans are to continue empowering marginalized students this semester," she asked. "In such a busy world, I think it's still important to have a few ideas and tangibles focusing on ways to perhaps help Black Indigenous people of colour (BIPOC), LGBTQ2S+, and other minority student groups of our community."
Katie Kidd, vice-president (student life), said that the Equity, Diversity, and Inclusion Taskforce (EDIT) is ramping up soon.
"We did decide last semester that given the time of year and the fatigue we were seeing, doing consultation with students then was just not going to happen," she said. "We were very concerned about low attendance so we are pushing it to January and early February."
Agarwal seconded Kidd, describing the origin of EDIT.
"One of the reasons we started that task force is some of the concerns that were raised in our terms," he said. "I think that we really need to understand what the issues are … the barriers that students have and come up with tangible plans, how can we approach them and minimize those barriers."
David Draper, vice-president (academic) mentioned the upcoming Alberta Student Leadership Summit, in addition to outlining specific actions he is taking in his role.
"One of the big things I've been trying to do as a queer person in governance is normalize a lot of queer expressions, queer histories, and queer actions in these spaces," he said. "I've felt I've learned quite a lot and so I'm going to try and share my experience with student leaders [at the summit]."
Krahn mentioned her position on the governance restructuring task force.
"I'm specifically interested in seeing what can be done in terms of student council structure," she said. "How it is that certain marginalized groups are being excluded from these spaces or how they are more challenging when they don't need to be."
Rowan Ley, vice-president (external), outlined how he plans to push this semester for up-front needs based grants.
"We know it's a hugely disproportionate impact on single parents and Indigenous students that the government eliminated the tax credits last year," he said "Seeking a replacement of that funding will make a huge difference for those groups."