Arts & Culture
Nation & World
Album Review: Megan Thee Stallion's "Good News"
The album showcases the Houston MC's personality, performance, and power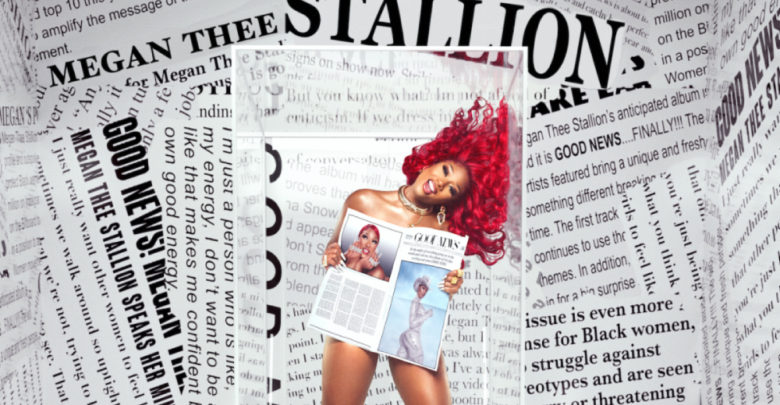 The last two years have been a whirlwind for Megan Jovon Ruth Pete — or as you probably know her, Megan Thee Stallion. She's had platinum singles, record-breaking music videos, and has showed the world what can only be described as superhuman feats of twerking (I'll let you Google those yourself).
All of that changed though on July 15, 2020 when the Houston MC announced via Instagram that she had "suffered gunshot wounds" as a result of of a crime committed against her intentionally. Reports were hazy at first, but over the next few weeks details slowly began trickling out. The story eventually took shape, and it appeared that Meg had been shot in the foot by Canadian rapper Tory Lanez while leaving a party in the Hollywood Hills.
It didn't take long for the well-wishing online to turn into vitriol, and soon enough social media was overrun with memes mocking the shooting. It was a painfully predictable response that would have been shameful no matter when it happened, but it felt especially regrettable in light of a summer spent reckoning with the violence committed against Black people in general, and Black women in particular.
Once again Black women were being told to suffer in silence and act as the buffer between Black men and the police, but if there's one thing Megan Thee Stallion doesn't do, it's keep quiet. A beautifully written New York Times op-ed soon followed, and on Nov. 20, 2020 Meg put the story to rest with the release of her debut album, Good News.
In a year which saw Megan Thee Stallion pick up four Grammy nominations and five platinum certifications, this past summer's events were the lone cloud hanging over what should have been a victory lap. Good News immediately addresses the shooting on the opening track "Shots Fired," a bold introduction that finds Meg scoffing at the naked opportunism surrounding the assault, all on top of a sample of Biggie Smalls' equally dismissive classic "Who Shot Ya?"
It's a bulldozer of a track that clears the way for Megan Thee Stallion to do what she does best for the rest of Good News, which is spit her refreshingly vulgar mix of gangsta rap, hypersexual club anthems, and pop-savvy hip-hop.
Despite Good News' feature-heavy tracklist, Megan Thee Stallion really shines on the album's solo cuts. On "Circles" she ditches her trademark flow for a more conventional approach, and the result is brutally effective. Rapping over a looping sample of Jazmine Sullivan's "Holding You Down" (just one of several samples on the album), Meg builds up a self-assured persona fitting of her superstar status, later adding to it with deep cuts like "Sugar Baby" and "What's New."
Although Good News includes April's chart-topping "Savage Remix (feat. Beyoncé)," the single's solo success gives it a life of its own that feels separate from the album. The album's real standout track has to be "Body," Good News' radio-ready mission statement full of moaning instrumentals, body positive lyrics, a TikTok dance, and the now infamous "Body-ody-ody-ody-ody-ody-ody-ody" hook.
Good News' group tracks are where the album becomes more of a mixed-bag. Meg's chemistry with the City Girls on "Do It on the Tip" is off the charts, which isn't surprising considering her stylistic similarities with the Miami-based duo. That same synergy comes out on tracks like "Freaky Girls (feat. SZA)" and "Go Crazy (feat. Big Sean & 2 Chainz)," but on "Movie (feat. Lil Durk)," the Chicago rapper chimes in with a feature so limp that it drags the otherwise decent track down into utter oblivion.
Another big miss is "Intercourse (feat. Popcaan & Mustard)," a lethargic dancehall number that feels like a giant speed bump right in the middle of the album. It also opens with an appalling Popcaan verse that sets the tone for the following three minutes, none of which are remotely worth revisiting.
Good News might not teach us anything that we didn't already learn from Megan Thee Stallion's March EP Suga, but that's ok. It's no small accomplishment for a rapper like Megan Thee Stallion to deliver a full-length studio debut with more highs than lows, especially during a pandemic that has left clubs around the world boarded up for most of the year.
What's clear is that Megan Thee Stallion is now a mainstay in today's hip-hop landscape, and if the strength of Good News is any sort of indication, it looks like she'll be around for a long time.