Arts & Culture
Nation & World
12 Days of Holiday Movies: The Grinch
Although its titular character may be green and mean, this holiday movie features a colourful story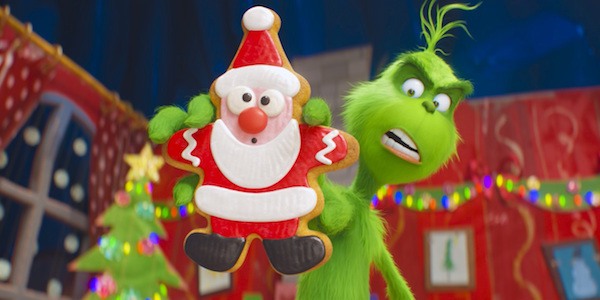 Welcome to day ten of The Gateway's 12 Days of Holiday Movies! For 12 days over the winter break, we'll be sharing a holiday movie that fills us with holly, jolly, and everything in between. Come along and find the next movie to add to your holiday watchlist!
There comes a time when even the classics need a reboot, and in the case of Dr. Seuss's holiday favourite How The Grinch Stole Christmas!, it desperately needed a good one.
That's where 2018's The Grinch comes in. With almost 20 years between it and the stink of Jim Carrey's live-action train wreck, Universal's CGI adaptation playfully reintroduces the Grinch to a generation that has spent the last decade running away from him in horror.
Despite being backed by a $75-million budget and featuring names like Rashida Jones, Keenan Thompson, and Benedict Cumberbatch (sans accent), The Grinch never loses touch with Dr. Seuss' reflection on overconsumption and the holidays. The plot is still recognizable to an old-timer like me, yet it doesn't feel like a frame-for-frame remake of the original. Even The Grinch's additions to the storyline feel like they belong, such as the added background on the Grinch's previously unexplained heart condition, the more prominent role of Cindy Lou Who, and all the other bits and bobs needed to turn a 30-minute TV special into a full-length feature film.
The real appeal of The Grinch is all the little ways that it reimagines the story. Although the original soundtrack slaps to this day, I'm almost embarrassed at how excited I was to hear Tyler, the Creator's take on "You're A Mean One, Mr. Grinch." Whether it's the updated soundtrack, the narration from Pharrell, or the Grinch's hi-tech burglary gear, The Grinch is full of unexpected moments that find the festive middle ground between your jaded undergraduate soul and your long-forgotten inner child.
While preparing for this article I gave the 1966 adaptation a rewatch, and let me assure you, it's still a classic. It also deserved a remake that could stand on something other than nostalgia while atoning for the sins of the 2000 adaptation, and that's exactly what it got with The Grinch.