Campus Life
Institutional
News
Students express relief over extended break, say remote proctoring still a concern for winter semester
but noted that issues in fall semester will still be repeated if problems with online proctoring are not addressed.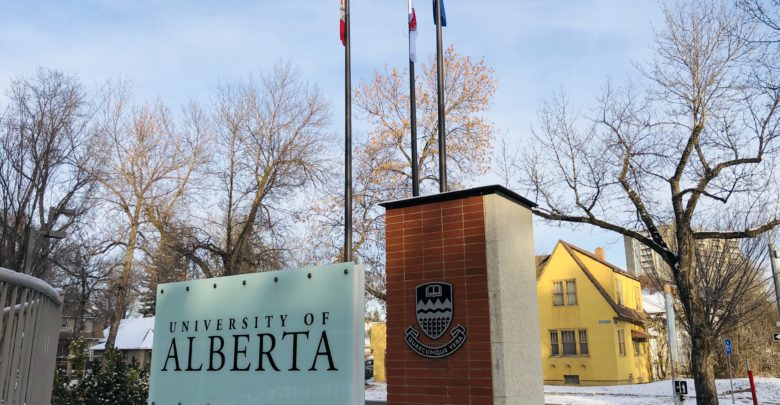 Students at the University of Alberta expressed relief after a university update arriving at the tail end of what they described as a uniquely stressful semester. 
In an email sent out November 26, the U of A announced that the majority of Winter 2021 classes will now begin on January 11, delaying the semester by a week in order to extend the holiday break. As a result, classes will run an extra week into April, meaning the exam period will now take place from April 19-30.
Some programs — like those in the faculty of Medicine and Dentistry — are excluded from this adjustment, and will keep their original winter break schedule.
Quinn Sharon, a fourth-year history student, said that he "breathed a big sigh of relief" after receiving the update.
"[Having school online has] been tough," he said. "I've been more exhausted than usual. Especially if it's asynchronous, I get so much farther behind so much faster and then have less energy to catch up. Plus, the world constantly feels like it's falling apart."
Sharon noted that while this benefits him as a student, he knows that professors are also long overdue for some time to catch their breath.
"It's not just students," he said. "It's everybody. I've had so many professors telling me 'I have email backlogs, I'm trying to get to you.' I've had multiple professors cancel lectures because they've had family emergencies. I don't think decisions like this are just about students … it's a big win for everyone."
He said that for him, a longer break will mean more time to catch up with friends over Zoom. 
"I've felt like I just had to cut down on so many things because I've been so busy with schoolwork," he said. "It's been hard to find time to talk online with friends."
For Andrew Traynor, a first-year law student, the extended break will be an opportunity to devote time to fully relax.
"I felt quite relieved," he said. "It's definitely been kind of a whirlwind semester. This was my first year back at school after kind of being in the professional world for 5 years, and having the immense workload that's first-year law while also trying to adjust to course delivery online is so difficult. I find [online learning] to be awkward and uncomfortable on a good day."
Extended break one step towards a better relationship between students and administration, Traynor said
According to Traynor, decisions like moving the semester back a week are important actions the university should be taking to maintain a good relationship with students.
"There was that news about a week ago where the president laughed at a student" he said. "That act definitely came across as very disrespectful to the student body, so I think it's very symbolic that they did this today, and I hope they keep up the good work in that regard."
Traynor added that there is still work that needs to be done in order to foster that relationship, giving the example of alleviating other pressures of learning during COVID-19.
"For classmates that have younger children or are a bit lower income, it's been tough seeing them be required to pay the same full tuition for a program that is not what it normally would be in a regular year," he said. "I would really hope that the university or Students' Union would advocate aggressively for reducing tuition in order to give those students a break and to help them deal with this, especially when we're in a really tough economic spot too."
Olivier Adkin-Kaya, a second-year electrical engineering student, said that while he was initially happy about the winter break being extended, he was also worried about potential consequences of having the winter semester run later.
"I'm now looking at a shorter break between the time that I write my last exam and the time I start my co-op work term," he said.
Despite this, he said that when he initially heard the announcement, he was pleased.
"This semester's been really stressful," he said. "It seems as if our workload has increased. I think that a lot of professors think that because [classes are] online they can add more assignments."
Students still waiting for university to address remote proctoring issues
Adkin-Kaya described remote proctoring as one of the aspects that has made the semester uniquely frustrating.
"With Smart Exam Monitor (SEM) you have to worry about a bunch of stuff aside from the exam content," he said. "You have to worry if you click the wrong thing, or just do something that SEM deems wrong."
After a fall semester that has laid bare the issues with remote proctoring, Adkin-Kaya hopes that the university will find other ways of evaluating students in the upcoming semester.
"Obviously in engineering we're going to have some type of live exam," he said. "That said, I think it's best, if possible, to test us in ways that don't require live exams. I know there are professors in different courses changing the way they do testing so they don't have to give live exams. I wish that was more widespread."
Elina Pachón, a fourth-year international student majoring in political science and a student representative on the arts faculty council, described several negative experiences she had with remote proctoring.
"There have been so many problems and glitches," she said. "I couldn't get into one of my exams, so I had to open e-Class to see if anyone else was having an issue, but I knew that opening a tab would also flag me on the proctoring system."
While she ended up eventually getting into the exam, Pachón didn't know if her results would be counted because she had potentially flagged the system.
"I obviously didn't do as great in that exam as I was hoping," she said. "I was like 'I'm stressed, I'm just going to submit this,' and right after I submitted they apparently didn't completely fix the problem and a lot of students got kicked out of the exam and couldn't even finish."
She said that the university's announcement made her aware of other requests that groups like the Students' Union have made that have still gone unaddressed.
"I found out the Students' Union is advocating for banning remote proctoring," she said. "I wish I would have heard about this before, because then I could have raised it in the arts faculty." 
She noted that while she is relieved to hear the break will be extended, she hopes that remote proctoring is banned so that the mistakes of the fall semester are not repeated.
"[Extending the break] doesn't change how the semester should go in general," she said. "There are other issues that are still up in the air."