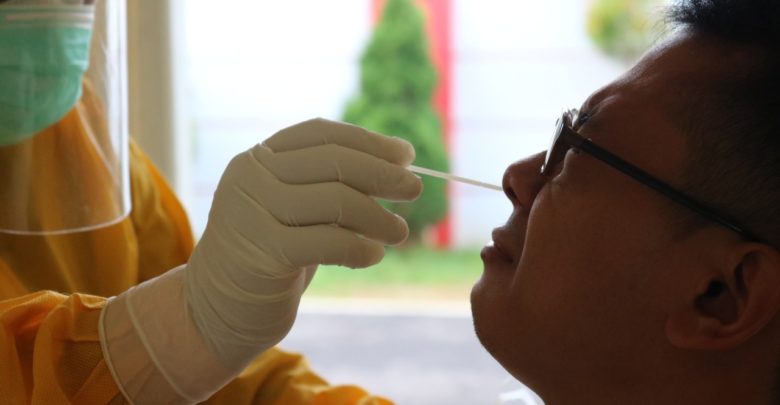 Health care is in a precarious state in Alberta.
Premier Jason Kenney's government has implemented cuts to health care and the United Conservative Party (UCP) additionally suggested the creation of a two-tiered private and public health care system. Recently with more frequent testing, backlogs of test samples have caused some to look towards privatizing COVID-19 tests — an idea that has already launched in provinces like Ontario and Alberta.  
With the COVID-19 situation in Alberta reaching an all time high, it's more important than ever to get tested, and utilize contract tracing. Combating the spread rate is essential to reducing the strain on our already overworked health care system. Now in flu season, it's more important than ever to ease the strain on our health care systems. Privatizing COVID-19 testing may mean faster access to tests and results, but for who?
It's no secret that public health care is a source of pride for Canadians, but the profit motive seems to be all the more prevalent. The pandemic has caused problems for small businesses, but the decision to privatize health care such as COVID-19 testing puts money back into the pockets of the elite, rather than our communities. In an already sinking economy that discourages new businesses, that's not exactly ideal.
Not only that, but the move to privatize testing would mostly harm those who are already facing disparity in treatment by society. Taking the United States as an example of a privatized health care system, research from Syracuse University found that the rate of COVID-19 testing was lower in states with large Black and poor communities compared with other states. This is a significant factor to consider, especially as a study by Toronto Public Health in July found that low-income communities are disproportionately affected by COVID-19. In their study, 71 per cent of hospitalizations due to the virus were people of colour.
When the government offers tests, data collection is also more efficient. Rather than going through a third party, Albertans are able to see accurate COVID-19 data at any time on the provincial government's website. This information is updated frequently on every weekday; providing accurate and timely information is crucial to helping Albertans understand the importance of enforcing social distancing and masking measures.
Having a centralized location for information for the entire province helps those who need to travel for work. If privatized companies take over the collection of information, it may become more difficult to see the summarized information in a convenient and well-known location.
Trading the potential safety of a portion of the population in order for others to get quicker tests and results seems motivated by selfish reasons. The Supreme Court of B.C. ruled in the Cambie Surgeries Corporation v. British Columbia case that privatizing healthcare isn't on the agenda for the province, and isn't constitutional. If privatization of healthcare isn't constitutional in B.C., it still might pass in different provincial jurisdictions. However, from a moral standpoint, we still shouldn't consider it, because of limitation of potentially life-saving access for certain groups of people.
In a time when community should be stronger than ever, we can't afford to abandon those who are already underprivileged and at risk. After all, they are important parts of our communities and economies; during a pandemic where we're forced to be apart, we should unite — albeit virtually — to defend the intrinsic rights of every branch of society.