Campus Life
News
New U of A podcast aims to shed a light on the challenges of graduate school
The podcast will release new episodes monthly, and explore topics like burnout, isolation, and imposter syndrome.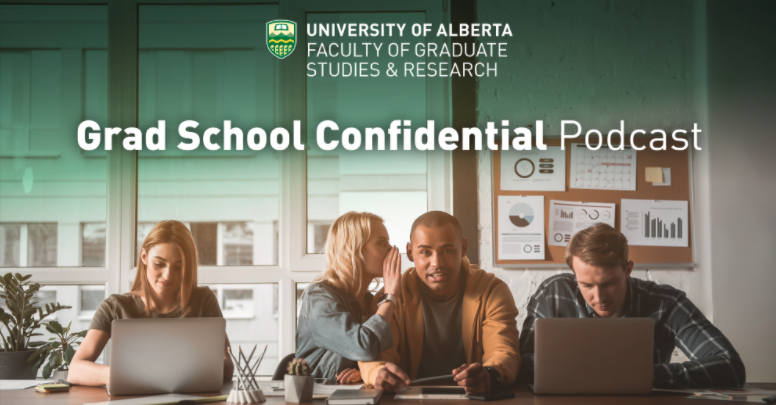 Graduate school, though an incredible opportunity, can also be somewhat of a nightmare with various unique situations to navigate.
A new University of Alberta podcast, Grad School Confidential, aims to assist graduate students by tackling these topics. The podcast launched its first episode on November 5, and will focus on a different topic each month, looking at things like imposter syndrome, burnout, perfectionism, and depression.
Suman Varghese, a psychologist with counseling and clinical services shared her hopes for the podcast.
"We want to break the silence around the struggles of grad student life," she said.
Varghese pointed out an imbalance in what kinds of resources are most available to graduate students.
"There's so much out there focusing on the academic side of things, but not necessarily a lot on the mental health aspects, the emotional struggles and psychological struggles," she said.
Varghese was approached by Robert Desjardins, the faculty of graduate studies and research's (FGSR) communications coordinator, who initially came up with the idea late in 2019, and was looking for a collaborator.
"It was kind of like a passion project for both of us in some ways," Varghese said. "We wanted to reach grad students beyond the space of a workshop or a handout. In a podcast they could hear the voices of other grad students, and then we could touch on strategies for how to help."
Though the podcast was conceived prior to the COVID-19 pandemic, Varghese noted that the topics feel even more important now.
"Grad school can be very isolating," she said. "You might have a few people who know what you're doing, but even then, your friends and family often maybe don't understand or can't relate. It can be isolating on a lot of fronts, and then you add COVID-19 into the mix and now all those informal interactions are gone, and so is a lot of the camaraderie from everyday living."
While these experiences are often endured in private, for Varghese, one powerful aspect of Grad School Confidential lies in the way it provides a space for graduate students to bring their experiences into the open in order to show others that they are not alone.
"Some of the best moments so far have been talking to and interviewing grad students," Varghese said. "As a therapist, I definitely hear these stories, but to hear students speak up and share what they've been through with fellow grad students in the hopes of helping, it's pretty powerful. You hear the struggle and you also hear the resilience that's there too."