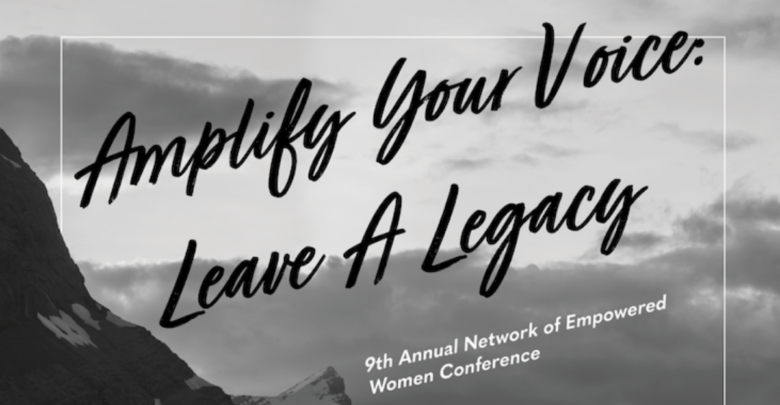 Despite being cancelled in 2020 the day the COVID-19 was declared a pandemic by the World Health Organization (WHO), the annual conference organized by the Network of Empowered Women (NEW) is making a come-back online.
Started by bachelor of commerce students in 2012, the NEW holds an annual conference focused on overcoming gender inequality in the workplace and male-dominated fields, and overall women empowerment. The student group consists of 15 women executives including 14 business students and one design student.
The 2021 conference "Amplify Your Voice, Leave a Legacy" will be hosted from March 11 to March 14, through RAYMO an online platform.
The conference will host 100 delegates which are students from all over Canada and from any faculty. The registration closes on December 20.
Usually, this conference would include 100 student delegates from across Canada and 80 corporate leaders from the Canadian community meeting in Banff for a multi-day conference. Due to COVID-19, this year's conference will be held online, but still offers keynote speakers, breakout sessions, and networking opportunities.
If chosen, delegates will be required to pay a fee of $30. This fee covers breakout sessions with companies, social events like yoga sessions, paint nights, and makeup masterclasses, and a personalized gift NEW will ship to delegates.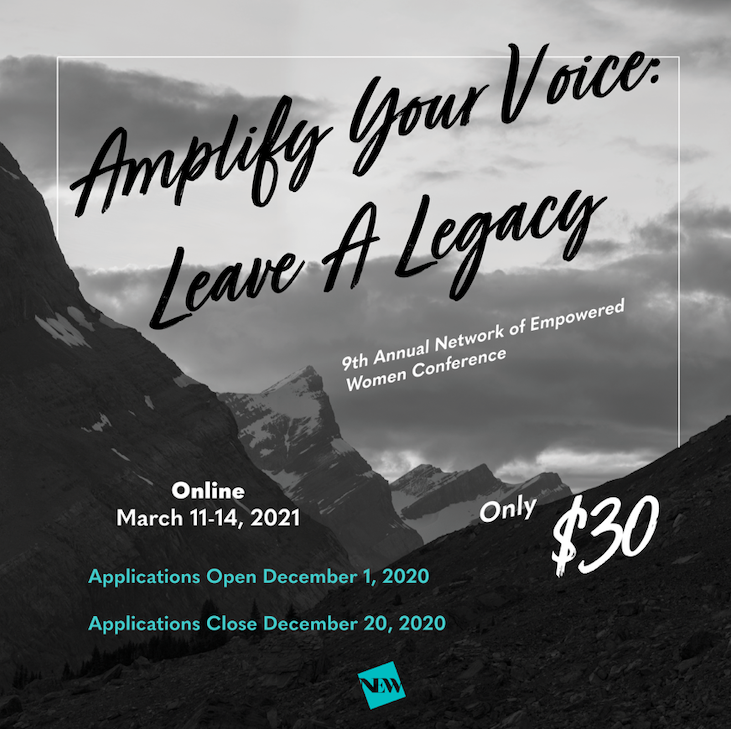 The co-chairs of NEW, Martina Elegino and Ivana Dobrijevic, both fifth-year University of Alberta business students, explained that the main objective of NEW is to actively empower students.
"We basically want to empower students that attend the conference to pursue any personal or professional path they choose and to gain the knowledge, experience and advice they need in order to enter the real world," Dobrijovic said. "We want to encourage them to continue empowering women not only in the professional field but also in their daily lives."
This year's theme "Amplify Your Voice, Leave a Legacy" was inspired by the challenges COVID-19 brought.  Specifically, the team had to grapple with the cancellation of NEW's 2020 conference last March when WHO declared the pandemic the day the conference was going to be held. The co-chairs saw accepting the responsibility of bringing NEW to the online world as a way to continue NEW's legacy despite the pandemic.
"We knew that things were going to be different from years before and " we had a huge responsibility to ensure NEW`s legacy as well," Elegino said. "One thing that we wanted to keep in mind was that there was a real danger there for a second of NEW vanishing into thin air because we did not have [ the 2020] conference."
"But at the end of the day, I think both of us took on that responsibility with open arms and decided that that was something we wanted to take on. I think that is very fitting for our theme this year. We also wanted to share with our delegates that you can use your voice and eventually leave a legacy as well."
Though holding the conference online challenges key aspects of the conference such as human connection and in-person events like its usual gala, the co-chairs are making efforts to ensure the best quality of service still exists online.
"We are going to try our absolute best to deliver the same quality and values that we deliver in person," Dobrijovic said.
Although the challenges are considerable, the co-chairs also see the benefits of an online platform such as more break-out rooms and panels for delegates to choose from and more capacity for the number of students and corporate sponsors that can attend the conference.
Dobrijevic hopes the conference inspires delegates to see themselves as something bigger than just students and to actively pursue what they want.
"I think we're so used to chasing after a leader in the sense like we're chasing after mentors and someone to kind of help us get to a certain spot or give us advice and lead us in the right direction," Dobrijevic said. "But you as a student and as a young adult can amplify your own voice and leave a legacy for people behind you. You can be the motivation for someone that's looking up to you."
"You don't have to be scared to go out there," Elegino said. "Once you say your first yes more opportunities will come."