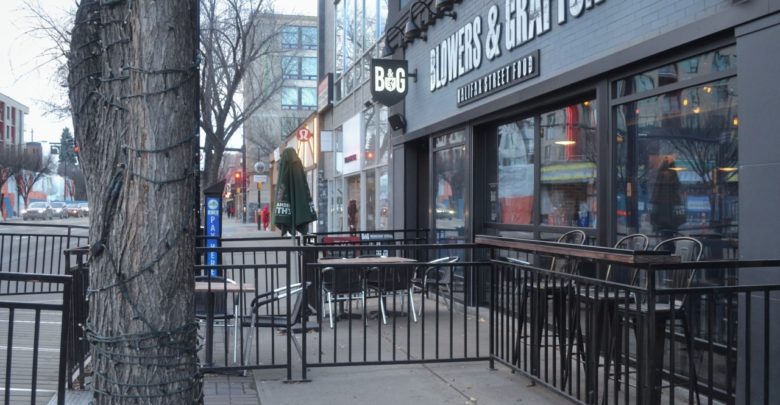 2020 has changed a lot of things, but one thing we never expected it to change was patio season. 
Traditionally, patio season is those two (or, in Edmonton if we're lucky, three) months of the year where the weather is above 20 degrees and we grab our chilly margaritas on Whyte and admire a lively section of our city. Due to COVID-19 safety regulations, patios also became one of the safer ways to support the local restaurant industry in the summer. Now, outside patios might be a way to keep local businesses open this winter once they can reopen.
Sadly, the COVID-19 pandemic has desecrated the service industry. New restrictions in Alberta even forced restaurants and bars to close their doors, creating an uncertain future for many local businesses. Once the second wave of cases subsides, it'll be important for Edmontonians to support local businesses while still remaining safe. Winter patios are doubtlessly the best way to accomplish this.
Keeping patios open during the winter may be a challenge in a climate like Edmonton's, but it would be worth it to keep the restaurant industry alive, and customers safe. Quite a few Edmonton businesses were already preparing ideas for how to keep patios intact during the cold.
Indoor dining is one of the high risk activities during COVID-19 restrictions, but the restaurant industry was one of the hardest hit by the pandemic. The solution to this has primarily been take-out and outdoor dining, with the former being the safest and patios being a medium risk. But, this leads to the question whether winter patios are a good thing or not — especially in Edmonton.
Edmonton winters are known to be harsh, windy, and cold — but not all the time. Our winters are also sunny, and the winter days can range from 5 degrees to -5. If dressed properly, this would make great weather to sit cozy outside with a hot chocolate.
Other cities have had some headway in implementing strategies for outdoor dining to continue in the months to come. Prior to the second wave in Ontario, Toronto had the CaféTO Program to help restaurants during the summer. Several Toronto restaurants also had pods and tents that were heated for their customers.
These pods and tents are great ideas, too: not only do they protect customers from the cold, but they also would protect the customers from COVID-19. Assuming that the patron is dining with their bubble, the pod or tent can act as its own bubble. It isolates the group from other groups so there is less chance of COVID-19 being spread through the air, and instead will stay within that group.
Edmonton has a similar program to CaféTO, the Temporary Patio Program. This could give us the chance to successfully implement something that could benefit the restaurant industry in the long hall. Provided that restaurants follow the winter patio options put forward by the city, this program can help businesses stay afloat while also keeping patrons safe. Some restaurants had successful patios in the summer, as they could extend out into the street, but now that the seasons are changing, those restaurants no longer have the ability to extend onto sidewalks.
Though there are several hurdles to jump over before winter patios can be a success in Edmonton — with the outrageously high number of COVID cases being the most important — the work will definitely pay off.
If the city and local restaurant owners can work together, outdoor patios can become a year-round event. They'll keep customers safe and restaurants in business, and it would be a disappointment to see local restaurants shut down due to something out of their control. To keep businesses alive, let's keep patio season alive this winter.