Campus Life
News
Turtle Island Edmonton initiative aims to make businesses safer spaces for Indigenous youth
The initiative asks Edmonton businesses to incorporate five commitments into their operations to make their businesses safer for Indigenous youth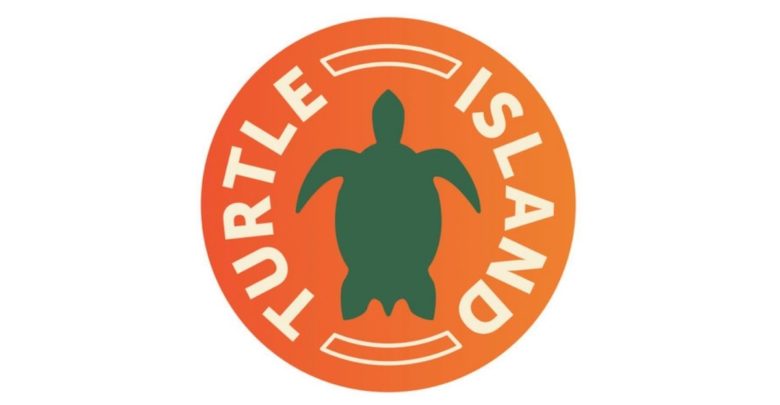 Based on the negative experiences of Indigenous youth when visiting businesses, Turtle Island Edmonton was created in a classroom last winter.
The Turtle Island Edmonton initiative was organized to address the negative experiences Indigenous youth have in Edmonton businesses. It was started in February in an Edmonton junior high school when students shared with their teacher and other students the discrimination they have faced. Businesses and organizations that join Turtle Island commit to making their spaces safer for Indigenous youth and sign onto a list of five commitments. They launched their Instagram this summer, which is when Turtle Island Edmonton really got started.
Elena Nykolaychuk, a teacher and University of Alberta alumnus, co-founded Turtle Island Edmonton with her students in the First Nations, Métis and Inuit club at their school, and with the help of friend and Métis teacher Ashley Hansen. After hearing about the initiative Wake the Giant in Thunder Bay, which identifies inclusive businesses and organizations in Thunder Bay and aims to make spaces more welcoming to Indigenous people, she brought the idea to her students, and they partnered with Wake the Giant to start it in Edmonton.
They then made a list of commitments for businesses to implement to make them safer spaces for Indigenous youth.
"It's mainly from Indigenous youth themselves that this definition of a safer space is coming from," she said.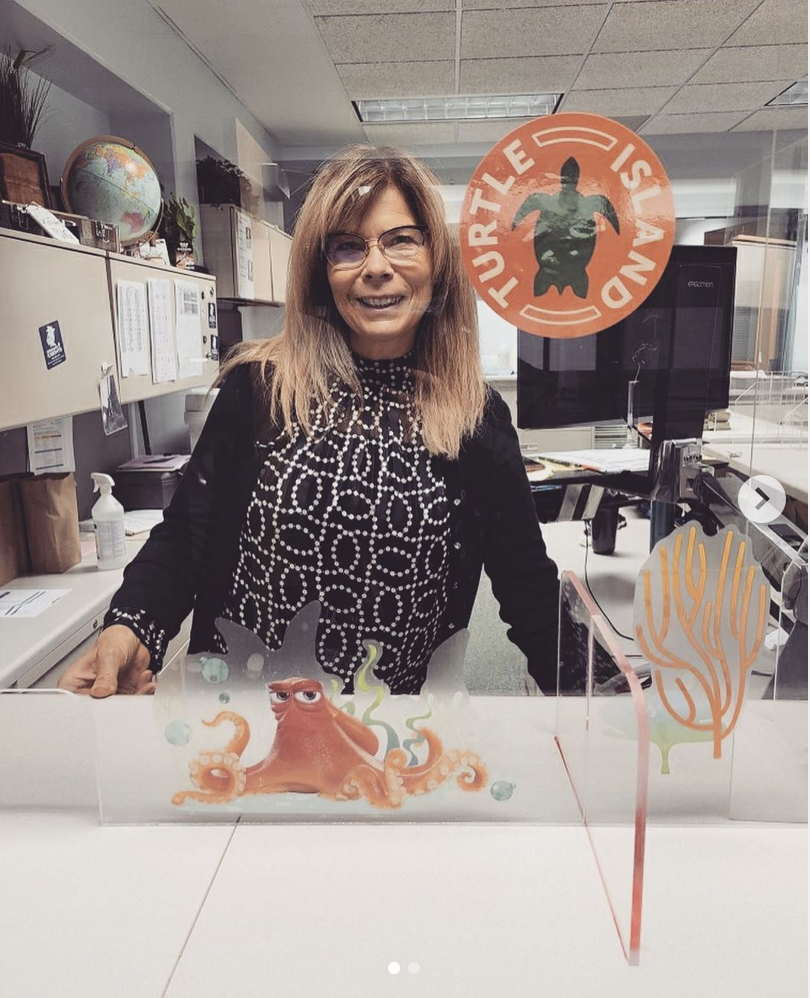 The list of commitments includes:
Working to make First Nations, Métis and Inuit people feel welcome, respected, and represented in this space
Educate themselves about issues affecting Indigenous people in Edmonton
Always address racist language and/or actions when witnessed or reported
Actively listen to Indigenous people when they talk about their experiences and concerns
Continuously work and learn in order to make our space safer
Turtle Island Edmonton shares diverse monthly resources with businesses to learn about specific topics, such as systemic racism, treaties, proper terms, or current events. Turtle Island also sends specific resources if a business asks for help on a specific subject. The students are involved through their Instagram and they help to find resources or share opinions about different topics, which Nykolaychuk then re-posts or shares. They have also partnered with Naheyawin, an organization that provides targeted Indigenous-led cultural awareness training, for businesses who want more formal training.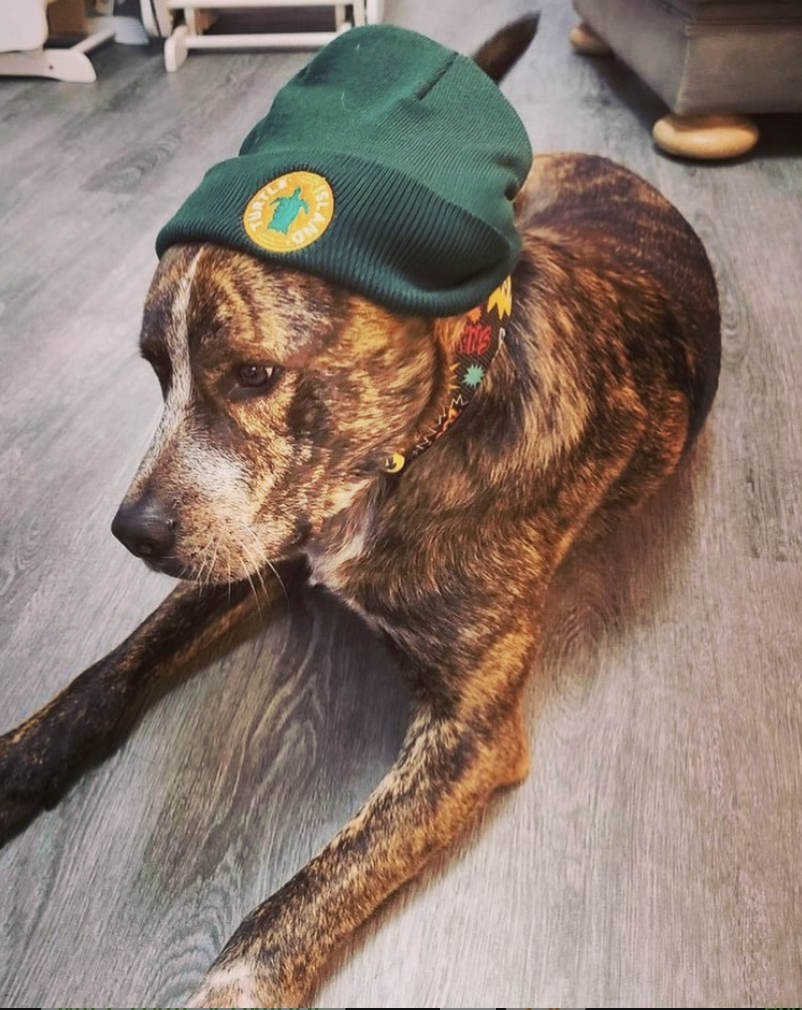 While any business or organization can become more welcoming and can sign on, they mostly work with local small businesses. It's easier to hold them accountable, Nykolaychuk said, without having to go up the ranks within a large company. The businesses that have signed on can be viewed on their website.
While no space is ever 100 per cent safe, Nykolaychuk said the initiative is about businesses and organizations wanting to improve.
"It's about indicating your commitment to get onboard that learning journey and commit to constantly learning and growing, because no space is ever perfectly safe, but it's about trying harder," she said.
So far, they have engaged with about 40 businesses, and 33 have signed onto the project, receiving the Turtle Island stickers for their windows where they are visible, especially for Indigenous youth. They have also started the initiative in schools, where teachers who are invested in anti-racism and creating safe spaces in their classrooms can be nominated for a sticker by their students.
Turtle Island Edmonton centres the experiences of Indigenous youths in Edmonton businesses
This project comes from the diverse experiences of Indigenous youth, Nykolaychuk said, but many have experienced microaggressions.
Nykolaychuk explained that Indigenous youth had faced experiences such as walking into a space and knowing they're not welcome, people looking them up and down, and generally feeling unsafe and unwelcome. Even things like ignorance, a lack of land acknowledgement, or not seeing Indigenous peoples in management positions are harmful, she added.
It's also harmful to hear racist language or improper terms, and Nykolaychuk believes the onus for addressing racism is not on Indigenous youth.
"That's not their job, it's the job of allies to say 'actually, no, that's not acceptable in this space,'" she said. "We need to take on some of that labour that Indigenous kids have to carry all the time."
The comment that impacted her the most from one of her students, she added, was that they felt like people were just waiting for them to fail.
"It's just so unfair that 14-year-olds are coming up to me saying 'I feel like no one is rooting for my success, I feel like people are just waiting around for me to slip up so that they can say 'Oh well, it's because you're Indigenous',' and that needs to stop," she said.
Nykolaychuk explained that it can put Indigenous youth at ease to see the familiar, like Cree, syllabics or some sweetgrass. They are currently working on a resource laying out how businesses can put the five commitments into practice, but it can look many different ways.
"There's so many little steps that we can take that make a huge difference," she added.
Nykolaychuk recently connected with Elder Francis Whiskeyjack from Saddle Lake Cree Nation, who has agreed to provide guidance for the project.
They are also looking to make Turtle Island a registered charity, so they have access to more resources. They would love to offer scholarships to Indigenous students or cultural awareness workshops, she said. Ultimately, Nykolaychuk would like for this initiative to be run by Indigenous youth, with her playing more of a facilitator role, but COVID-19 has made that difficult.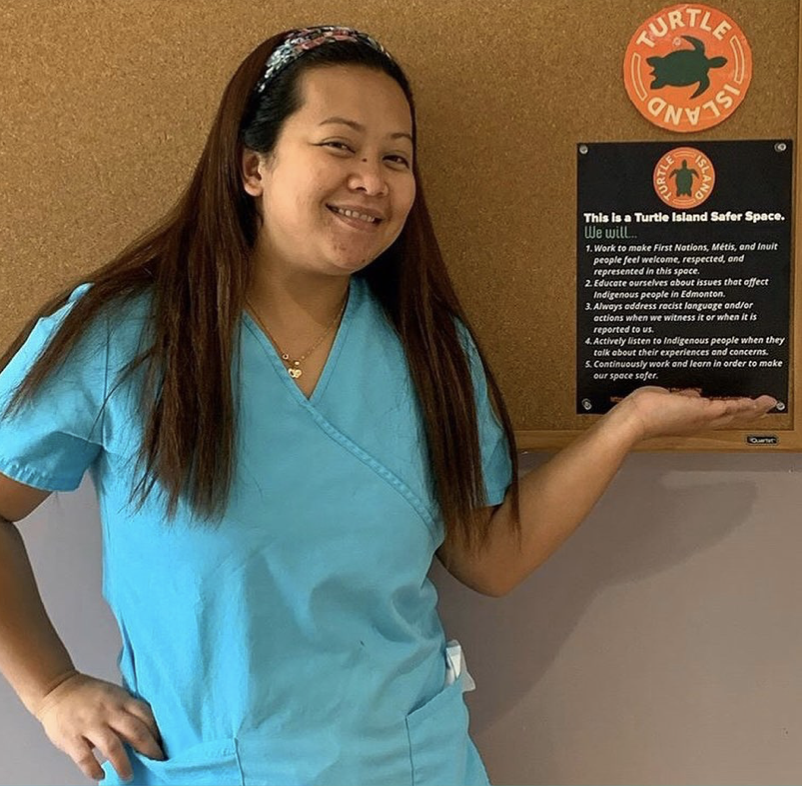 In Thunder Bay the Wake the Giant initiative has observed a notable difference in the self-esteem of the youth, Nykolaychuk said, and she added that recent scholarship says community is really important to mental health.
"Everyone needs a sense of community, a sense of belonging and [to feel] that people have your back and aren't waiting for you to fail, but [instead] asking what they can do to support your success," she said.
Nykolaychuk also hopes Turtle Island Edmonton will set a precedent across the country, or even North America, influencing more people to understand they need to better support the Indigenous youth in their area.
"I think that the bottom line is just that Indigenous youth deserve better," she said. "Indigenous youth deserve to grow up and live in a place that is invested in their success and [in a space] where they feel honoured, safe, and welcome."