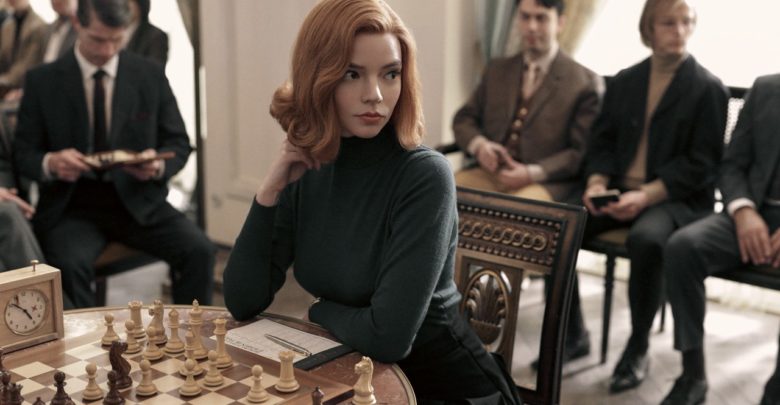 Of the many shows I've binge watched on Netflix, The Queen's Gambit has been the most unexpectedly entertaining. I never thought a show about chess would have me on the edge of my seat, but The Queen's Gambit had me laughing, crying, and cheering along with the characters.
The Queen's Gambit follows Beth Harmon as she becomes orphaned through a car crash. Sent to Methuen Home, an orphanage for girls, Beth begins to learn chess from the custodian and quickly develops an obsession with it. With the help of tranquilizer pills, Beth is able to visualize the chess board on the ceiling every night as she goes through different plays in her mind. We also get to cheer her on as she takes on an entire high school chess team in simultaneous games.
Jumping ahead a few years, Beth is adopted as a teenager — played by Anya Taylor-Joy — and finally begins to live life outside of the orphanage. As we follow Beth navigating high school, the show also begins to explore themes of alcohol and drug addiction, feminism, and found family. Of course, we also get to see intense chess matches where the moves were choreographed by real life chess grandmaster — and former World Chess Champion — Garry Kasparov. Even though I didn't know much about chess, the show made each game feel as intense and exhilarating as a physical battle.
The show is also full of cast members you might recognize from other projects. Harry Melling (Harry Potter's cousin Dudley) plays Harry Beltik and Thomas Brodie-Sangster (the little kid from Love Actually) plays Benny Watts, who is based on real-life chess prodigy Bobby Fischer. The star of the show is still Anya Taylor-Joy, who perfectly captures Beth's piercing gaze, reckless arrogance, and pure genius.
If you're looking for a show to binge on, I'd definitely recommend The Queen's Gambit. I have a newfound interest in chess and feel compelled to play it everyday despite having none of the genius of Beth Harmon, but the show is also just plain fun to watch. It's occasionally infuriating and sometimes pulls on your heartstrings, but you ultimately grow to love many of the characters and root for them to have happy endings.
Whether you're a chess master or just looking for a great show to watch, The Queen's Gambit can be enjoyed by everyone, although a few rare scenes may need to be restricted for 18+ audiences.