Campus Life
News
Dogs takeover Zoom: U of A library holds first virtual Dogs in the Library
Spend an afternoon relaxing with dogs, chit-chatting with their handlers and watching them perform tricks through a virtual therapy dog session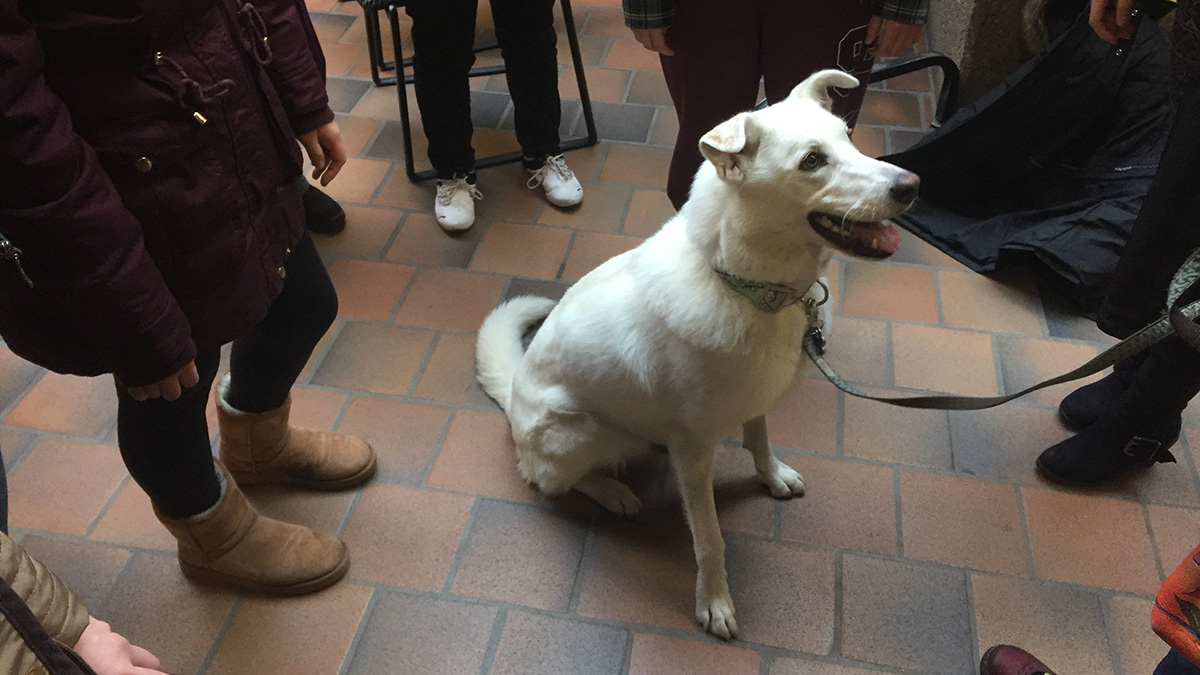 Anyone in need of a furry companion can hop on Zoom for the Dogs in the Library online session, which will feature a number of therapy dogs and their handlers.  
The Dogs in the Library program, until recently, was an in-person event allowing students to interact with trained therapy dogs to reduce stress when exam season rolled around. With the suspension of on-campus activities, the program has returned as an online experience where students will be able to join a Zoom meeting with a dog and their human companion. The first pilot event will be held on October 29th, from 12:00- 2:00 pm and can only be accessed through a code received upon registration for the meeting on their registration page.  
The event itself will be very flexible, allowing people to move between different breakout rooms within the session, each with a different dog to meet. Participants can join the Zoom meeting at any time within the two hour period and interact with any of the dogs for as long as they like. Participants will also have the opportunity to talk with their handlers about their experiences with volunteering in the program and, potentially, see the dogs perform tricks.
The university libraries were able to implement this program with the help of the Chimo Animal Assisted Wellness and Learning Society (CAAWLS). CAAWLS is a non-for-profit organization, which functions primarily through the help of volunteers, and certifies family pets as wellness animals. CAAWLS will be featuring an ever-changing line up of dogs through the Dogs in the Library program, including some veterans of the program such as Cappuccino, a labradoodle, or a labrador retriever named Lucy.
In conjunction with CAAWLS, Erin Sanderman, a University of Alberta Library communications and engagement team member, was involved in the development and promotion of the Dogs in the Library virtual event. Sanderman said the online format of Dogs in the Library was introduced to comfort those who were missing the in-person contact with the dogs, while also taking the current situation into consideration.
"Any member of the university community who registers for it can stop in for a couple of minutes and just visit with the dogs if they miss them or if they need a little bit more [time], they can stay the full two hours," Sanderman said.
Sanderman hopes the virtual edition of Dogs in the Library may especially provide comfort and support to those living away from home and potentially away from their own furry family members.
"It gives people a chance to find community," Sanderman stated. "It can be very isolating to come to a university far away from home [and] a lot of them miss their own pets if they have them [back home]."
Depending on the success of this first session, Sanderman's team is interested in working with CAAWLS again to offer further sessions. She hopes to see engagement from the community and encourages people to take some time out of their busy schedules to relax and unwind, especially during these stressful times.
"Hopefully, people just get a little bit of a boost before heading into the second round of midterms [by] just being able to take a breather and being able to visit with some cute dogs that maybe they were physically visiting last winter or fall."