Institutional
News
Academic restructuring town hall reveals layoffs and "more consultation" to come
U of A president Bill Flanagan emphasized this is the first of many consultation steps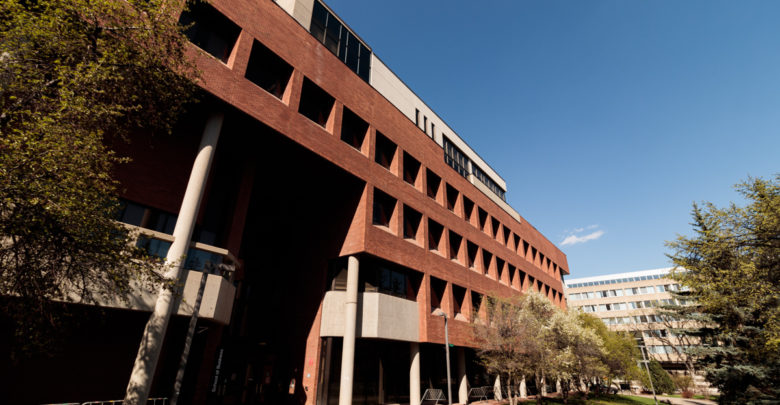 The University of Alberta held its first of five public academic restructuring town halls.
Hosted by U of A president Bill Flanagan and provost and vice-president (academic) Steven Dew, the town hall was the first official community-wide feedback session on academic restructuring since the interim proposal was released on September 20.
The town hall took place on September 30 and lasted an hour. The majority of time during the town hall consisted of opening remarks from Flanagan and a presentation recounting the main points of the interim proposal given by Dew. After a pause to allow participants to conjure up their questions on the crowdsourcing platform Thoughtexchange, the town hall's last 12 minutes were spent addressing only a couple submitted questions.
According to Flanagan, The Thoughtexchange from the town hall will remain up until the end of September 31 with questions to be addressed in future university blog posts and on the University of Alberta for Tomorrow site.
The next academic restructuring town hall will occur October 6, focusing specifically on the Service Excellence Transformation (SET), the university's administrative restructuring initiative.
Flanagan says preferred restructuring scenario is "too dramatic"
In the interim report, the Academic Restructuring Working Group (ARWG) proposed three different possible scenarios for academic restructuring. Of the three, ARWG recommended scenario B — the tri-agency alignment— which organizes most faculties into three administrative over-seeing divisions.
At the town hall, Flanagan admitted that upon first seeing the tri-agency alignment, he thought it was too drastic of a change.
"I have to tell you my first reaction to it was it was a bridge too far," he said. "It was too dramatic to move to a [tri-agency alignment] for the university."
However, Flanagan came to favour the scenario after studying it in further detail, especially considering how faculties will remain intact.
"In retaining the existing faculties, and in particular the academic leadership resting with those faculties, we may retain what is most important with the faculty and the identity associated with the faculty."
Flanagan said he expects his opinion on the proposals to progress in a similar manner as he collects community feedback.
"[My opinion] evolved during discussions and it will continue to evolve as we seek feedback from the whole university community."
Town hall yields questions about supporting staff,
In his presentation. Dew showed that 83 academic leadership jobs could be cut using the division model shown in the tri-agency alignment.
In response, an attendee asked how the university could justify cutting academic support staff when remote learning sees professors needing even more assistance.
Dew said while the university is attempting to actively avoid cuts that will affect online learning, progress towards restructuring cannot be postponed.
"I fully agree… reducing our ability to support online work in particular would be something we would have to put off until some life where COVID is a memory for us," he responded. "But, many of the other functions we are looking at that don't directly relate to the delivery of online [courses] — I'm afraid we don't have the ability to post-pone those. Our financial pressures are dire and time-driven."
When asked about additional lay-offs under the tri-agency alignment scenario, Dew once again emphasized that these changes are inevitable due to the budget.
"The magnitude of the reduction in our staff… is really set by the financial challenge in front of us," he said. "That's there regardless of our restructuring approach. It is set by the external environment we are in."
"These processes are not about how many people we're going to have to lay off or what roles become redundant. It's more about how do we find ways, given the people we have, to restructure the work so that they're not getting more work piled on them with fewer people to cover."
Many attendees also didn't see a clear distinction between current academic deans and the proposed executive dean which would head each division.
Flanagan revealed the distinction between division and faculty is something ARWG struggled with.
"That was a major issue we've been wrestling with — how do we achieve the larger units that drive the savings but at the same time retain the identities that are closely associated with existing faculties," he explained. "We did hear very clearly in the consultations to date the importance of the existing facility, the identity, and the academic mission within that existing faculty — that's what scenario B is trying to preserve as much as possible."
Academic restructuring town halls only the beginning of consultation, Flanagan emphasizes
In response to an Edmonton Journal opinion article criticizing the university for not including its communities in this process, Flanagan emphasized more consultation will follow in the coming month.
According to Flanagan, besides the upcoming town halls, he and Steven will be holding a roundtable discussion with each faculty, and Flanagan himself has committed to regularly meeting with the Non-academic Staff Association (NASA) and Association of Academic Staff University of Alberta (AASUA). He also encouraged community members to submit feedback online.
"We know how important this is to the university community and indeed without a meaningful process of consultation, what we are proposing to achieve simply won't be possible," he said.
During his presentation, Dew also touched on how none of the proposals are set in stone, and said community feedback is necessary to embark on this unprecedented change.
"Is this fully-baked? Are we here to sell you or are we here to listen?" Dew posed. "The answer is very much the latter. We recognize that this is new territory for us — it's frankly new territory for any institution in the world given the magnitude and speed we have to move. We really do need to hear from everyone to miss as little as possible."