International
Opinion
Point/Counterpoint: Zoom versus Google Meets
With the fall semester online, which digital platform should be your choice for online meetings?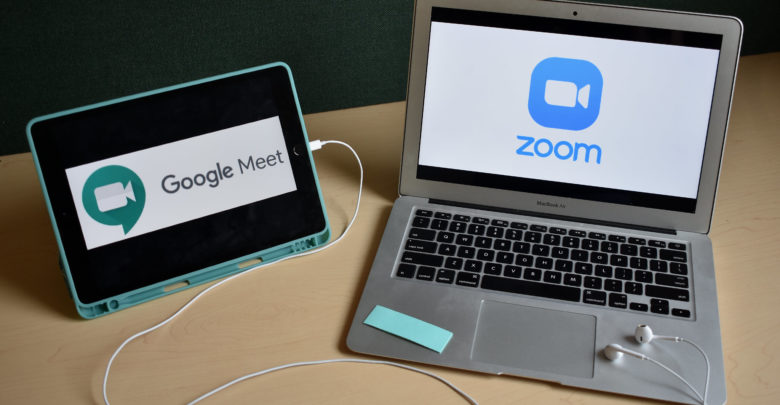 Out of all the decisions the COVID-19 pandemic has forced us to make, one remains hotly contested: choosing Zoom or Google Meets for your next online meeting.
Read our writers' take on which video-calling service reigns supreme!
Zoom
When the pandemic struck, panic ensued for students everywhere. Were we going to have class? Were we free for the rest of the upcoming semester? Would the campus crash and burn? Luckily, we had a saviour to finish up those final credits that wasn't from a company already antiquated within our system: we were all introduced to Zoom — a revolutionary app for online schooling.
Raising your hand without a camera? Letting someone know you agree with them without even saying a word? Zoom has reactions! You got your clapping hands to use if someone makes a hot, spicy take that you can't help but praise. Someone wants to know if their sound is on? Thumbs up for them, and all is well without even saying a word!
Anxious about admitting which side of a discussion you fall on? Use a poll! These polls can be anonymous, so you can still feel like a part of the class without saying anything! Even without anonymous polls, these polls give you an extra minute or two while everyone answers, so you can think longer about your response, rather than awkwardly scramble to raise your hand before the twenty other students in your class beat you to it.
Prefer small discussions with a group before talking in front of the class? Breakout rooms! An easy way for a prof to spur discussion without everyone awkwardly staring at a camera silently, breakout rooms place everyone into small groups to talk over concepts before bringing it to the class. It's an easy way to get used to the feel of Zoom and, if you're lucky, you can even get paired with your friends in the class!
Your school account isn't in your preferred name? Don't bother going to your account settings for that! Zoom makes things like changing your name and adding pronouns a breeze! All you have to do is click those three blue dots next to your name, and voila — an easy and efficient way to use your preferred name!
Zoom truly lives up to its name. It's fast, easy, and accessible. With a link supplied, you can have up to five-hundred people at one event! Perfect for guest speakers, popular classes, or maybe you just want to meet five-hundred strangers from around the world.
Seriously, Zoom is amazing. It utilizes everything you'd want in an online class, and allows that class to run smoothly. I mean, sure, there are other options available, but, do they have a raise hand option? Didn't think so. Shout-out to Zoom for thinking of the little things, and I'm looking forward to utilizing this program every chance I get this semester.
— Sarah Bachmier
Google Meets
Even though Zoom takes the center stage in our academic and working lives, that doesn't mean it's the best or only option. Zoom is hardly without flaws that open the door to a worthy contender for the main video conferencing platform. Google Meets can do nearly everything Zoom can but more efficiently and accessibly.
Google Meets requires less effort to use. If you already have a Google account, you can use Google Meets for free, which means every University of Alberta student can use it without having to make any other account. While Zoom makes each host set up an account and download the app to host a meeting, you can host a Google Meets meeting right through the browser.
Google Meets is also more accessible. Google Meets comes with G Suite, which is much cheaper than Zoom at only $6 a month; less than that streaming service subscription you purchased to help get you through quarantine (though admittedly not as fun). It's also available to those who need to call-in rather than join a video call because Google Meets doesn't charge a call-in fee. Plus, even after changes coming on September 30th, the free version of Google Meets can hold a meeting for 60 minutes, a full 20 minutes more than the free version of Zoom.
Finally, Google Meets is more secure than Zoom has proven to be. Recently, Zoom has come under fire for Zoom bombings, wherein an uninvited person crashes the Zoom meeting and spreads offensive language or imagery. Yes, there are ways of protecting your meeting against this like making meetings password protected, but why would the responsibility of protecting against a potential Zoom bombing lie on the shoulders of the consumer rather than being a feature in the product? Meanwhile, Google Meets creates a unique encryption key that only runs while the meeting is happening to protect its users. 
These are weird and uncertain times for everyone. The last thing I want to worry about right now is the platform hosting my synchronous lectures and group meetings. Due to Google Meets being more accessible to those who need it, easy to use, and more secure than Zoom, it's one fewer thing on my long list of unknowns for this semester. For me, Google Meets takes the cake.
— Bree Meiklejohn