Campus Life
News
New U of A free online science literacy course aims to combat misinformation
The course teaches learners how to critically address their own biases on polarizing issues, from the carbon tax and climate change, to alternative healthcare.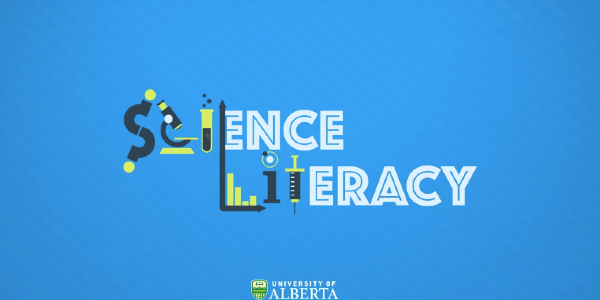 With so much information online, it can be hard to find the truth, especially in the middle of a global pandemic.
A new University of Alberta course hopes to address science literacy, the practice of critical thinking used to assess the validity of scientific information. The course is free for anyone to take, joining the U of A's other 14 massive open online courses (MOOCs) which just recently surpassed 1 million enrolled learners worldwide.
The course's videos and the learning tools have also been made available as open educational resources (OERs) so anyone can access them and incorporate them into their classroom.
Though U of A students can't currently take the course for credit, this might change in the future.
Topics explored in the science literacy course will range from climate change and the carbon tax, to bike lanes and safe infrastructure for traffic, to health issues involving herbal medicine and probiotics.
Course will focus on how knowledge is a process
Claire Scavuzzo, a department of psychology researcher and the course instructor for the science literacy MOOC, said the course was initially created in response to a gap in student learning.
"There's agreement [in the department of science] that our students need more practice in thinking about the process of science and how you evaluate information," she said. "Even upper-year students are having trouble identifying what a scientific paper is trying to test."
Scavuzzo said this MOOC was designed to balance the quick collection of knowledge encouraged in a university setting, while also allowing learners to think critically about how that knowledge came to be.
"Today we talk about science as if it's just common knowledge because an expert says it or someone knows it, and therefore we all should know it," she said. "There's a need to really slow down and consider the evidence for it, rather than just list facts."
"Now more than ever, the whole world needs this," said Scavuzzo
While the course was initially created with U of A students in mind, Scavuzzo highlighted how key the topic is for our current moment.
"We're all inundated with information, and we would rather just read these headlines that confirm everything we already know," she said. "With COVID-19, you can see how toxic that can get.. Now more than ever, the whole world needs this. It's not just our students, it's not just Albertans, everyone should be able to access this."
Scavuzzo hopes the widespread access to the course through its MOOC format and the use of OER materials will help learners engage with opinions outside their own.
"It's easy in our internet world to have your blinders up and exist in an echo chamber," she said. "Science is not about that."
What the course will teach instead, is that science is sometimes about being wrong.
"No one wants to know that they're wrong," Scavuzzo said. "The purpose of this course is really to open people's minds to that. We're wrong all the time. Science is about being wrong, that's the purpose: to disprove something that exists that we think is true."
Science literacy course will highlight non-settler ways of knowing
The course will also spend time questioning where scientific values come from, and look at what ways of knowing they might exclude.
For example, the course will talk about how some Indigenous practices have been taken and used in settler science methods and touted as original discoveries.
One of the first lessons focuses on Indigenous knowledge, and brings in Knowledge Keepers — figures trusted and respected by their communities who hold important understandings about land and ancestry — to talk about their traditions and practices.
"A lot of the Indigenous knowledge that exists was not based on the process of Western science, but it was collected over tens of thousands of years of observation and traditional practices, and is well-validated," she said.
Scavuzzo also highlighted how some Indigenous practices might be under-tested in lab settings, but this doesn't erase their validity.
"Science isn't the be-all and end-all," she said. "There's other ways of approaching knowledge, and [Indigenous ways of knowing] are really good examples."