Institutional
News
Students' Union
Notes from Council: council discusses academic restructuring and ISA status as SRA
Read about the disagreement on the ISA's status as a Student Representative Association and SU President Joel Agarwal's presentation on academic restructuring in this recap of September 22's council meeting.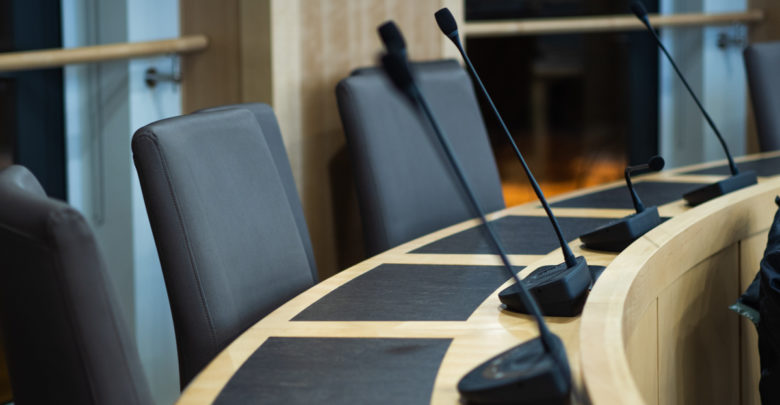 "Notes from Council" is The Gateway's ongoing series of recaps of noteworthy items from Students' Council meetings.
---
Agarwal addresses academic restructuring proposals, favours scenario with the most savings for restructuring
Students' Union President Joel Agarwal gave a brief presentation outlining the three options for academic restructuring put forward by the university on September 21.
Agarwal recommended the tri-agency alignment (Scenario B), the same option endorsed by the University of Alberta's Academic Restructuring Working Group (ARWG), of which he is a member. He said the scenario — which splits most faculties into three divisions — promises the most savings overall.
"If the university doesn't find savings here, it's going to trickle down to your departments, to your faculties, and to other programs," he said.
Arts councillor Ana Oliveira asked for elaboration from Agarwal.
"You mentioned that scenario B may avoid departmental closure and mergers," she said. "I come from a department that's very small and that is suffering a lot of cuts and possibilities of being merged with other departments, so I would be in support of a model that may help small departments survive a little better."
Agarwal noted that conversations about departments and programs will only take place after a decision is made about faculties.
Eric Einarson, faculty Saint-Jean Councillor, asked about a presentation members of the University of Sydney (USYD) gave on similar restructuring that occurred there.
"They're saying that the restructuring really hurt the student culture on campus … I was just curious what the restructuring group is doing to address that to make sure that's not what the U of A becomes," Einarson said.
Agarwal said that he is looking at issues that affect students, like academic advising, and working to ensure that these are still a priority for administration.
Additionally, he said that USYD should not be the only comparison.
"I think there's a lot of universities that have really benefited from [academic restructuring]," Agarwal said. "But for USYD specifically, if you look at their ranking, it's actually ranked 51 in the world, as opposed to the U of A which is actually sliding in our rankings."
Motion for International Students' Association to become SRA Tabled
Council discussed the International Students' Association's motion to become a Student Representative Association (SRA), and ultimately decided to table it.
Becoming an SRA means that a student group can make decisions for its members without first going through the Students' Union, allowing it to more efficiently advocate for those it represents.
Arts councillor Talia Dixon was among several members of council who voiced their concerns about the motion.
"For me, I'm extremely conflicted because of funding, because of structure, as well as because so far, the response to suggested changes has been quite hostile, and that makes me very concerned about the future," Dixon said. "I'm still on the fence after months which I don't think bodes well for this proposal."
Science councillor Adarsh Badesha spoke about the ISA's inactivity in previous years, saying that if the council is to delegate their authority, it must be to a permanent institution.
He also added that he was wary that the ISA's might create fees for students in years to come.
"I think if there's one ubiquitous issue that all international students can agree on, it's that they pay too much," Badesha said. "As someone who currently represents international students in my faculty, I cannot ethically vote to make something an SRA when one day it'll start charging them money."
Engineering councillor Amlan Bose defended the ISA.
"I came into this university in 2017," he said. "During all these years, I haven't seen any organization that has done so much for international students as the ISA did."
Bose noted that despite the ISA's fluctuating presence, the difficulty of building an association should be taken into account.
"A lot of you are pointing out all these problems, but when there was literally no ISA, none of you came forward, helped out, or initiated a process to represent international students," he said. "It's hard to build something from the ground up. Just talking about international students during the election season when you need votes isn't enough."
Rowan Ley, vice-president (external), thanked the ISA for its work, and noted that it will still be able to represent students without SRA status, though the ISA could reapply in the future.
"This is not life or death for the good work the ISA is doing," he said. "The ISA … could come back any time either later this year or next year and apply for SRA status then."