Campus Life
COVID-19
News
Masks on campus: when and where they are to be worn
Masks will be required in indoor and outdoor places on campus starting August 1 where 2 metre physical distancing cannot occur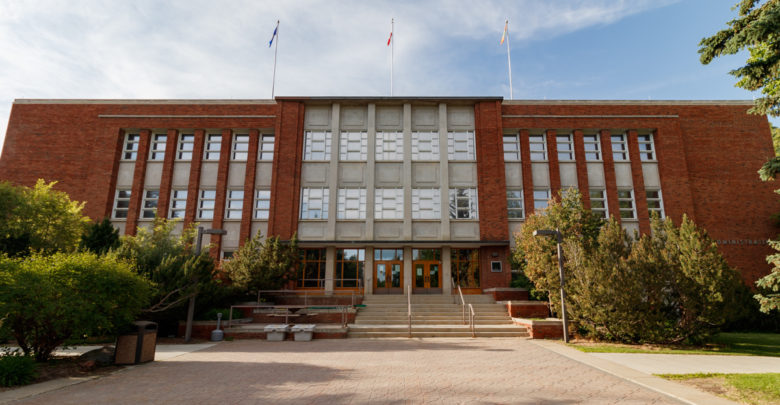 A new University of Alberta guide shares with students, faculty, staff, and community members the appropriate times to wear masks starting August 1.
While the majority of fall term classes will remain online, more than 800 classes will still be delivered in-person. The guide, available at the U of A's blog, states that everyone should wear a mask while on campus — indoors and outdoors.
The City of Edmonton voted in favour of mandatory masks or face coverings in all indoor public places mandatory starting August 1. The U of A guide said in order to be in alignment with the bylaw it "requires" anyone on any of its campuses to wear a mask or face covering.
"As various parts of campus life resume, masks will be one of several measures in place to prevent the spread of COVID-19," the guide reads.
"Faculty, staff and students are all required to wear masks on campus — as are members of the public, contractors or vendors, and other visitors."
Face masks will be required to be worn in common areas including libraries, computer labs, washrooms, corridors, elevators, and lobbies. All multi-person transportation — like public transit, U of A vehicles, and intercampus buses — will require masks to be worn as well.
"[Masks will be worn in] any situation where you cannot maintain 2 m physical distancing, including outdoors. Even with a mask, it's recommended that you limit these situations as much as possible."
Personal offices or work areas, employee-only areas, classrooms, and labs will not require face masks as long as two metre physical distancing can occur. Not wearing one while participating in labs is deemed acceptable by the university so long as a person is stationary and distanced properly from others.
The guide states masks should be worn as people move around campus, like exiting classrooms, moving around labs, or traversing hallways.
Masks will not need to be worn on campus while eating or drinking in designated areas.
The guide also shared resources on how students can get ahold of masks, including receiving a one-time package of single-use masks for free at the bookstore.