Campus Life
News
Professor Lowrey dismayed over dismissal from admin role; others feel it is a positive step
Kathleen Lowrey says academic freedom should protect her from administrative post dismissal while others question how far the limits of academic freedom extend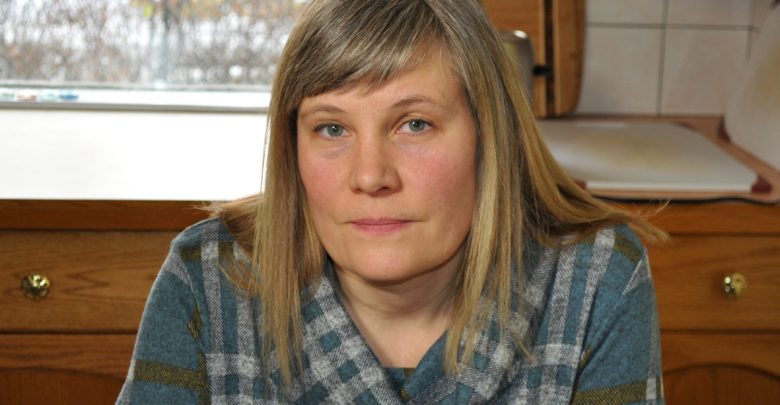 TRIGGER WARNING: Be advised the following article reports on comments some may find offensive.
A University of Alberta professor says she was dismissed from her role simply because of her personal views towards gender.
Kathleen Lowrey, an associate professor of anthropology and former associate chair of undergraduate programs for the department, said she was dismissed from her administrative role because of her personal views that transgender identity should not be akin to biological sex.
Her dismissal sparked controversy between students, faculty, and community members. Some say the U of A's decision to remove her as associate chair of undergraduate programs is an assault on academic freedom, while others say it is a first step towards helping the department become more inclusive to all.
Lowrey received tenure as a professor in 2010. She took the position of associate chair of undergraduate programs for the anthropology department at the start of the 2019-20 academic year. The position is normally held for a three-year term. She was informed on March 24, 2020 that she would be dismissed from that role starting July 1. No reason was given by the U of A for her dismissal from the position.
Hallie Brodie, issues and strategic communications manager, said in an email that due to privacy concerns, the U of A would not comment on the matter.
"Kathleen Lowrey's academic appointment as associate professor in the Department of Anthropology at the University of Alberta has not changed. For privacy reasons, we cannot comment on the status of her administrative appointment. We have no further comment."
The Gateway reached out to Lesley Cormack, faculty of arts dean, who said she was "unable to comment at this time."
The U of A Office of the Dean of Students did not wish to comment on the matter either.
Lowrey said her personal views of being a gender-critical feminist have been known for "awhile." In January of 2018, Lowrey published a blog on Feminist Current sharing her views as a gender-critical feminist. Lowrey said for the "past few years" she has had signs and material displayed on her office door which shares those views as well.
"I thought that would make it clear that I am a gender-critical feminist," she said.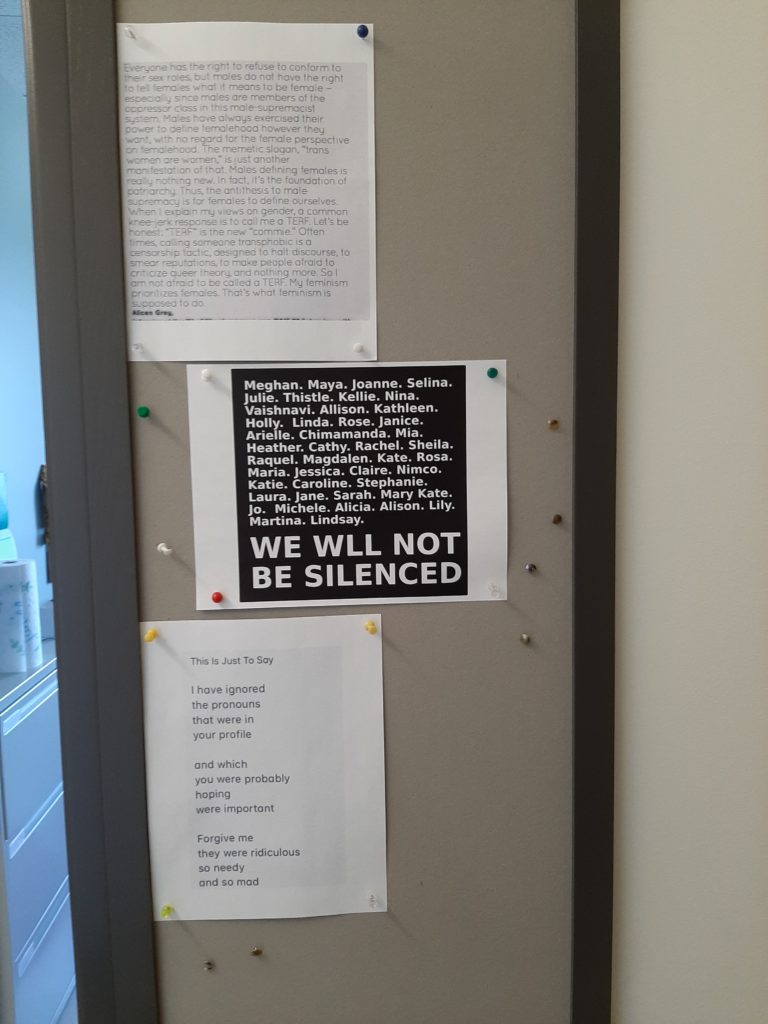 She added that within her course syllabi and on the first day of classes she taught, a disclaimer was always communicated clearly that some content may engage with gender-critical feminism and norms that are not necessarily seen by all in society.
In the fall of 2019, Lowrey said the department chair for anthropology asked if she had anything that was transphobic displayed on her office door as a student had made a complaint. Lowrey said she believed the student was referring to a quote she was displaying written by Sarah Ditum, among others. Lowrey told her chair she didn't think it was transphobic.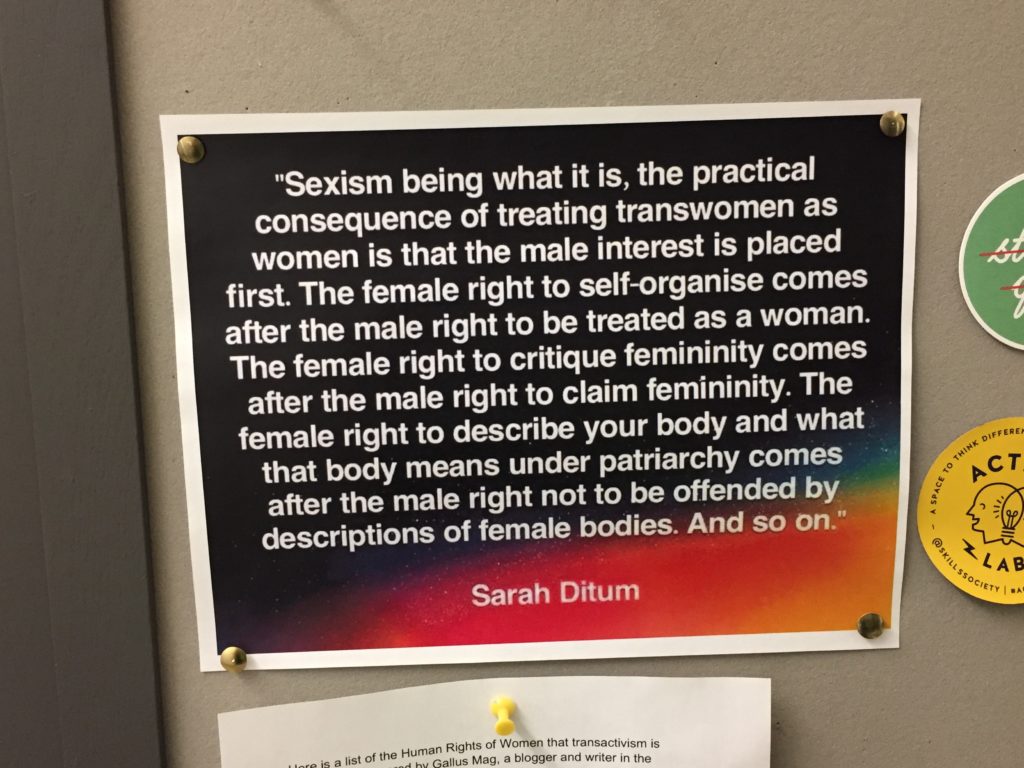 "I don't think it is transphobic," she said. "[The quote or other materials] weren't transphobic in the sense that they said anything terrible about trans people. They expressed gender-critical feminist views which are often interpreted as being transphobic."
The department did not ask for the quote to be taken down.
In January this year Lowrey taught a course about the anthropology of women. According to her, the course covered a large amount of material with some being gender-critical feminism literature.
"I told the students on the first day: you are going to read material that is really out of favour in contemporary academia. You certainly don't have to agree with any of it, but I think it is not being presented in many other courses and I think it is an important literature that has important perspectives."
"Given that we are at university, I think you all should be exposed to it," Lowrey said she told students. "Your grade in the class is not going to depend on whether you are persuaded by anything I present to you."
Lowrey said she was not sure if a complaint was initiated by one of her students in that class or others on campus who heard about her views, but that a confidential complaint was created. From there she was brought into meetings where student concerns were voiced. She said that while she believes in the importance of confidential complaints, some that were brought forward were "a lie."
According to Lowrey, her chair told her the situation emerging was "distressing for students" and that it would be better for Lowrey to resign. Lowrey said she refused and that it would require a dismissal from the department with a specific reason.
She believes her personal views were the reason she was dismissed and that her academic freedom is being impeded upon. A grievance against the university has been filed by Lowrey and her faculty association over the matter.
Ultimately, Lowrey said she hopes to be restored to her former position.
Lowrey's views being communicated in ways which "harm" trans and non-binary students and colleagues, a department member says
Elizabeth Sawchuk, a U of A Banting scholar postdoctoral fellow and adjunct professor, said in a written statement to The Gateway that she had "no problem" with Lowrey exploring "issues of gender and sexuality in her scholarship." Yet for Sawchuk, the way her views are presented are "offensive" and "not academically appropriate."
"These are important topics in anthropology that we should be engaging with in our teaching and research," Sawchuk said. "However, these discussions must be rooted in respect, research, and meaningful dialogue. The ways she has chosen to communicate her views are not academically appropriate and harm trans and non-binary students and colleagues. I personally disagree with many of her views and find the images she chooses to display on her door offensive."
For Sawchuk, the messages displayed on Lowrey's door challenge the idea she is engaging in discussions within the realm of academic freedom.
"It's important to protect a scholar's academic freedom, but we must ask at what point something ceases to be academic. Her door is not an academic discussion nor an invitation to engage in dialogue about gender. It's a clear one-sided message from a person in power that trans and non-binary students are not welcome. At minimum, this creates an exclusionary and toxic environment that has no place on our campus."
Social media posts made one student fear bringing forward concerns against Lowrey
A student who came forward to The Gateway said online comments Lowrey made on a semi-public social media platform made her fear speaking out against the professor.
Lowrey posted on June 3, 2020 on Spinster.xyz, a woman-first social network that says it is "feminist, federated, and free," saying she welcomed students and faculty searching her feed for anything they could "call "hate speech.""
"I also want to speak here to the students and colleagues whom I know to be combing through all of my posts and replies here at Spinster to find things you can call "hate speech" and use to try and get me fired, arrested, or both," Lowrey wrote. "Welcome! Come for the witch hunt, stick around for the deprogramming. I hope you find your time here enjoyable and illuminating."
A profile asked Lowrey if there is anything they could do to help her. Lowrey responded by saying to the person they should continue to "do your thang."
"Do your thang," Lowrey wrote. "Especially for students who are coming for me, there really is nothing better for them than to be exposed to Spinster in all its glory. Who knows we might even make some faculty think! Anything is possible with this mighty mighty community."
A student who wished to remain anonymous due to fears for her personal safety, said the online messages seen on Lowrey's Spinster account made her fear bringing her concern to further authorities.
"It terrifies me," the student said. "How can I feel safe at a university when a professor is making comments like that online?"
"Where is this part of academic freedom? It sounds to me like an incredibly targeted message to shutdown honest conversations."
When asked by The Gateway to clarify or comment on the post made on Spinster, Lowrey declined.
"Nope, I'm good," Lowrey responded.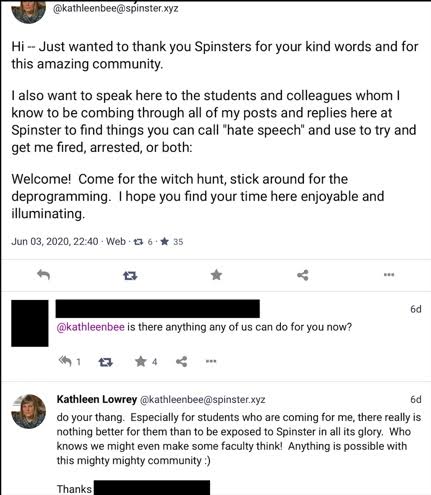 Student says Lowrey used every opportunity to launch into "anti-trans remarks."
A fourth-year political science student who wished to remain anonymous for fear of adverse consequences and personal safety, recounted their negative experience at an anthropology student-led event to The Gateway in a written statement.
According to them, the event had a "great conversation surrounding queer anthropology" until Lowrey entered the room half-way through the event.
Lowrey confirmed she attended the event and that she had joined late because she had prior previous engagements.
The student added that once Lowrey entered, she used every opportunity to launch "into a tirade of anti-trans remarks."
"Lowrey felt that she was entitled to respond to every comment said in this discussion," the student said. "It also seemed that she didn't feel she needed to hold herself to the decorum expected of the Associate Chair Undergraduate at an undergraduate event."
"Her comments and active work to derail the event actually lead to one of the [student] organizers leaving the room in tears," they added. "She also took it upon herself to directly argue the existence and validity of trans people with a trans man in the room."
In response, Lowrey said she came to listen to the event. When she heard some of the comments being made by students and faculty, she felt she needed to speak up.
"I spoke up," Lowrey said. "My personal feeling is that there were a couple of faculty members who were there who didn't like being confronted like that."
She added that she remained "polite" and "careful" during the event when delivering her remarks.
The same fourth-year political science student also worked with Lowrey through university governance. The specific body the student was a member of will be withheld to maintain their anonymity. According to them, Lowrey used "any and all position" she held "to speak out against the trans community."
"It is not enough for her to purely hold her views, she must actively preach them to anyone who is around her," the student said.
"Looking back to every time I have heard her speak… she has somehow managed to loop in her position as a gender critical feminist and actively try and shape any and all university policy to conform to her outdated and — in my opinion fundamentally incorrect — view of gender."
Chris Beasley, president of the Organization of Arts Students and Interdisciplinary Studies (OASIS) said in an interview that the organization has heard many student complaints regarding Lowrey.
He commended the U of A for taking a step towards making the university safer by removing Lowrey from her administrative role.
"This is the culmination of a long internal process and one that is undoubtedly a positive result for students," Beasley said.
Beasley said it would be important to ensure all internal processes at the U of A are followed to determine whether Lowrey should remain a professor or not.
"If her teaching continues to make this campus unsafe or make students feel unsafe then she absolutely is not a professor that we need," Beasley said.
"OASIS is happy to help anyone who has any complaints about the conduct of Lowrey or any other professor," he added. "Campus must remain a safe space."
Academic freedom should be paramount and without it the university system "is dead," says director of Centre for Free Expression
James Turk, director of the Centre for Free Expression at Ryerson University, said in an interview with The Gateway the heart of this debate is academic freedom.
For Turk, academic freedom is not a privilege but right academic staff have in order to gurantee their ability to research, teach, and serve the public good of institutions.
"[Academic freedom] ensures that their views cannot be restricted or disallowed because they may offend powerful interests," he said. "Faculty have the right to use their best professional judgement in developing their viewpoints on an issue."
He drew the example of Galileo Galilei, who in the seventeenth century developed ideas regarding the Earth's place in the solar system which clashed with official dogma from the Catholic Church.
"He was criticized but was advancing knowledge," Turk added. "That is at the heart of this issue."
While Turk disagrees personally with Lowrey's views, he said the U of A sets a dangerous precedent of dismissing someone from a role because of their views. In his view, academic freedom is only bound by if a faculty member does not harass or poorly treat students.
"What is impermissible is when they impose their views in a way that is discriminatory or an attempt of indoctrination," he said.
"Teaching is about educating students, not indoctrinating them," Turk said. "Research is meant to try to advance knowledge which often means questioning, criticizing, or challenging dominant views."
Turk too would like to see Lowrey reinstated to her former administrator position.
Joel Agarwal, president of the U of A Students' Union said in a statement to The Gateway that professors are guaranteed academic freedom but do not have complete immunity.
"Professors are guaranteed academic freedom, which allows them to teach and research as they see fit, however, it doesn't give them immunity for behaviour which would rightfully lead to discipline in any other workplace," Agarwal said.
"The Students' Union firmly supports a high-quality and equitable academic culture for all students, including those who identify as transgender. While we do not know the exact reasons why Dr. Lowrey was removed from her administrative position, we have heard directly from some students that she did not create an appropriate environment for student learning."
This marks the second time in less than a year an issue of academic freedom and a faculty member making controversial statements has arisen at the U of A. In November of 2019, a lecturer made comments some found offensive by saying the Holodomor was a "lie" and "myth."
— With files from Pia Co