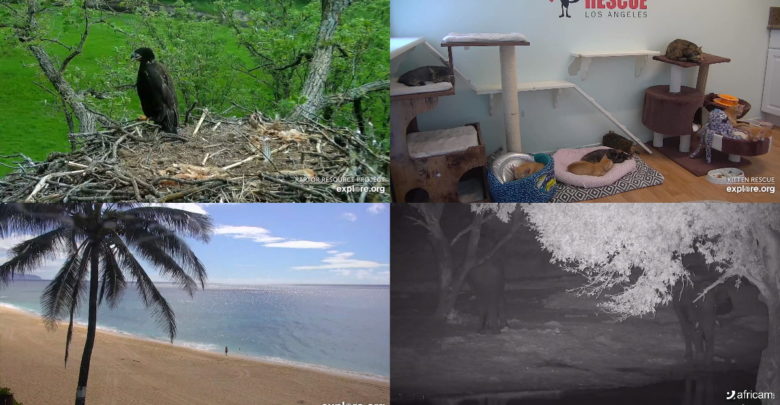 Paddling up the livestream is a series where we review new and interesting livestreams.
Although some COVID-19 restrictions are starting to be lifted, live entertainment sadly still seems a ways away. That means livestreams are the way of the present and the foreseeable future, and few livestreams are more wholesome, cuddly and all around metal than explore.org.
explore (stylized as all lowercase), is a site full of feeds from a bunch of wildlife cameras, all of them waiting for something to happen. If you've ever watched Planet Earth and thought to yourself, "I like the footage but I don't really care for this old British guy equating a male Bird-of-Paradise's failed mating dance with my own listless love-life," explore is for you. It's nature without the commentary and without the editing, the way the universe intended it.
To be clear, most of the time nothing happens. explore is the naturalist's response to the fireplace channel, but instead of a looping wood-burning fire and a disembodied hand periodically poking around a few logs, you have serene landscapes and 270-kilogram grizzly bears slapping the life out of migrating salmon.
It may be the quarantine talking, but there's something very relatable about long stretches of aimless scenery punctuated with random outbursts of feral action. Just the other day, I watched a lioness spend almost three hours alternating between lying down, licking her paws and wiggling in dirt. The relevance of her cultural commentary was not lost on me as I sat at home, doing pretty much the same thing.
It's nice to have a passive, wholesome, troll-free environment like explore in our ever-expanding livestream universe. You might put it on in the background or escape for a few hours to a mountainside eagle's nest, but either way it's a great way to spice up your livestream diet. Whether you're into seeing baby owls learn to fly or watching beach-goers practice some questionable social distancing, explore probably has a livestream for you. If not, there's always Planet Earth.