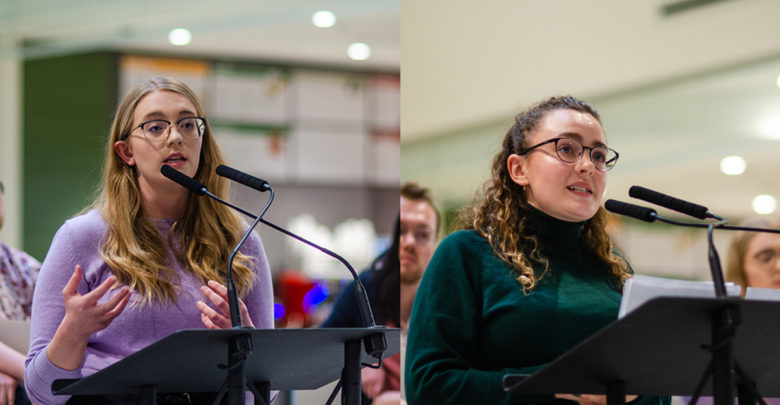 The wide-ranging portfolio of the Vice-President (Student Life) includes non-academic advocacy on issues that impact students, which can include everything from mental health to residence. The VP Student Life is also the executive responsible for much of the programming and events put on by the Students' Union, as well as services like the Peer Support Centre.
---
The vice-president (student life) position has been hotly contested this year, with Talia Dixon and Katie Kidd both presenting distinct and strong visions on what the portfolio should accomplish during their term. Overall, this has made the race one of the most interesting to watch during the forums, and likely promises a close result on election night.
---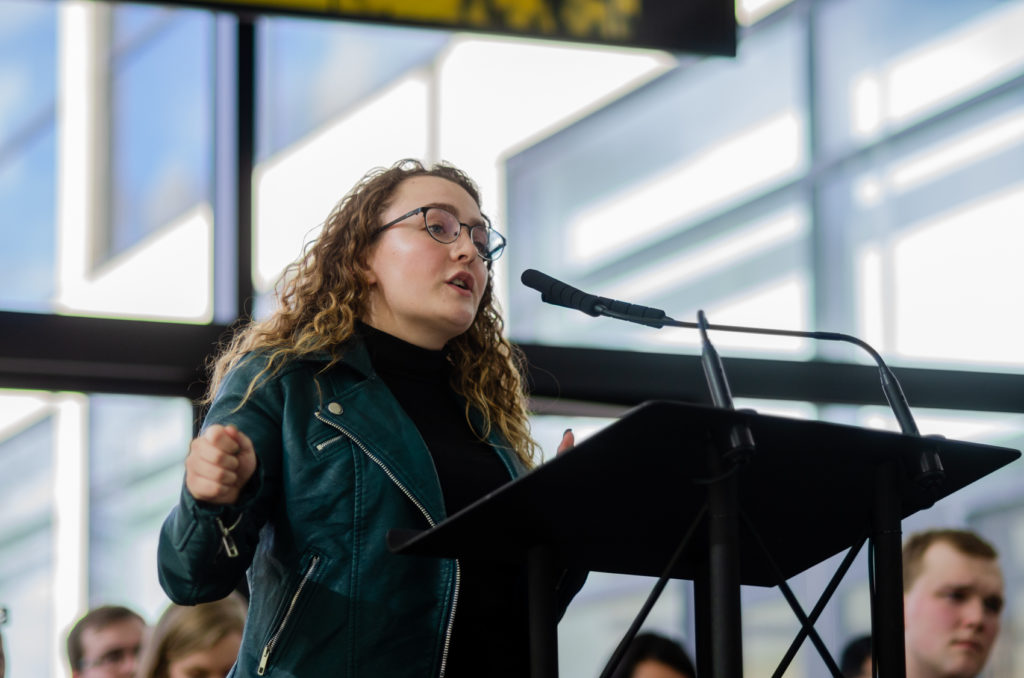 Talia Dixon
Talia Dixon, a third-year women and gender studies and political science major currently serving as an Arts councillor on Students' Council, has centred her campaign around climate justice and decolonization on campus, making vast amounts of ambitious promises which, if she is elected, will change the role of the vice-president (student life). As such, her platform presents a bold vision for a new type of SU, especially compared to the one we currently have.
The most significant promises in Dixon's platform seek to address the climate crisis, pledging to advocate for free transit, create a sustainable food coalition, and develop a comprehensive five-year plan to create a waste-free SU. While these bold promises would result in substantive change, these plans lack many details, and may not be achievable during Dixon's time in office. After all, Dixon bases her proposal for sustainable food coalition on a similar program at Concordia University in Quebec; however, the project underwent a total of four different referendums or plebiscites to become what it is today. This, along with the lack of details, leaves me with questions about what Dixon can actually achieve in only a year.
Where Dixon really shines, however, is in her plan to decolonize campus and take a tougher stance on sexual assault. In her platform, Dixon specifically pledges to fulfill all the Aboriginal Relations and Reconciliation Committee (ARRC) recommendations, and outlines promises that are both meaningful and achievable.
Regarding sexual assault on campus, Dixon provided well thought out solutions, promising to substantively improve response and prevention training in residences. Furthermore, when it comes to hiring a sexual assault response and prevention coordinator, Dixon has pledged to have the SU hire the coordinator if the University continues to fail, ensuring it gets done.
Overall, Dixon uses both her personal commitment to political causes and strong policies to construct a bold vision for the vice-president (student life), one that, while extremely ambitious, would guarantee change.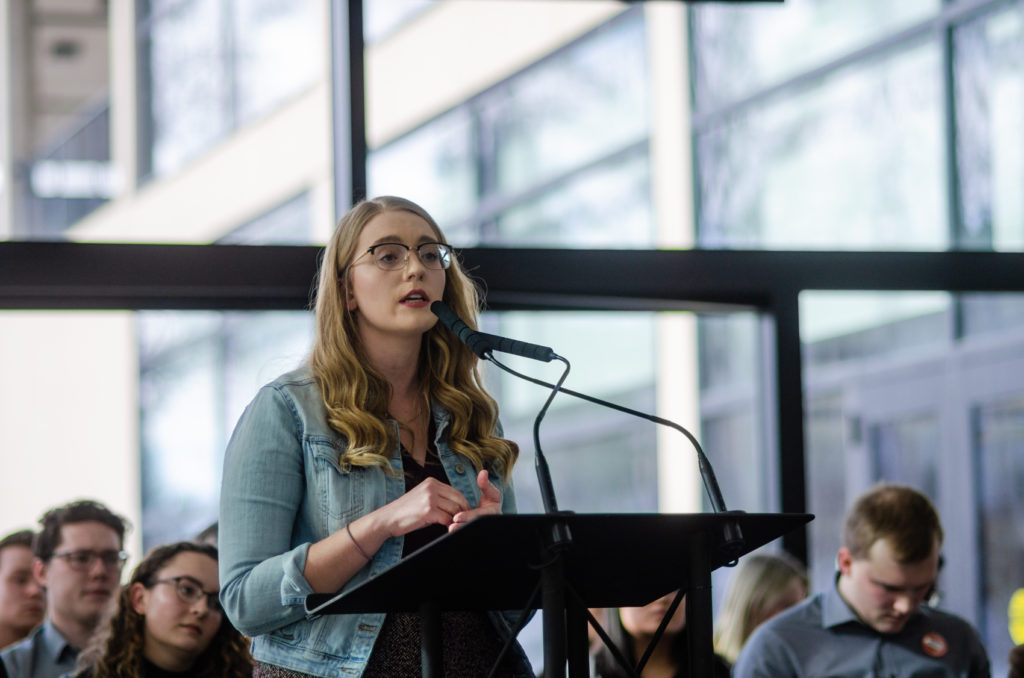 Katie Kidd
Katie Kidd, a fourth-year secondary education and education councillor on Students' Council, offers her own vision of the vice-president (student life) role, presenting a platform that prioritizes addressing sexual assault on campus, alongside tackling concerns around mental health on campus.
Kidd specifically promises to expand and diversify the Peer Support Centre, ensuring that the service is available to all students who need it. This is one of Kidd's stronger ideas, proposing an original and innovative way to improve mental health on campus that is certainly achievable within her tenure. Another point on Kidd's platform that warrants mentioning is her plan to introduce sustainable practices in residencies, with specifics including having residencies track waste output and including drying racks in laundry rooms. While these are smaller steps relative to Dixon's plans, Kidd's proposals are much more detailed, and arguably more achievable than her opponent's.
The issue of primary concern for Kidd, however, is sexual assault. To address this, Kidd would call for a provincial inquiry into sexual assault on campus, something which has been promised by candidates in other elections. However, where Kidd falls short is in her promise for a letter-writing campaign to pressure the Dean of Students to hire a sexual assault response and prevention coordinator. Kidd's solution would have survivors of sexual assault write letters to the Dean about their experiences, which unfairly asks survivors to rehash their trauma, putting them in a vulnerable and unnecessary situation.
Kidd slightly modified this position during the forum hosted by the International Students' Association, saying that these letters would now focus on how the Dean specifically failed these survivors, but, regardless, this would still require survivors to come forward and, to some extent, share their experiences of assault.
While Kidd claims that sharing experiences can be empowering, this must be left to survivors to decide for themselves. Making her whole plan contingent on survivors coming forward is not only uncertain, but it also inflicts implicit pressure on survivors to take onus for solving sexual assault, whether Kidd means to do this or not.
Additionally, Kidd's claim that her advocacy resulted in the Dean hiring student care positions has been proven false by fact-checking, and Kidd should've done more research before making these bold assertions. At best, this is due to Kidd poorly researching her claims, but at worst it shows Kidd misleading voters, leaving me with questions about whether she is right for the position.
---
Who will win, and who should win?
Considering the strength of both Dixon and Kidd's performances at forums, combined with their experience and well-run campaigns, this race should be extremely close on election night. However, I predict that Talia Dixon will emerge as the winner, due to her affiliations with Climate Justice and Free Transit YEG, as these are popular initiatives which involve many students. This allows for her message to resonate on campus.
Regardless of the outcome, however, Talia Dixon should win this race. Even though I have strong reservations about her ability to accomplish her promises, Dixon proposes a bold change for the SU, specifically in areas that previous SU executives have ignored or been unsuccessful in. At a minimum, Dixon's election would ensure that issues of climate justice and decolonization get the significant attention that they deserve. For that, she has my vote.